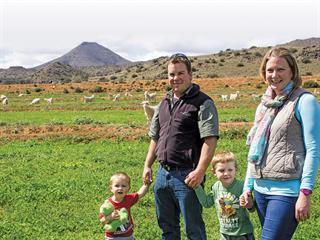 Paul Collett is a progressive young farmer who farms on Speelmanskop near the Fish River about 30km north of Cradock in the Eastern Cape. His livestock component comprises 850 Angora goats, 150 Angus cattle and 2 750 Dohne Merino sheep, and he grows maize and lucerne. Paul, who has an MSc in aquaculture from Rhodes University, was recently honoured as the Eastern Cape's Agri SA Toyota Young Farmer of the Year for 2015.
"Perhaps I was a bit too young to have entered," says the 32-year-old. "Maybe I should have waited until 35, by which time I would have had more farming experience. But I did enter, and I'm very happy with the outcome. To win the award was a great honour and unexpected. Now comes the challenge of the national competition. But I'm confident."
Speelmanskop consists of 6 000ha veld for grazing and 200ha irrigation land. Paul sees the veld as a great asset in his farming enterprise, but stresses that he is "no stock farmer". Rather, he sees himself as an irrigation farmer. He is the fourth generation of the Collett family to work on the farm, and also owns the adjoining farm. It too is called Speelmanskop.
He admits that no one ever expected him to become a farmer.
"But here I am. My dad entertains all my crazy ideas and allows me to explore. Farming is my life, my passion, and I like to showcase the success of my farming."
Always striving for better
According to Paul, the most valuable aspect of a competition such as Young Farmer of the Year is that it shows a farmer where he or she falls short. "Sustainability is extremely important in making a success of farming," he says. "I also support the idea that every farmer should have a science degree and know his chemicals well. I use products that I've found to be reliable."
He applies this scientific outlook to his own operation.
"The analyses I've done and the measureables I had to consider and apply have allowed me to develop my business."

Livestock component
Speelmanskop's sheep constitute the cornerstone of the farming enterprise. "They enable me to use my veld extensively as an asset to generate income," says Paul. "Ewes are mated and lamb on pasture, but spend the rest of their lives on the veld."
Pasture species and planting times are staggered to provide a spectrum of forage for sheep at critical times and when veld grazing is scarce. In June and July, when pasture growth slows down, the veld, supported by a good lick, is an invaluable forage resource, Paul explains.
"Ewes are put to the ram every 10 months. Lambs receive creep feed while with their mothers to reduce their milk needs. We wean them at 90 days and then put them directly into the feedlot." Providing creep feed to lambs reduces weaning stress as they are already adapted to a ration with 55% maize, he explains.
"Lambs are grown out to 32kg for sale as store lambs or 45kg for slaughter, depending on current market conditions."
Paul keeps a close check on every lamb that is born. Should one disappear, he finds out why. "I do predator control myself. Two of my neighbours and I make up a team and we don't employ professional services. I haven't shot a jackal since 2014 because I've had no losses due to predation. As a principle, we love nature and try to conserve all wildlife, even predators, wherever possible."
Paul's 2 700 ewes bring in around 42% of his farming income, while the 160 Angus cattle contribute a further 5%. The breed is well-adapted to his conditions and performs well on limited inputs. The primary purpose of the cattle herd is to improve veld through a different grazing pressure to that of sheep and goats. He markets the weaned calves at 200kg to 250kg live weight.
The Angora goats provide about 2 000kg mohair at every shearing.Farming is highly intensive in his area so he has to look carefully at labour costs.
"I lost many Angora kids to predation, so I moved them to a feedlot camp on a ration that includes 20% maize as well as oats for roughage. This allows them to grow so they're less vulnerable to predation once they go back onto the veld. They also grow better and produce far more hair in the feedlot camp."
Paul says that his 650 Angora does do not constitute a viable enterprise on their own at present. "By increasing the kidding rate and running at least 1 000 does, the mohair enterprise will be far more worthwhile."
Maize component
Paul joined the elite 20 Ton Maize Club last year, when he harvested 19,15t/ha and won first place for the northern part of the Cradock district. "Until two years ago, the yield was around 10/ ha," he says. "Then I put technology to work on the lands and the average yield is now around 18t/ha."
His maize production history is as interesting as it is inspirational: "I started growing seed onions," he recalls. "In figuring out how to optimise yield on this high-value crop, I learnt the value of plant growth regulators and trace elements as foliar applications. I then applied this technology to my maize crop.
"The first step was learning how maize works and what stimuli it needs at each growth stage. The second step was designing a nutrition programme to satisfy these needs. The third stage was conducting leaf analyses in different trials and adapting the application programme accordingly. This remains an ongoing process. All that has fallen away is the awful business of growing seed onions!"
Paul relies heavily on good record-keeping.
"Farming is limitless and I like to help my neighbours where I can by sharing my knowledge with them. I'm more analytical than the average farmer, but I have confidence in my results and like sharing them. "We have a very active farmers' association. I attend all meetings, but shy away from leadership positions."
The country's water situation concerns Paul, who says that irrigation water regulation and allocation will become a contentious point and a major threat to the entire irrigation community. "I'd like to represent our local water board at a higher level, such as the Great Fish River Irrigation Board, as I irrigate my lands with water from the Orange River."
Looking ahead
Paul says that the next 10 years to 15 years will probably be the most important period in his farming career, and he is positive about the future."Change brings opportunity; those who react first will benefit the most. We will survive the current situation. We have to go down a bit more to go up. There are continual opportunities, we must just embrace them. As long as we keep on producing good agricultural products, we will survive."
He is not concerned that he may lose his land in the future, but should he lose it, he says, he will survive because of his qualifications. Despite his busy farming schedule, Paul remains a committed family man. "I get up at 5am and spend one and a half hours with the kids. Then I spend 30 minutes in my office before I have breakfast and head out to the day's work. I never work at night. It's reserved for the family."
Phone Paul Collett on 087 550 1373 or email [email protected].