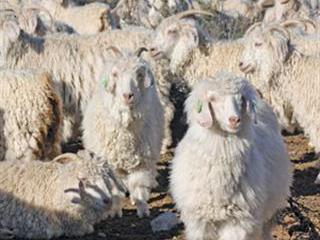 There is no sign telling you when to stop or where to turn off to Treintjiesrivier, home to the Damascus Angora goat farm.
"Don't worry," says Jan Lottering, "just turn left at the police station in Prince Albert and follow the gravel road that leads past that place where they make gin traps. Drive on and they'll see you coming."
According to Jan very few cars travel along this lonely Karoo road. It turns out he's right, because just as you decide that you must have taken the wrong left turn at the police station, you see them. Goats and two men… they have been watching the trail of dust, marking the meandering road moving towards them.

Jan Lottering (left) and Andries Mopiley farm Angora goats near Prince Albert in the Karoo.
Graduating
"You can't get lost out here, unless you are completely lost," quips Jan as he opens the gate. In his hand is a tattered plant that looks as if it has been chewed for the better part of a morning. "It's krimpsiekbos (Tylecodon wallichii)," Jan explains. "Goats get very sick from eating it and they can die without treatment. The fields across the road are covered with it, so we can't use those camps for grazing," he says regretfully. Loss of available land is a problem for them, because the 3 100ha they farm, is fast becoming too small to sustain their growing flock of Angora goats.
Jan and his business partner Andries Mopiley run 280 breeding ewes, 30 young ewes and 17 breeding rams on land that should not have to sustain more than 200 goats. They are recent graduates of a three-year training programme on Angora goat farming and mohair production. The Mohair Empowerment Trust runs the training project. Under the mentorship of Gielie Grobler, mohair industry representative, Jan and Andries have been farming independently since March 2011.
Mohair Empowerment
Jan says that after working on farms in the area for most of their lives, they started the training programme with two other students in April 2008. The mohair industry bought 200 Angora ewes and eight rams and rented the farm Damascus (part of Treintjiesrivier) from the Prince Albert municipality for training purposes. Fences, sheds and boreholes were funded by the provincial agriculture department. During training students received money from the sale of mohair and surplus stock.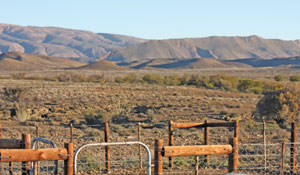 Handling facilities look out over a splendid view of sweeping Karoo plains with the Swartberg mountains in the background.
The training covered various aspects of Angora goat farming, mohair production and general farming. After graduation Jan and Andries took over the payment of the rent from the Prince Albert municipality. The Western Cape Department of Agriculture provided the capital for their Angora flock. The department has indicated that more land will be made available to them. "We thought we might get more land this year, but it looks like it will happen next year.
"Meanwhile, we do not want to reduce our flock, since we expect to expand to about 6 000ha which will be enough for us to grow our flock," says Jan. Available municipal land close by is infested with krimpsiekbos. Eradicating it will be a costly exercise that may not be worth their while.
Breeding and feeding
Jan is anxious to talk about farming, being clearly more passionate about this than about the politics that goes with it. "The ewes kid once a year and the breeding season starts on 15 March. After we bring the rams in, they stay with the ewes for a month. The kidding season starts five months later, in August," he says. Andries adds that pre-breeding supplements are given to the goats to get them in top condition.
"Ewes need to weigh between 45kg and 50kg or they will not conceive. Before the breeding season starts we feed the ewes lucerne and maize. They also get a mineral supplement (multimin) and a salt lick. Rams get lucerne ad lib and pellets as a supplementary feed," he says.
Young animals stay with the ewes from August to January when they are weaned. Ewes are dried off two months before the next breeding season starts. "After weaning we spend most of our time and energy looking after the kids. This is when they are most vulnerable to predators," says Jan.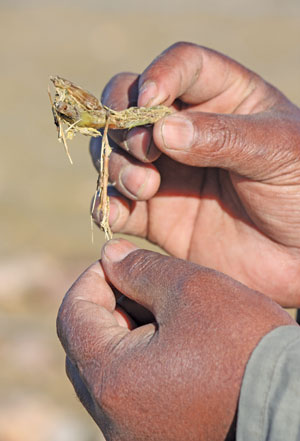 A chewed piece of krimpsiekbos (Tylecodon wallichii) that Jan removed from a goat's mouth. This plant is toxic to goats and sheep.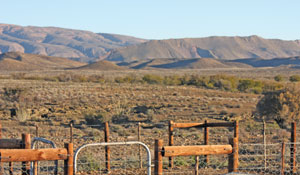 Limited grazing compels them to castrate and market young rams although Andries says they would like to keep them since they often produce the best mohair. Young ewes selected on appearance are used to grow the flock and replace older ewes. Ewes will be replaced at between four and five years old and young ewes brought into production at 18 months.
"We are growing our flock so we keep as many ewes as possible. If a ewe fails to conceive during her first breeding season, she will be given a second chance in the next cycle," adds Andries.
Parasites and predators
During 2010, while Andries and Jan were still trainees, many young goats were killed by predators, mainly black-backed jackal. In their first independent season last year, they achieved a 90% kidding rate. "To protect our animals from predators, we keep them in fenced camps. We walk the perimeters with our dogs every other day and believe the presence and the smell of the dogs in the camps is the best way to frighten off jackal.
"We also set gin traps and we have had hunters here shooting problem animals, but we prefer to rely on the dogs as a deterrent," Jan says. Goats are shorn twice a year in January and July. Each goat produces roughly 4kg of mohair per year. "Two weeks before shearing, the goats are washed in water and two days before shearing they are dipped in Little's dip (an oil-based emulsion) that conditions the hair," Andries explains. Animals are dipped in Zipdip to kill lice and other external parasites every three months. Internal parasites are treated with a dose of Prodose Orange or Prodose Red on a 90 day rotating basis.

Gratitude and the future
Andries nods his head as Jan talks about starting their own Angora stud in the future. But their short term goal is to grow the flock and for this they need more land. Equal partners in the business they seem equally enthusiastic about what they are doing. Both men live in town and cycle the 24km to the farm and back home.
They are quick to point out that the success of their project is not solely due to their own determination and drive. None of this would have been possible, they say, without the help of the Mohair Empowerment Trust and Gielie, their mentor.
Contact Jan Lottering on 073 875 3438.