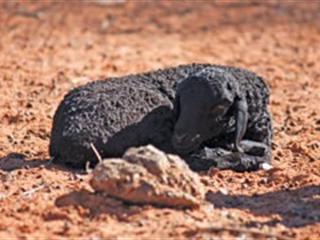 Karakul farming in South Africa and Namibia is a small but thriving industry explains Johan Moller, who farms on the 1 500ha farm Omkyk adjoining the Witsand Nature Reserve near Postmasburg in the Northern Cape. The Karakul industry has survived two decades of declining demand for Swakara (derived from South West Africa Karakul) pelts with the number of Karakul stud breeders dropping dramatically from more than 700 in the 1970s to the current number of 54. "There are only 14 active members in the Karakul Club," says Johan, referring to the Upington-based producer organisation that looks after local Karakul farmers' interests. The industry, like the breed, seems a hardy one.
From Central Asia
The Karakul sheep originated in central Asia and is named after the town of Qorako'l in present-day Uzbekistan. According to information supplied by Elsenburg Agricultural College, it was introduced to the then South West Africa (now Namibia) at the turn of the last century with about 750 sheep shipped between 1900 and 1920. By the late 1970s, the combined South African and Namibian Karakul flock stood at 5 million head.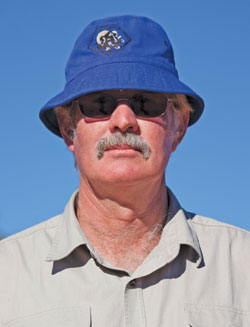 Johan Muller
Elsenburg records that the Karakul was cross-bred with Blackheaded Persian and Namaqua Afrikaner sheep for better adaptation to the local environment. Johan explains that the Southern African Karakul differs markedly from its Central Asian ancestors. "The Karakul is a desert sheep," he stresses.
"In Southern Africa we moved away from the long curly type of hair shown by the Asian Karakul. Our Karakul has high quality, short and strong hair with a sought after character. "The 'character' refers to the wavy pattern of the hair and the spacing of the waves." He says that sortement (classification) of pelts ranges from good quality curly hair to smooth hair with poor character and pattern qualities. "The ideal Swakara pelt is one with short hair and good character."
Quality in a name
Because of the significant differences between the pelts of Asian Karakul lambs and those of Southern African lambs, the local Karakul industry has embarked on an exercise to rename and re-brand the Karakul breed. Since the first half of the 20th century, Karakul pelts from South Africa and Namibia have been marketed as Swakara. In April this year, Namibian authorities granted permission for the Karakul breed name to change to Swakara. Similar authorisation from South Africa is still pending. Johan says the name change is necessary as pelt buyers associate Karakul with heavier-haired pelts.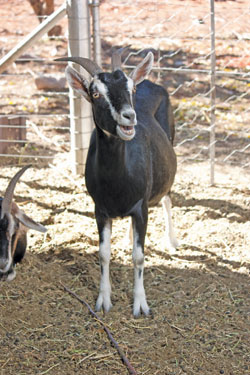 Johan uses Swiss goats to supply orphan lambs with milk.
More than a century
Johan has been farming on Omkyk since 1975. The farm has been in the Moller family since before Karakul sheep arrived in Southern Africa. "My grandfather farmed here in 1902," he says. He currently runs 700 stud ewes and 11 stud rams. Stud animals are usually auctioned in Keetmanshoop. "We get lower prices if we market our animals locally. In Namibia, with many more Karakul breeders, prices are generally higher." Currently, he has 70 rams ready for auction but can't sell them because of the closure of the border between South Africa and Namibia to livestock trade due to the outbreak of foot-and-mouth in other parts of South Africa.
Active veld management
The vegetation on Omkyk is Kalahari Thornveld (Acocks Veld Types 16 and 17) with grass and woody components. "Our dominant grass species are silver woolgrass (Anthephora argentea), also known as rondomgras, at about 60% and silky bushman grass (Stipagrostis uniplumis), also known as blinkaarboesmangras, at about 40%," Johan says. "Cape snow bush (Eriocephalus africanus), also known as kapokbos, and black thorn (Acacia mellifera), also known as swarthaak, are other dominant species.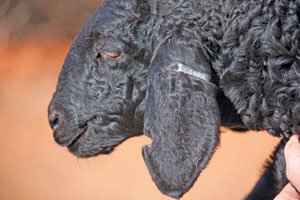 Sheep are marked with metal ear-tags with stud-related identity numbers.
The swarthaak is an encroacher and I've been eradicating it for the last three years ," he says. As part of his veld management programme, Johan runs 45 Ngunis on the veld; their hoof action loosens the soil surface where the sheep have compacted it. "This ensures that grass seed gets into the soil."
The farm is divided into 18 camps ranging from 70ha to 150ha, which are grazed in rotation. During the 54-day breeding season, Johan uses most of the camps. After this period the sheep are herded together and rotated between camps in three-week cycles. The veld has a carrying capacity of 14ha/MLU.
Lambs' pelts show sensitivity to the diet of the pregnant ewe shortly before lambing. Johan says that he grazes ewes in late pregnancy on high energy veld as opposed to high protein veld. Grass veld is higher in energy and bush veld is higher in protein, he says. When the grass on the veld declines, he supplements the diet with high energy phosphate licks.
Trait selection
"Over the last seven years, I brought different phenotypes together to breed for specific genetic traits," explains Johan. In 2004 he bought the first ram of his current stud and put it to ewes with similar characteristics. He then selected ewe lambs with the traits he was looking for and used them as breeding stock. "I must know what my rams' breeding abilities are," explains Johan. "For example, if I place a ram with a certain type of ewe, the lamb must have specific characteristics."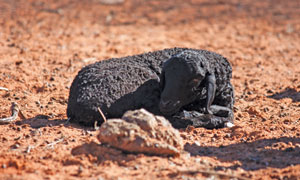 Karakul pelts are dried on these hessian frames.
These characteristics include those governing the specific colour, quality and character of pelts. Johan's flock has had an average lambing rate of 140% over the last five to six years. He runs two breeding seasons. Mature ewes are run with rams from October each year. "But it is only in November and December that most of the covers are successful," he explains. The previous year's ewe lambs are paired in April. Johan runs mature rams with 100 ewes each and young rams with between 30 and 50 ewes each.
Because of the nature of the industry – production of pelts of day-old lambs – Johan has negligible natural lamb mortality. Heavily pregnant ewes are brought in and penned close to the farmstead as the lambs are slaughtered within 24 hours of birth. Between 500 and 600 pelts are produced annually.
Industry best practices
Newborn lambs are classified for breeding or for pelt production. Those selected for pelt production are slaughtered the same day. Before slaughter, every lamb is photographed to record the performance of its sire and dam. As per recognised best practice in the Karakul industry, lambs are rendered unconscious with an electric stun gun before the spinal cord is severed in the neck.
The carcass is immediately skinned and the pelt cleaned with water. The carcasses are sold as a specialist delicacy to consumers in surrounding towns. The freshly skinned pelt is dried on a hessian frame, to which it clings easily. Hessian is porous, allowing moisture and air to pass through and reducing the drying-off period. Drying a pelt takes two days in summer and a week in winter.
Each pelt is marked with a bar-coded tag that includes the producer's marketing number. The pelts are delivered to KLK in Upington twice a year. "KLK handles the export of the pelts to Windhoek where Agra does the final sorting." Johan says that pelts are then flown to Copenhagen for the biannual Kopenhagen Fur Pelt Auction in the Danish capital. "We received R2 300 for a single black pelt at the last auction, but as the price of Swakara is linked to prevailing fashion trends, such high prices are not always assured."
Electronic data collection
Karakul stud animals are evaluated on measured performance. Data is collected electronically by the Namibian-based Karakul Breeder Society and evaluated similarly. Offspring are photographed as part of the evaluation process. Evaluation is done annually and winners in the different categories are announced in September.
"The adjudication takes into account the fertility of the sheep (rams and ewes) the quality of the ram (in terms of physical appearance) and the quality of the pelts of the lambs," Johan explains. "With regards to the quality of the lambs, the adjudicator looks at how many lambs are retained for breeding and how many are used in production. Sheep are categorised according to pelt colour – black, white and brown (spotted)."
Swakara Auction Facts
Some 63 759 Swakara pelts were on sale at the April 2012 Kopenhagen Fur Auction, of which 51 591 were black pelts, 9 410 white pelts and 2 758 spotted pelts. The highest price paid for a black Swakara pelt was 1 650 Danish krone (R2 273) and 1 700 krone (R2 342) for a white pelt.
Contact KLK Lewendehawe on 054 337 6200.