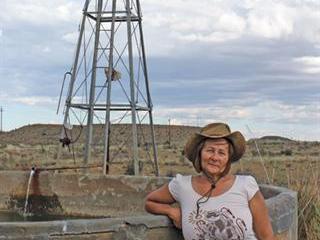 There is nothing pretentious about the small, whitewashed, box-shaped house where Allie Gordon and her family live. It is humble, sturdy and blends in perfectly with the quiet simplicity of the Karoo. This house, which is a metaphor for Allie's character in so many ways, is also one of the few things that she did not build with her own hands when she returned to her family farm about seven years ago.
Finding her roots
Allie grew up on Kranskraal farm near Leeu-Gamka, where her father, Hendrik Meyer, farmed with sheep. But after finishing school Allie left home to become a nurse. Many years later, after her father and later her husband, Heroldt, had died, Allie found herself drawn to the farm. "I have so many fond memories of the time I spent helping my father with the sheep and I've always had a deep longing to come back here and follow in his footsteps.
"I don't really know how to explain it, but I guess we all have a deep-rooted passion for something, and mine has always been the farm," Allie says, as she rummages through a cabinet trying to find old photographs. When Allie decided that she was ready to leave her job as a nurse and become a full-time farmer in 2003, she started by having electricity installed on the farm and sinking a borehole.
She gives up the search for the photographs, saying that her grandchildren must have taken them out and forgotten to put them back, and sits down. "When I came here, there was nothing but the house. I put up the water tanks, built a dam and a kraal. I started a small fruit orchard – quinces and stone fruit such as nectarines – and planted just under a hectare of lucerne for my Dorpers," she recalls. She intends to start planting vegetables to sell in town now that she has more water available and also plans to grow more lucerne.
Growing her flock
In 2005, when Allie was satisfied with the improvements made on the farm, she bought 50 Dorpers and began farming in earnest. "When I look back now I realise that it was an enormous gamble to give up the life I knew to do something that I had very little knowledge of, and with no guarantee that I would succeed," she says.
Allie is adamant that she would not have been successful if it had not been for the mentorship and friendship of Mervin Johnson, a Dorper farmer from the area, but something about her suggests that if Mervin had not been available, she would have found a way to achieve success. Nevertheless, she believes Mervin's involvement was a gift from God.
Allie soon became confident in her aptitude for sheep farming, and in five years her flock grew from 50 to 370 and she had a 100% lambing rate. This success is due in part to her selection of ewes for their fertility. Young ewes that do not fall pregnant during their first mating season are given another chance, but if they fail to conceive in the second season they are culled and replaced by new young ewes.
Stud farming
The farm covers 3 200ha in total. Allie farms on half of this as the rest belongs to her brother and sister, who are not farmers. Her section has grazing capacity for 350 to 400 sheep, but she sold about half her flock last year, reducing it to about 170 of the best ewes.
"I intend starting a breeding programme to establish my own white Dorper stud," she says. Apart from simply preferring the appearance of white-headed Dorpers, Allie claims that these ewes are more likely to produce twins and triplets than their black-headed counterparts.
Allie plans to start her stud with "an extraordinary white ram" that she obtained as a gift from a fellow farmer. Interestingly, she was allowed to pick the ram from his flock herself – and in doing so demonstrated her skill at selection. She ended up picking an exceptional animal that she hopes will help to create a top-rate stud.
Sheep selection
Allie finds it difficult to explain how her selection process works because she does it almost intuitively. "You can just tell a good sheep from a bad sheep," she laughs. She admits, though, that she looks at the shape of the head and the overall build of the sheep. "The ewes should have a good feminine form and when I select rams I look for animals with little fat at the back and good virility," she explains.
She tries to keep two or three of the best-looking young rams every year and markets the rest. In addition, she buys in several new rams to strengthen the gene pool of the flock.
Farming methods
Allie plans to plant lucerne on a camp close to her home and run the ewes on this during lambing season to reduce exposure of the lambs to predators. "We've been lucky, but every now and then we lose a lamb or two to jackal," she explains. "We walk the perimeter of the camps three times a week with the dogs, and if we see gaps in the fencing, we close it up with rocks. "But I'd prefer to keep the ewes with young lambs in a better controlled and safer environment."
Allie has a no-nonsense approach to farming, a remnant perhaps of her days as a nurse. The sheep spend their lives out in the veld, grazing on Karoobossies, and they are nursed and fed only when they are sick. "I'll feed the sheep when it gets very dry, but the rest of the time they eat from the veld. The ewes lamb once a year and even then they stay out in the veld," she says.
The rams are put in to cover the ewes in October and November.
"After mating, we feed the rams with lucerne to get them back on form," she explains. They are also treated with Terramycin, a broad-spectrum antibiotic. Allie keeps the lambs with the ewes until they are ready to be weaned and marketed. Depending on the condition of the veld, this can take from three to six months. "I market the lambs at a live weight of between 35kg and 45kg and select 50 to 60 young ewes to replace some of the older ones and to grow the flock," she says.
Success – and peace
Dusk is approaching and Allie's grandchildren are vying for her attention. She sends them outside with fat yellow quinces for themselves and goat milk for the kudu calf found in the veld a few days before. Then she takes up her position on a wooden bench on the porch.
"Farming here, seeing the sheep grazing in the veld and living this simple life gives me such joy. After a hard day's work, I come home and sit on the stoep, enjoying the peace. Life can't get much better than this," she says. It 's a sentiment undoubtedly enhanced by her winning the Top Entrepreneur Smallholder award – prestigious recognition that her methods and careful, hands-on approach are paying dividends.

Contact Allie Gordon on 082 933 8161.