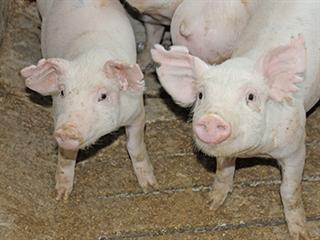 Leanside pig stud of Mockford Farms in Polokwane focuses specifically on developing genetics that will make its customers more profitable. "We provide superior genetics and customer service that allows the commercial producer to make the best decisions on production," explains Phillip Spencer, manager of Leanside.
It is an approach that has earned him the title of 2013 SA Studbook and Vleissentraal Elite Pig Stud Farmer of the Year.
Spencer, who holds an MSc in biochemistry from the University of KwaZulu-Natal, was headhunted in the early 1990s by Peter Mockford, owner of Mockford Farms.
"At first I laughed at the idea," he recalls. "Then I tried it and liked it! Pigs are great to work with if you treat them right."
He believes that focusing on genetics is one of the most effective actions a farmer can take to improve production, as it is an investment that pays dividends.
Techniques
About 98% of the sows at Leanside are artificially inseminated, enabling the stud to increase a genetic line rapidly. Boars are replaced quickly in a rapid sire turnover rate and are all progeny-tested to yield data on which to develop accurate BLUP figures for more accurate genetic merit prediction.
The farm has 2 000 sows and 27 boars, with an additional 20 back-up boars in the AI station. Through AI, one boar's semen can be used on 12 sows at once. "With natural mating, a boar could only handle a maximum of two sows per week," explains Spencer. "AI reduces mating stress on sows, as well as the negative effects of poor quality semen on the conception rate during hot summer months."

Calvin Mabitsi, Leanside piggery production manager, and Phillip Spencer, who heads up the operation.
Correct breeding stock
Leanside provides commercial sows and replacement gilts, as well as hybrids of Large White and Landrace breeds, to commercial pig producers. It also provides performance-tested Duroc boars and semen, selling on average 1 400 straws of semen per month. Using a Duroc sire on a hybrid dam combines all the critical traits a commercial producer needs for optimal production.
"The hybrid vigour obtained from crossing Large White and Landrace breeds increases the farrowing rate of dams by about 7% over that of their parents," says Spencer. In the second stage of crossbreeding for hybrid vigour, the Leanside team uses a third breed, the Duroc, to produce the commercial sows and replacement gilts. This is Leanside's terminal sire of choice as it helps to optimise sire line traits such as growth rate, lean meat percentage and feed conversion.
"What we want is a pig that eats as little as possible and produces as much meat as possible, without excessive fat," explains Spencer. "Fat is metabolically expensive to produce and is not desirable in excessive amounts. But Duroc meat has high marbling so the meat is tastier and juicier." He stresses that breeding pigs is all about balance.
"It doesn't make sense to breed too far in one direction if this is to the detriment of other traits. For example, we're careful not to get our dam lines too lean as this could affect milk production." The dam line traits that Leanside focuses on include piglet mortality, milk production, birth weight, weaning weight, the number of piglets weaned per litter, and longevity. Every sow is expected to produce about six litters in her lifetime.
Because of the low heritability of complex genetic dam line traits, the approach to the development of dam line genetics is very different to that for terminal genetics. "Progeny testing for dam line genetics requires more time, and our emphasis is on slow but steady improvement. We have a separate breeding policy for dam line genetics," explains Spencer.
The sows in each breed are divided into breeding groups and linked by the semen of boars that is always used on sows of the next group. Thus, Group 1 boar semen will inseminate Group 2 sows, the sows remaining within their dam's line. The system minimises the degree of inbreeding, although this can be achieved automatically today with the latest techniques.
"New-generation Blup programmes enable mate selection and eliminates the need for breeding groups, as it controls inbreeding," he explains. Plans are also underway for genomic testing in the near future.
More sows for better genetics
Leanside speeds up genetic progress by increasing herd size. Spencer stresses that genetics is a numbers game, so progress is faster if there are more sows to work with. "This gives us an advantage because our sow herd is large enough. To optimise this rate of genetic progress, the generation interval must be as short as possible. But we sacrifice dam line traits because we only start to breed pure with the sow at parity two, not parity one.
This gives us more time to select for better traits and allows us to cull sows with farrowing problems, poor udders and conformation traits. So we don't breed with a dam line pig as a GGP (great-grandparent) until she has had at least one litter and her statistics are acceptable." By constantly adding quality to the top of the breeding pyramid at GGP level, Leanside achieves quality in its F1 gilts. The farm has applied the principle for over 20 years.

Leanside uses AI on virtually all of its sows.
High replacement rate
Leanside maintains a replacement rate of 90% per annum on its sire line Duroc sows. Sows are generally replaced after three litters, but some are replaced after their first litter, depending on their potential. Dam line GP sows (grandparents or those producing cross-bred litters) are replaced at an annual rate of about 50%. Spencer explains that as a commercial sow's performance peaks at litter three to five, a producer should avoid culling sows in this period. "We expect our customers to run a replacement rate of 35% per year," he says.
On average, Leanside sells about 150 F1 gilts per month, which is only about half of what is produced."We have stringent selection criteria to ensure that our clients get the best of the best," Spencer stresses. "The failure rate of our replacement stock is extremely low, giving clients peace of mind and minimising the need for early culling.
"We expect sows to have an average farrowing rate of 91%, and to wean 11,6 piglets per litter, with an average weaning weight of 8kg. The herd must have a weight feed conversion ratio of about 3,5. To achieve good productivity on the grower herd, we aim for a weight of 36kg at 11 weeks and 90kg at 19 weeks. A minimum of 13,3 piglets, on average, must be born per litter, with at least 12,6 born alive."
Breeding stock sold to customers goes through rigorous selection that includes visual appraisal and data review. The selected pigs are used as breeding stock, while those with lower scores are sent to the abattoir at about 19 weeks. To produce F1 gilts of sound conformation and quality, their growth rate is deliberately slowed down, but they receive vitamins and minerals as advised by a nutritionist.
"This ensures that skeletal development keeps pace with muscle and organ development, and prevents us selling animals predisposed to physical breakdown during the first two litters, which is the most common cause of early sow culling," explains Spencer.
Biosecurity
Leanside has strict biosecurity in place, and Spencer cautions that a pig producer should beware of buying breeding stock from a source that is not serious about health and biosecurity. To reduce the risk of diseases, Leanside insists that no live animals from outside are brought onto the farm. Only semen is allowed.
The welfare of the pigs is also paramount. No gestation crates are used, for example. "With these, a sow is imprisoned for most of her life," says Philip. He prefers keeping sows in group housing. Only farrowing crates are used to ensure that the sows do not crush their piglets.

Contact Phillip Spencer at 083 628 4564 or [email protected].