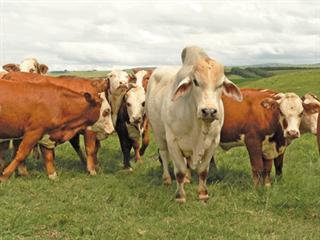 Breed choice. Breeding method. Breeding cycle. Nutrition. Health management. These five fundamentals are key to successful management in a commercial beef enterprise.
Through trial and error over 11 years, Tim Hempson of Dunraven Farms near Underberg, KwaZulu Natal, has focused on these factors and has established well-defined methods to ensure that his herd generates the highest possible income for its production environment. Although his techniques require occasional adjustment to changing farming conditions and market requirements, the basics of his herd management have served him well.
PARTNERSHIP
Dunraven Farms is a three-way partnership between Tim and brothers William and Edwin Mapstone of Baynesfield village. The enterprise operates on 1 400ha, of which 80ha is leased land, and Tim is responsible for its day-to-day running.
Dunraven currently has a commercial beef herd of 360 Braford-type breeding cows, a 25-cow stud herd– Southern Berg Grey Manso Brahmans – a 20ha to 28ha seed potato production enterprise, and 40ha to 45ha of rainfed maize for grain, snap corn (the entire cob plus leaves) for coarse milling, and silage.
About 30ha of weeping lovegrass (Eragrostis curvula) produces about 2 000 RP12 round bales annually, and an annually variable area of teff (Eragrostis tef) bulks up the pastures. About 20ha of annual ryegrass and bunch ryegrass feeds autumn cows and calves, open heifers and oxen.
The balance of about 1 100ha of mostly natural highland sourveld is dominated by red grass (Themeda triandra) and less palatable grasses. Dunraven was only recently expanded to its present size of 1 400ha when the partners purchased an adjoining 500ha farm. This property, which offers veld grazing, will allow them to expand their commercial herd to 500 breeding cows within the next 15 months, and, in due course, their Southern Berg Brahman stud herd to 80 breeding cows.
TERRAIN AND WEATHER
Dunraven Farms' soil types are mostly not suited to cultivation and the land itself is very steep, being in the Drakensberg foothills. So the crop and pasture lands, ranging in size from 1ha to 15ha, are confined to suitable areas. Average annual rainfall is 800mm to 1 000mm and the climate is generally mild, although summer temperatures can peak in the mid-30s and winter can bottom out at -12°C, with snow
not being uncommon.
Tim runs an on-farm beef feedlot that processes about 130 oxen, 80 culled heifers, 40 culled cows and culled bulls at a time. Currently, about 250 animals are moved though the feedlot annually, but when the breeding cow herd reaches 500, this feedlot figure will increase to about 380.
Tim believes the Braford-type commercial beef animal, with three-eighths Hereford and five-eighths Brahman genetics, is best suited to Dunraven Farms' production environment. The Hereford is highly fertile and matures at about 14 months, and its beefy conformation combines well with Brahman genetics to produce oxen that perform well in a feedlot and at fat-stock shows.
"The Brahman is the key breed in my commercial herd because of its good maternal characteristics that allow me to select for good milk production and low birth weights. It has a natural tolerance to ticks, and walks well on our hilly terrain," says Tim.
"I aim to produce Braford-type, medium-framed cows with depth, width, length balance and a good top-line. I criss-cross Brahman and Hereford bulls onto my cows to benefit from hybrid vigour and its influence on the calves." He points out that he gets higher weaning weights through criss-crossing than by farming with a single breed.
CALVING
Tim runs two calving seasons, in autumn and spring.He runs one-third of his cows with the bull for 60 days in June and July so that they calve in March and April the following year. Autumn calving allows him to wean the calves in December so that they can graze the still-green veld in January to March with their dams. The weaners enter the feedlot in April at over 300kg liveweight, and long weaners are fattened during the next 90 to 120 days on snap corn and Voermol's SB 100 protein concentrate.
Autumn calving also means that the weaners in the feedlot can eat the early maize grain and silage that is already being harvested. "As one-third of my cows calve in autumn, I need fewer bulls on the farm as I use them twice instead of once in a year. But I must manage them correctly because of their higher workload," says Tim.
"It costs more to maintain pregnant cows during winter, so I supplement the poor grazing with round bales and grazing on annual ryegrass pasture for an hour a day. In winter I also give all my animals Voermol Custom Protein Mix ad lib.
"I recover these costs in the following spring and summer when the cows have decent grazing for good milk production and healthy weaners. "The cows are also in good condition after autumn calving and they average a 90% conception rate, compared with the average 80% conception rate in spring-calving cows over the previous five years."
Autumn-calving cows that fail to conceive are moved to the spring-calving group. Cows in this group that don't conceive, however, are culled.
SPRING CALVING
Spring-calving cows are put to the bull for 90 days from early November to calve during the following August to October and wean their calves in April the year after. All bull calves in the commercial herd are castrated a month before weaning at 7 months. Weaners of various ages and both sexes are immediately placed in the feedlot in batches of 20 to 40 until its capacity of 150 animals is reached.
The grazing of the remaining lighter calves is supplemented with ryegrass and good hay, and these animals are added to the feedlot as they reach their acceptance weights. Any weaners still too light for the feedlot by the end of November are grazed in camps until April the following year – allowing Tim to take advantage of good, cheap summer grazing – and go into the feedlot with the autumn weaners.
BREEDING
To minimise calving problems, Tim puts heavy-boned bulls with higher birthweight EBV figures onto second-calf and older cows. Bulls with lower birthweight EBVs are put onto the heifers. Heavier bone structure is desirable because it adds weight to the carcass and Dunraven's cattle are sold per kilogram liveweight.
"My heifers must weigh at least 330kg, irrespective of age, before they are put to the bull. They reach this weight by 14 to 20 months. Younger ages are one of the advantages of using early maturing Hereford genetics," he says.
Tim buys two-year-old to three-year-old registered Hereford bulls from JJ Park in Bedford, Eastern Cape, Pete Louwrens in Kokstad, and Graham Griffin and Howard Long of Dargle Valley, and uses them until they are eight years old. He buys three-year-old Brahman bulls from reputable breeders in KZN.
He also uses his own two-year-old Brahman bulls, bred on Southern Berg Brahmans, before selling them at three years of age at the annual Cedarville Bull Sale.Brahman bulls are used on Dunraven's Braford-type cows until they are about 12 years old, unless they pose a risk of mating with their daughters.
AI AND SELECTION
Tim uses artifical insemination for about a quarter of conceptions in his herd, as it allows him to inseminate many cows with top genetics at one go. Before the partners decided to expand the herd, Tim was very strict about selecting for temperament, conformation, teats and femininity.
He also culled fine-boned heifers and any with defects such as skew hooves and muzzles. Now, however, he is less stringent, and selects mainly for good temperament, structural soundness, and, to a lesser degree, for conformation.
"If any breeding female jumps out of the crush while being handled we immediately cull her from the herd," he says. "I also cull any heifer from a cow that suffered a prolapsed cervix during calving. The cow will be treated and then allowed to wean her calf, but both will be culled."
ANIMAL HEALTH
Finally, Tim regards animal health as crucial to commercial beef management. As a former animal health technician of the KZN State Veterinary Services, he has the skills to conduct these tasks with confidence. He also insists that it's important to spend as much time as possible with the animals to spot potential problems.
Contact Tim Hempson on 082 095 2963 or email [email protected]