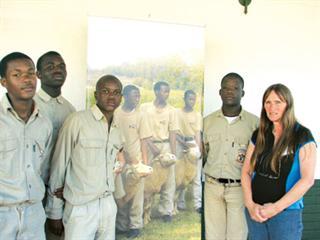 Last week, I met with two of them. One was a young refugee from the Congo, Djeko Yuma. He lost most of his family in a massacre, managed to escape to Durban and has been working at night and studying agriculture by day. He has achieved really good results and I admire him for his tenacity and focus.
He is passionate about farming and is about to apply for SA citizenship. I have found him a job and will help him to further his career.
I also met a young girl from Eshowe, Thobile Zungu, who has an agricultural degree from Unisa. Her marks are great, with distinctions in agricultural engineering, crop science and animal science. I am hoping to place her in a dairy in the next week or two.
It amazes me that, on the strength of something that was published some time ago, I am still getting calls from people who read FW, keep it, sometimes for months, and then they phone me. I just wanted you to know that you are making a difference in the lives of these young people and many others.
Although most of our future farmers are from Zakhe Agricultural College, we do not close the door on anyone who is passionate about agriculture and prepared to work hard. One young man was a construction worker who eventually put himself through an FET college and is now working on a farm near Creighton.
At the moment, there are four youngsters doing internships in Australia and two in California. There are three ready to go overseas. And I hope that another two to four will be on their way to Australia and California towards the end of the year. This all depends on visas and positions coming up for them.
Recently we held a Future Farmers Day at which we had talks on values, finance, labour management and a whole plethora of subjects that focused on life skills rather than farming. Some of the lads also spoke about their success and what it has taken to achieve it. Thank you for your role in this, FW. You have changed many lives for the better!