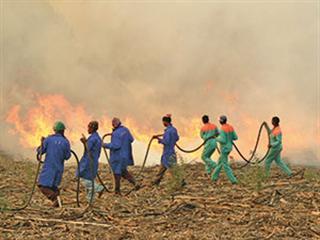 Many farms have areas of relatively undisturbed, natural veld unsuitable for cultivation because they're too steep, too rocky or too wet. However, they are valuable areas for biodiversity conservation. Think of them as biodiversity 'savings accounts' of the original land which has been changed by agriculture.
The network of protected areas in South Africa is unlikely to ever be extensive enough to protect the full complexity of our fauna and flora. Large terrestrial birds such as cranes, bustards and korhaans, as well as the larger eagles, range across vast tracts of land and can't be adequately protected in small nature reserves. They depend on natural veld for their survival.
The landowner who conserves natural veld plays a vital role in providing a buffer between protected areas and complementing the efforts of nature conservation agencies.
Management
It is important to:
Protect natural veld from destructive transformation, such as ploughing, draining or infilling of wetlands, establishing alien trees and clearing indigenous vegetation. Alien plant invasion, bush encroachment or soil erosion resulting from overgrazing should be controlled.
Wherever possible, create a buffer zone around patches of natural veld and allow natural veld to regenerate within that zone. The wider the buffer, the better protected the patch will be from the impact of surrounding land-use, such as crop spraying.
Avoid driving off-road in the veld, including with quad-bikes, as this may damage the soil and kill or injure plants and animals.
Be aware that some veld types, such as fynbos and grassland, need periodic burning to sustain biodiversity. Ensure this takes place at the recommended intervals (a subject we will cover at a later stage).
Invite qualified biologists with knowledge of your area to visit your protected patches and conduct biodiversity surveys. These will help document the significance of your land to conservation, and provide guidelines for its appropriate management.
Benefits
Natural predators of pest species found in natural ecosystems will hunt pests in neighbouring crop lands. Indigenous pollinator species, such as certain wild wasps, bees and moths will move into neighbouring crops and pollinate them, provided that pesticides haven't been used.
More extensive protected areas can become an attraction for visitors, bringing in additional income. Think of the wildflowers in Namaqualand, hunting on some Karoo and bushveld farms and angling in well-managed rivers and dams.
Source: J Harrison and D Young 2010. Farming for the Future: Farming Sustainably with Nature. Animal Demography Unit, University of Cape Town.