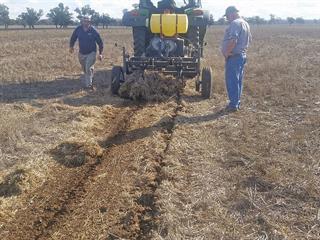 Conservation agriculture (CA) has been described as a sustainable, profitable farming system that reduces soil disturbance through minimum tillage, rotates crops, and leaves residues on the soil as a cover. Farmers who practise CA recognise the economic value of managing their resources for sustainability and profit.
South African farmers, like their Australian counterparts, operate in a tough, competitive environment in which they do not benefit from government subsidies. To farm successfully, farmers from both countries have to take advantage of cost and resource-saving innovations, according to Greg Butler, manager of the Southern Australian No-Till Farmers' Association (SANTFA).
One of Australia's largest non-profit land-management organisations, SANTFA focuses on improving productivity by developing superior farm technologies. Butler was speaking at the recent Conservation Agriculture Western Cape (CAWC) Conference. As pressure bears down on the agricultural sector to become more efficient, cleaner and more environmentally friendly, innovation becomes crucial. Butler has been involved in a specific innovation since 2007: the development of a liquid coulter – the Aqua-Till.
Still in development, this uses ultra-high-pressure (nearly 3 800-bar) water-jet cutters and can be used in stubble management and seeding. It has major potential for no-till farming.
Improved production
Butler's role at SANTFA is to clear a path for new discoveries and innovative technology. The organisation's principle goal is to look for management strategies that reduce input cost relative to production capacity. Butler has been a driving force in the adoption of soil moisture monitoring technologies on Australian no-till farms. He recently demonstrated to farmers how they could cut their fertiliser bills through low-rate banding with bio-char.

Cutting power
Ultra-high-pressure (UHP) water jets have been used as cutters in industry for decades. It was thus a well-established technology from which conservation agriculture scientists could borrow and adapt until it fitted the CA model. Researchers discovered that a jet of water under high pressure could act on the soil in a similar way to a knife point or disc. Once a patent was lodged, SANTFA developed the Aqua-Till liquid coulter as a simple ground engagement tool.
The Aqua-Till's UHP water jets cut cleanly through stubble. This stubble can be problematic in no-till cropping systems.
"High stubble levels, soft soil and wet conditions can result in residue being pushed into the soil rather than the disc coulter cutting through it. This is called hair-pinning," explains Butler.
The problem with hair-pinning is that it may prevent seed-to-soil contact and thus germination, says Hoppies Uys, conservation farmer from Swellendam.
Ground engagement is a key performance feature of the Aqua-Till coulter. The distance between nozzle and stubble is very important, as performance deteriorates greatly when the nozzle bounces away from the ground.
According to Butler, the coulter performs best in medium to higher rainfall conditions. In these areas, the trend is to keep more residue over increasingly soft soils. The coulter also performs well where parts of the rotation are sown on wider rows and nitrogen fertiliser is applied at higher rates.
Butler points out that the number of cutting heads has the greatest influence on cost. Ultra-small nozzles are generally used, and the proximity of the nozzle to the stubble is critical. However, bigger residue loads will require a wider nozzle. It is more cost-effective to run the Aqua-Till coulter at higher speeds, but the cutting speed must be managed in conjunction with nozzle size.
Development and vision
The trailing discs in a zero-till seeder can be replaced with an air gun. Behind the coulter, the air gun can shoot seed into the cut created by the water jet. Apart from using the Aqua-Till as a liquid coulter that slices through surface material and cuts into soil, it is planned to perfect the seeder component so that it can deposit liquid nutrient along the seeding row. The furrow can then be closed with a seed-firmer or a closing wheel.
Penetration of the water coulter, and depth control for seed placement by the air-gun, would ultimately be controlled by a mechanical or electro-magnetic soil density sensor which could be configured for soil type and crop requirements.
Core UHP technology has the potential for multiple applications throughout the growing season, explains Butler.
Improvements
SANTFA is keen to develop the technology's potential in an 'AquaSlash' application for inter-row weed control. Slashing biomass is easier than cutting soil with a water-only jet, says Butler. As long as the pressure remains constant, reducing nozzle size can dramatically reduce water use. In fact, halving the nozzle radius reduces water rate by 75%.
"It's most efficient to cut at the highest pressure. A high-pressure, small-orifice provides better cutting than a large orifice with lower pressure," he says.
Investigation of inter-row weed slashing identified two problems with mechanical blades:
Difficulty achieving high blade speeds to achieve a quality cut;

Poor performance on small, sprawling weeds that escaped under the horizontal-only action of mechanical blades.

Speed is not an issue with an AquaSlash waterjet and it is hoped that angling the nozzles 30° down onto the soil surface will improve performance on sprawling and emerging weeds.
Email Greg Butler at [email protected].