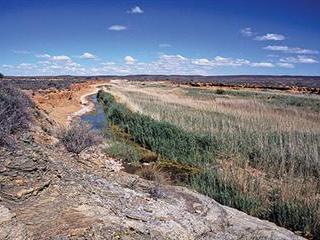 For many years, the riverine rabbit (Bunolagus monticularis) was thought to have survived only in isolated pockets in the Nama Karoo, its distribution range roughly bounded by the towns of Sutherland, Calvinia, Williston, Carnarvon, Victoria West and Beaufort West. Then, in 2003, one was sighted in the Bijstein Nature Reserve in the Succulent Karoo near Touws River. Further efforts are now underway to establish whether this endangered mammal species does indeed occur in other areas.
In the Nama Karoo, the remaining habitat of the riverine rabbit is only on private land and its survival is solely in the hands of farmers. During the last 15 years, efforts to conserve the species and its habitat have focused on the Loxton and Victoria West districts. Here, four conservancies covering 350 000ha have been established in areas where populations of the species are known to survive. Being a member of a conservancy demonstrates a farmer's commitment to improving biodiversity on his land and is not merely a status symbol.
Benefits to farmers
The riverine rabbit is a 'flagship' species, which means that actions that benefit it also benefit other plant and animal species in its habitat. In addition, habitat conservation action has benefits for sustainable agricultural practices and farm management. The rabbit is a biological indicator of riparian habitat health along the rivers and drainage lines of the Nama (Upper and Central Karoo) and the Succulent Karoo. This unique habitat is of economic importance to farmers in terms of cultivation and small-stock grazing.
Threats to the ecosystem include overgrazing, much of which is historical, and land and river transformation that leads to fragmentation and degradation of riverine habitat. It also isolates rabbit sub-populations. Herman Hugo, chairperson of the Wagenaarskraal Agricultural Association and Conservancy, points to the need for a mind-shift on biodiversity amongst farmers. "It's crucial for them to become even more concerned about the variety and composition of the vegetation that supports their enterprises," he explains.
Read: Farming Angora rabbits with love and care
In the Karoo, where livestock farming methods have been handed down through the generations, it is not always easy for change to take place. Hugo says that farmers need to aim for a positive trend in veld condition. "Only then we can gain momentum and measure our progress. We need to energise individual farmers and create enthusiasm and passion," he stresses. Hugo has seen great benefits from improved biodiversity on his farm.
"The condition of the Karoo veld is now far better than it used to be, the vegetation is more mixed and there's an increase in climax grasses and shrubs. The result is less runoff and therefore less soil erosion," he says. Johan Moolman, chairperson of the Sak River Conservancy between Beaufort West and Loxton, says the riverine rabbit has taught him to become more aware of his veld and what survives on it with his sheep. He feels a sense of pride in having this rare species on his property and realises that conserving the rabbit and its habitat benefits his farming operation. He is also committed to giving something back to the land that supports him.
"The riverine rabbit is an indicator species. If it disappears, other species could follow, with a negative impact on biodiversity," he explains. Like other farmers in the Karoo, Moolman has added value to his farming enterprise by offering an ecotourism and guest farm experience in a region that has become increasingly sought after by jaded city folk. The rabbit provides added interest.
"People come to get a glimpse of this rare creature, which keeps our bookings ticking over," he says. According to Bonnie Schumann, senior field officer for the Endangered Wildlife Trust's Drylands Conservation Programme (EWT-DCP), the benefits of this network of conservancies are considerable. They include healthier river systems, bigger wildlife populations, shared costs and a common approach to conservation issues. "An environment managed by a partnership of landowners would also ensure a healthier ecosystem in which to farm," she says.
Progress in conservation
The EWT-DCP and Graham Beck Wines recently co-hosted a riverine rabbit awareness day to inform farmers and other interested parties of progress in the conservation of the riverine rabbit. Threats to the species and its habitat were highlighted and confirmed by farmers. While riverbank degradation and habitat loss are among the the leading causes of population fragmentation and decline, other factors also contribute.
Jan Human of the farm Sandgat in the Victoria West district spoke about some of these. He first became aware of the riverine rabbit in 1965 and has worked since then to ensure its survival. In fact, the initial research was carried out on his farm. From his extensive knowledge, he shed light on some of the natural and human threats that have had an adverse effect on rabbit populations.
Read: Meat rabbits good for the bottom line
"One of the first manmade obstacles that isolated populations was jackal-proof fencing," he explained. "Once a farm is totally fenced, there is no way through for the rabbits. Clipping one strand at the bottom of the fence lets the rabbits through but not the larger predators." Other threats come from nature itself. Human explains that the common reed (Phragmites australis), chokes sections of the river beds and blocks escape routes for the rabbit. The reed beds also provide cover for predators.
"Jackal and caracal populations have increased and larger shrub species such as the blinkblaar-taaibos (Rhus burchellii) have proliferated to give raptors vantage points for spotting prey," he explains.
Habitat restoration
In 2007, the EWT-DCP established a Karoo indigenous plant nursery in Loxton as part of its riparian habitat restoration project. The nursery collects seed from the Karoo veld, germinates it, and nurtures the seedlings until they can be transplanted into the veld. Species include Karoo shrubs such as ganna (Salsola aphylla), anker karoo (Pentzia incana), rivierdraaibos (Tripteris spinescens) and kriedoring (Lycium pumillum), which provide food and shelter for the rabbit.
Over the last five years, the EWT-DCP has established four pilot sites in riparian areas to trial restoration methods. The Department of Agriculture, Forestry and Fisheries has collaborated with the programme and developed a monitoring protocol to measure the success of restoration sites. Farmers in the conservancies have provided implements, mulch and labour supervision.
Schumann says that the best way to restore degraded Karoo veld and make the best use of limited resources lies in a partnership between farmers and agriculture and conservation authorities. Restoring degraded sections of riparian habitat is essential to re-establishing corridors for free movement of riverine rabbits and other species.
"Riparian zones perform many functions, including storing water, reducing floods, stabilising river banks, improving water quality by trapping sediment and nutrients, and providing shelter and food for animals," she says. "The river courses in the Karoo are its lifelines."
Be there rabbits?
To confirm the presence of riverine rabbits and determine population densities and trends, there is no substitute for physically counting the animals. In the past, doing this was a time-consuming, labour-intensive exercise. Most fieldwork was carried out either on foot or on horseback, preferably by a small group of people working in line and covering kilometres of river system. The method flushed rabbits into the open for counting.
In the past two years, camera traps have provided a more efficient method of recording sightings. The cameras are positioned in identified habitat or areas where suspected sightings have been made. "The farm workers are also a source of information," says EWT-DCP manager Christy Bragg. "Their knowledge of wildlife has been learned first-hand from working in the veld."
The way forward
Bragg explains that progress has been made since the first efforts to conserve the riverine rabbit. In the extreme environment of the Nama Karoo, small steps forward can make important contributions towards sustainable land use. The staff at the EWT's Drylands Conservation Programme are dedicated to the project. "Our ultimate aim is to establish custodianship among farmers by developing a sense of ownership of the riverine rabbit, its habitat, and the river ecosystems of the Karoo," she concludes.
Phone Christy Bragg on 082 332 5447 or visit www.ewt.org.za.