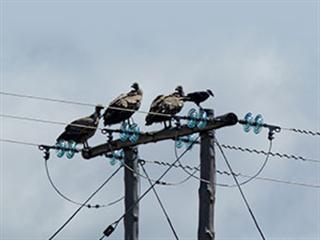 Since 1996, the Endangered Wildlife Trust (EWT), in partnership with Eskom, has monitored vulture mortalities along power lines. Until the end of 2012, nearly 800 deaths were recorded in the Eskom-EWT central incident register. A total of 371 of these were Cape Vultures. According to Kate Webster of the Stormberg Raptor Rehabilitation Centre near Queenstown in the Eastern Cape, actual mortality figures are almost certainly much higher, as the register reflects only reported deaths of South Africa's vulnerable and most studied vulture species.
Cape Vultures and power lines
Webster says that she has been disappointed by Eskom's attempts at curbing vulture mortalities in the Eastern Cape. Since 2008 she has reported almost 80 Cape Vulture deaths under power lines in a handful of Eastern Cape districts. For example, Cape Vultures are still dying along power lines in the Molteno/Burgersdorp region, despite the fact that she began reporting mortalities in the area to EWT five years ago.
Last year alone, she found more than 10 dead vultures in the area, a discovery that left her despondent. "I wrote a letter to the EWT indicating that I was not prepared to go and count any more dead vultures as it seemed a pointless exercise if Eskom was going to be reactive instead of proactive," she says. Earlier this year Webster revisited the area to collect a Cape Vulture that had broken its back colliding into a power line – only to find another 11 dead vultures.
She says that in her experience, even when Eskom does install mitigation measures on power lines, mortalities often continue. "When a report goes in, no effort is made to walk 'beyond' the so-called 'T-structures' to check for more mortalities and to see whether protectors should be placed on those structures too," she explains.
"I followed up one of these cases in Molteno and found that after the last raptor protector, the next T-structure had dead birds underneath. In Burgersdorp, certain areas have raptor protectors only on one or two T-structures and then there are gaps of 10 or more structures."
Webster says that Eskom's mid-2012 interventions on the Sterkstroom/Carrickmore power line in the Eastern Cape, entailing the retrofitting of 4 348 structures with raptor protectors at a cost of approximately R8 million, have come too late. She first reported mortalities on this line in 2008, yet Eskom launched the project only last year after the EWT discovered alarming numbers of dead birds along the line (the majority of which were Cape Vultures). The project is due to be completed by the end of this year.
"Eskom are patting themselves on the back about the line, which will have 4 000 raptor protectors, but this only came after EWT looked at the line last year and found more than 50 dead birds," she says. According to Rudi Kruger of Eskom's sustainability division, the power utility responds to reports as soon as possible. He cites a report made by Webster about vulture electrocutions on the farm Mooiplaats in the Burgersdorp district on 26 February. He says the incident was investigated on 7 March by EWT and action taken by Eskom on 8 March.
He says that "one of the main strategic decisions taken by Eskom is that all power line designs must be bird-friendly". According to Kruger, Eskom spent R70 million on power line mitigation programmes in South Africa in 2012, and is involved in significant research to improve its ability to protect vultures. Specifically it has funded research, in conjunction with the Nelson Mandela Metropolitan University, aimed at prioritising areas of critical need of mitigation on existing 22kV power lines in the Eastern Cape.
The programme is expected to be completed by 2018, but Webster is not hopeful that Eskom will meet this deadline. She says the fact that there is a five-year period for completion means that vultures will continue to die along power lines for the foreseeable future. In addition, not all new proposed Eskom lines include effective mitigation measures, a situation Webster believes reflects the power utility's reactive conservation approach.
Vulture movement
According to André Botha, EWT's Birds of Prey programme manager, the power utility's commitment to vulture movement studies is critical in that it establishes where future power lines should be built to minimise mortalities. "Eskom considers vulture breeding sites and movements when planning new lines, and has invested heavily in research to improve our knowledge of vulture movements recently," he explains. "There are several movement studies in progress which will better inform Eskom about the future erection of proposed lines."
Kerri Wolter, co-ordinator of the Cape Vulture Task Force and founder of the Vulture Programme (VulPro), believes in the value of the EWT- Eskom partnership but points out that Eskom failed to take vulture movements into account when planning a new power line past the VulPro vulture sanctuary near Hartbeespoort in Gauteng.
"A planned power line is due to run right next to our vulture centre and the public process is in its final stages," she explains. "The consultant who undertook the EIA – a botanist – states that there is very little evidence of vultures in the vicinity and thus the structures are no threat to the species. They haven't done their research, as we have more than 100 vultures visiting us daily."
Threat of wind turbines
Botha warns that these birds will soon face yet more danger – in the form of giant wind turbines. He says that if figures relating to vulture collisions with wind turbines in southern Europe are anything to go by, proposed wind farms in South Africa could have a devastating effect on vulture populations.
"There is considerable data on the impact of turbines on vultures from countries such as Spain, where more than 1 000 vultures a year are killed by turbines. Our vulture populations simply cannot sustain such losses." Wolter agrees, and is particularly concerned about two proposed wind farms in the north of the Eastern Cape that dovetail with Cape Vulture habitat. "Both sites have vulture populations utilising that sky space. This is the next disaster," she says.
The proposed Letseng wind farm in Lesotho is of serious concern to Birdlife SA, who in a statement in early 2013 highlighted the potential dangers the initiative posed for Cape Vulture and Lammergeier populations in that region.
Contact the Endangered Wildlife Trust on 011 372 3600.
Other sources: www.birdlife.org.za.