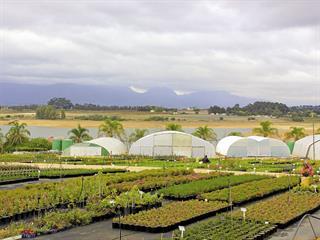 Since Farmer's Weekly last spoke to Jacky Goliath in 2012, she and her business partner, Elton Jefthas, have grown their De Fynne Nursery business into a renowned supplier of high-quality potted plants. Raised in Abbotsdale near Malmesbury, Jacky says her passion for growing plants started as a child.
"I always knew I wanted to work outside," she says. "So I studied horticulture, and worked at the Agricultural Research Council, where I gained experience. Back then, I never even dreamed of having a farm. I didn't think it was possible. Now my passion is my business."
De Fynne was established when Jacky and Elton planted 1 000 fynbos plants in three varieties in Elton's garden. The operation was then moved to a 0,5ha property in Kylemore, and then to a 1,5ha property in Simondium. The business is currently based on a 22ha farm in Paarl, which De Fynne first rented in 2014 from the department of rural development.
Jacky Goliath holding up a sample of a mobile garden, an upcoming product.
Jacky believes that doing something one is passionate about results in happiness. "It starts with yourself. I'm a happy farmer, and if I couldn't farm here I would do development work in Africa and teach people to be sustainable and grow their own food."
Farming focus
De Fynne's current primary focus is the wholesale nursery of fynbos and indigenous plants, with 3ha planted to more than 50 different cultivated fynbos products, and numerous agricultural crops. Jacky believes that it is the right time to focus on fynbos, as it is indigenous to the area and water-efficient.
"We are a wholesale fynbos nursery so we make our own cuttings and seeds, but it takes 12 to 18 months to have a saleable product, which affects cash flow. To help our cash flow we jumped at the opportunity when we were approached by commercial farmers for contract growing – for example, producing 40 000 figs.
The contract growing we do also includes granadilla, citrus, pomegranates, kiwis, nectarines, grapes, cherries, apples, pears, blueberries, strawberries, olives, honeybush and ornamental plants – all in pots.
"We also do hardening off of tissue culture plants for labs – like apples, figs, cherries and blueberries," she explains. Jacky says that at De Fynne, she and her team also carry out their own research and trials to ensure the best rooting mixtures for specific plants and purposes. She and Elton work with production manager, Annalise du Preez, who is also a horticulturist, to determine the best soil combinations for the best results.
"We nurse plants in our nursery, whether it's from seeds, cuttings or tissue culture. We have the knowledge and experience to do this and we've opened ourselves to the industry as a niche nursery that works with small plants and grows them in short-term contracts.
We also work with research institutes that give us apple and pear pips to germinate and grow into 1,2m to 1,5m trees. We return these to them so that they can use the nodes for grafting onto new rootstocks to make new varieties of apples and pears."
Plum farming
A total of 10ha are planted to plum trees, which produced 180t of plums for export this season. "This is a very low tonnage," says Jacky, and explains that the plum trees were on the farm when they moved there.
"However, the trees were extremely neglected when we arrived, and many were planted on the wrong rootstock. And in 2013, just before we took occupation of the farm, the plum trees were flooded for three months because the nearby Berg River was in flood, so there was root rot and many trees died. At 18 to 22 years old, the plum orchard is old. Our long-term thinking and short-term planning is to remove some plum trees and bring in new varieties."
According to Jacky, the farm is not large enough for commercial plum farming, and they are investigating the possibility of including other high-value crops such as blueberries and kiwis. While De Fynne's plums are exported to Europe and the Far East, Jacky adds that the plums in their current state are not producing profit.
Marketing strategy
"As a small black business, little money is spent on formal marketing and we rely on word-of-mouth advertising, but I think the awards we have won have helped us to gain market exposure," explains Jacky. She and De Fynne have won over a dozen prestigious farming awards in recent years, including South Africa's Most Influential Woman in Agriculture and SADC in 2014, and the 2015 Toyota New Harvest Award, which included a Toyota Hilux as the prize. Jacky is the first female farmer to win this award.
"The awards are external recognition, and proof that we're doing something right. They [the judges] really investigate us thoroughly ahead of the awards. Our financials are scrutinised, they cross-examine us on our farming practices and really dig deep to ensure our authenticity and that we're not just a front for another farmer."
While winning awards helps to market the business, a high quality standard is De Fynne's recipe for success. "In the beginning, we didn't have quantity, but we did have quality and consistency, business skills, passion and relationship-building skills. This, along with persistence, is important in a small business. I believe this is what has made De Fynne stand out."
Supplying woolworths
"In the beginning, we were hesitant to present our products to Woolworths, because we didn't have adequate quantity. So we presented Ornamental Buchu [Agathosma cilliaris], of which we had just 500 plants. They liked our product, but because we were so small, we had to initially work through another supplier to put it on the shelves for us. Woolworths said 'grow more,' and that's what we did.
Dianthus in front with olive trees at the back. Olive trees are part of the growing programme for Woolworths.
Now, we supply Woolworths stores nationwide. We have a fixed growing plan with them that is renewed annually, so we know exactly what, when and how much of a product they want."
De Fynne supplies Woolworths with 15 000 plants of a single line, including potted lavender, strawberries, granadillas, tomatoes, olives and Buchu. Over the past eight years, De Fynne's supply to Woolworths has substantially increased every year. Jacky is currently experimenting with mobile flower and herb gardens, also to be supplied to Woolworths.
De Fynne supplies other commercial clients, such as Stodels, all the Massmarts in the Western Cape (Builders Express and Builders Warehouses), Keith Kirsten, Cape Garden Centre, Superplants and Pick n Pay, amongst others.
Delegation and teamwork
De Fynne's separate areas of production are managed by various teams and team leaders. These areas include, amongst others, a team responsible for cuttings, and another for plant potting. Jacky delegates tasks and matters to Annalise, who, in turn, delegates to team leaders. Jacky says that this structure is necessary to manage the business's many aspects and product lines.
"We have passion and give our staff an essential sense of ownership in the business. The principle of ubuntu is important. It's 'our' De Fynne, not 'my' De Fynne."
Currently, the business employs 25 permanent staff, 15 seasonal staff, and eight to 10 people for plum harvesting and pruning. About 60% of De Fynne's staff are women, as they work gently and pay greater attention to detail, according to Jacky.
"Many of our older staff from previous premises still work with us too," says Jacky. "Our receptionist, Cheryl Ferguson, started with us 14 years ago as a general worker."
Before starting De Fynne, Jacky was a project manager for ASNAPP (AgriBusiness in Sustainable Natural African Plant Products) and worked to establish nurseries in various African countries.
"This gave me business and financial skills and taught me how to budget and keep records, which was knowledge I brought to the business. Elton is more strategic and is the financial planner. He advises me in this regard. I'm more practical and hands-on with production."
Jacky says that De Fynne's turnover has increased by roughly 300% since the beginning. "This is particularly satisfying as we did it all ourselves and with our own money. It was only in 2011 that we received a production loan, after cutting it on our own for 10 years. We really worked hard to be where we are and grew the business out of nothing except hard work and passion, and we're still doing it."
Social responsibility
Balancing business and social responsibility, Jacky offers talks at Stodels, schools, and various garden groups to educate consumers on how to look after fynbos in order to eliminate fears about growing and planting it. "We also work with tertiary institutions, and students come here to do their in-service training. It's our contribution to youth development and education," she says.
De Fynne also hosts high school students for job shadowing and students are assisted with school projects. "We don't come from rich families, but have been blessed in our business. This is our way of giving back, because we've received so much."
Jacky says that it is harder being a female farmer, as she is not always taken seriously.
"The average male farmer doesn't think a small woman can be a farmer, so at farmers' meetings they all talk to Elton, even though he tells them that I'm actually the farmer." Jacky says that her mother, Yvonne, was her role model and life mentor, and taught her values and a work ethic. "She led by example and her presence is still powerful in my life."
Business partner, Elton, is her business mentor. "He's the CEO of ASNAPP and has a lot of business wisdom and good principles. We do debate a lot, though."
The future
The plan is to expand into the agricultural sector, while still growing fynbos. "We also want to expand the nursery and have a bigger market footprint. We also want to expand on current business relationships, and by growing the business we'll also be able to employ and sustain more staff. I think moving here in 2014 tipped the scales in our favour, along with our ability to change with market demands. You adapt or die."

Phone Jacky Goliath on 021 869 8467, email her at [email protected], or visit www.defynne.co.za