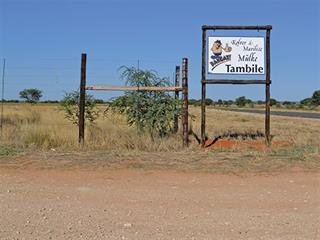 Either do something right or don't do it at all. This is Kolver Mülke's philosophy. Kolver (34) farms on Tambile in the Douglas district, about 45km south of Kimberley in the Northern Cape. He produces wheat, yellow maize, potatoes, onions, seed onions, seed potatoes and groundnuts in rotation. Kolver joined his father Willem in 2002 after completing a degree in agricultural management at the Free State's Central University of Technology.
"I did my practical year on the farm, but my father didn't want me to complete my studies as I was needed on the farm. He'd bought more land and couldn't do all the work on his own," says Kolver. Instead, never one to shirk from a challenge and unafraid of hard work, he returned home every weekend to tend to the farm while completing his degree.
Kolver farms with his father in a 50/50 trust, and now runs the day-to-day farming activities on 440ha of the family's 750ha. A total of 200ha of this is irrigated. Since 2003, he has also run his own farming operation and independently irrigates 240ha. He does not own any land. "I lease land from my father and neighbours at market-related prices," he explains. "At current land values, I can't afford to buy my father's land, but as I'll inherit it one day it makes sense to lease it now."
Kolver markets his grain through Safex, and distributes his vegetables to fresh produce markets across the country with special emphasis on the Durban, Johannesburg and Pretoria markets. In addition, he plants seed potatoes for Northern Cape agricultural company GWK – specifically the new Lanorma variety as it is more suitable for the sandy Douglas soil than the traditional Mondial variety. "Lanorma does well in any type of soil and GWK markets this variety right across South Africa," adds Kolver.
Kolver with his wife, Marilize, and their two children –
WG (5) and Lienke (2).
Cash crops
"My responsibilities grew as the farming operation expanded," he continues. "Fortunately, my father did not have a problem in relinquishing control." His duties include responsibility for marketing and logistics of all their fresh produce. In the process he has built up a good personal relationship with the market agents who handle his produce.
He prioritises high-value cash crops, and his rotation cycle is planned around onions and potatoes. 'High value' in this instance means crops with high input costs that could yield high rewards if the market is right. However, it could also mean a greater loss when the market price is low. When Kolver first began working with his father, they irrigated 150ha of land with a sprinkler system and five centre pivots.
Today 31 centre pivots operate on the Mülke farms. Water is their most valued resource, and Kolver seeks to produce "as much food per millilitre water as possible". "We don't have enough water rights to irrigate all the land at the same time, so we use mobile centre pivots. It also gives land time to periodically lie fallow," he explains.
Rotation and rest
Rotation and rest are key to the farm's success and keep diseases such as common scab under control, says Kolver.
On the main farm, Tambile, which has sandy soils with a 7% clay content, he rotates four pivots, typically growing onions, oats, groundnuts, wheat, maize, wheat and then onions again. The first and second planting of wheat is strip-tilled back into the soil, but the maize rests are burnt.
On another block of land on the same farm Kolver rotates crops on single pivots. The soil here has a clay content of between 25% and 40%, so the pivot circle has been quartered off. A typical rotation is onions (2014), wheat (2015), maize (2015/2016), potatoes (January 2017) and maize or cotton later in 2017. Kolver owns a small commercial Brangus x Bonsmara beef herd that grazes the maize stover. They graze on permanent pastures in winter when production on these pastures is low. They also graze on the oats planted after the onions, and on the maize rests. This interim period lasts between four and six months.
Ups and downs
Kolver's farming operation received a boost when his father gave him an interest-free loan to buy implements. But it has not been an easy ride simply because his father was in the business. When Kolver started leasing land, he had a bumper wheat harvest that averaged 10,3t/ ha on the 60ha he had planted.
But his good fortune did not last: his potato and cotton crops suffered severe hail damage during the next planting season. "I'd just signed my potato insurance that morning, but insurance only kicks in 48 hours after you've signed," says Kolver with a wry smile. This setback pushed his bank account into overdraft, but Kolver decided that he would not be beaten.
"I'm not a negative person, but an overdraft takes its toll," he admits. "But in the long term this made me more successful as I didn't have room for wastage or error when confronting debt. It kept me on my toes and today I know that I needed to start in the red to finish at the top."
Kolver believes he should be able to do everything he expects of anyone else on the farm.
"I cannot be scared of work if I want to be a farmer," he says. "But this needs to be combined with just a little bit of luck."
Phone Kolver Mülke on 082 411 0196 or email him [email protected].