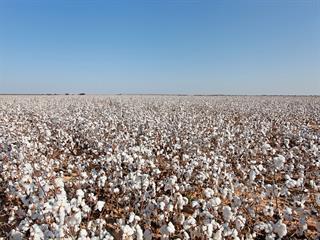 Thanks to new technology and support from trusted partners, Gert Cilliers from Stella in North West has taken a leap of faith and reintroduced cotton on his farm near Stella in North West. With this kind of backing, he feels that farmers in the area can improve their returns on marginal land.
Last year, he planted 550ha to dryland cotton, as well as an additional 915ha on leased land. Gert started farming with his father in 1991 after studying BSc Agric (Hons) and serving in the defence force for two years, but has now been farming independently for 24 years. Much has changed since the last time he planted cotton in 1993, he says. To begin with, a number of new cotton cultivars have been introduced.
Gert planted Candia Austral, Monsanto Delta 12 and 12b40 cultivars, which are all bollworm- and glyphosate-resistant, allowing him easy and effective weed control. One of the problems he faced previously was bollworm, which caused him considerable losses and contributed to his decision to halt cotton production. New bollworm-resistant cultivars now make this crop a viable option.
Gert Cilliers planted cotton this year for the first time since 1993. He says that cotton creates wealth in the area where it is planted.
In addition, when input insurance on maize and groundnuts fell away, he had to look at a crop with lower risks. The quality cotton crop achieved with the new cultivars has resulted in a turnaround in Gert's fortunes. Although the main cultivars he uses are resistant to bollworm, 5% of his total cotton planting consists of 'refuge' cultivars that do not use bollworm resistance gene technology.
Refuge areas help manage the development of resistance in pests to the bollworm resistance agents present in genetically modified (GM) cotton varieties and to maintain the technological advantage which the bollworm- resistant cultivars provide. A refuge crop, at 5% of the total crop, enables cotton pests that are not resistant to GM crops to survive as there is no chemical control of pests in the refuge area. These non-resistant pests breed with pests that have developed a resistance to the bollworm resistant cultivars and produce non-resistant offspring. Without a refuge crop, all pests would eventually build up a resistance to pest-resistant crops.
Mechanised Harvesting
Another technological step forward has been the method of harvesting. Mechanising the process now enables him to harvest 15ha every day at a cost of R1 500/ha. When Gert started farming cotton in 1992, seasonal workers hand-picked the cotton crop. This was a costly exercise, and the high labour costs contributed to his total input cost, and was the second factor that led to his decision to stop cotton production.
Gert explains that today, workers carrying out manual picking are paid per kilogram picked, which is between 30kg/day and 40kg/ day at a daily wage of R123. This translates to a picking cost of about R3/ kg. On average, 37 workers pick one hectare per day, at a total cost of R4 612/ ha.
Winning partnerships
In 2014, GWK, a diversified agri-business, started offering input financing to farmers in a bid to revitalise the cotton industry, partly due to the current drought conditions in North West and cotton's potential for drought tolerance. The company is now involved in the entire cotton value chain. In the Stella district, a GWK consultant visited every cotton farm in the Stella district every fortnight until producers were comfortable with their crops.
GWK also offers producers a guaranteed price for their crops, provides assistance with marketing, and facilitates the purchase of harvesting equipment. "If it weren't for GWK's support and the way it conducts the scheme, I wouldn't have been able to succeed," Gert says frankly. Due to the great expense of buying a mechanical harvester, farmers are also able to hire them from Cotton SA, GWK and Loskopdam Co-op.
Certain risks
About 4 500ha in the Vryburg-Stella area is currently under cotton. But despite the new-found confidence in the crop, Gert admits that some risks remain. Two of the main problems of growing cotton in the Stella area are the sandy soil and windy conditions. With a planting depth of 2,5cm the soil can dry out before a crop can establish itself to its full potential.
Gert recently had to replant two crops across a 500ha area. The first planting was carried out too early and, as a result of the cold, the seed did not germinate. The second crop was destroyed by wind. However, Gert says he has confidence in his farming business as he has trusted partners that enable him to reap the benefit of his efforts.
"Cotton is like a turkey for the first six weeks," he says. "It starts out slowly, but once it is established it takes off at such a speed that nothing can stop it."
Gert says he may also have a solution for the wind damage that affects crops in the Stella area. Having recently bought a twin-row planter, he plans to plant maize alongside the cotton. Because maize grows faster than cotton it should protect the young cotton plants from wind damage. By the time the cotton crop is properly established, he will spray the maize with a herbicide.
A hardy crop
"Cotton has a long taproot that, in times of drought, can use soil moisture from the previous season," he explains.
"The average 30-year annual rainfall is 480mm. During the current drought, the cotton can utilise the relatively deep 3m water table of our area. Cotton also has the ability to efficiently utilise intermittent rainfall," he says.
This year, Gert's cotton yielded 7t/ha in those patches in which conditions were good, but he expects to average 1,5t/ha for the total crop, with harvesting to be completed later this month. This harvest could translate into an income of R10 000/ha and, with an input of R7 000/ ha, Gert feels that a producer has a wide margin to work with.
Consistent quality
"Cotton can create wealth for an area. Local cotton is hardy and of a quality sought-after on the world market. South African cotton producers must strive to keep the quality high to achieve top prices." Gert supplies cotton to the Vaalharts Gin on behalf of GWK. All the cotton from GWK's producers in South Africa is marketed collectively.
This means that small producers have access to the same markets as large producers. All cotton is traceable and every farm has a batch number which enables the producer to be remunerated for the exact quantity of cotton lint delivered to the gin. In addition to cotton, Gert produces groundnuts, seed potatoes under irrigation, and maize. He also runs a small feedlot as well as commercial Bonsmara and Simbra beef herds.
Gins require that cotton be baled in plastic to prevent contamination. Here, Gert (centre) directs two workers in using the correct procedure.
Production
Cotton has a high potassium requirement and Gert includes a potassium mixture when planting his cotton seed, at a rate of 16t/ha. Nitrogen is also administered at 64t/ ha, and phosphate at 32t/ha. During a good season he adds an additional 56t/ha of nitrogen and 24t/ha of phosphate six weeks after planting. The optimal time to plant cotton is 20 October to 20 December, he says. He uses the 1:3 fallow system for his cotton lands.
"Cotton is one of the few crops that can help a farmer carry the cost of fallow land," he explains.The entire cotton plant is utilised, with seeds and pods used in cattle feed "Seed more or less covers the ginning costs, which are on average around R3 000/t," he says.
Cotton residue can be used as cattle feed and Gert uses it directly on the land. A harvester leaves 10% of the rough plant material and seed behind on the land. "Although the seed can fatten cattle, it doesn't have the value of maize stover," Gert says.
He advises farmers to conduct thorough research. "A farmer must select his partners carefully. It's all about price management and the gin he does business with. Tomorrow's cultivars will have even better quality fibre and yield higher returns. We are on the same latitude as Australia and our cotton has a great fibre length and quality. Our seed-to-fibre ratio, with 30% to 40% fibre, is also good."
Phone Gert Cilliers on 082 316 4361.