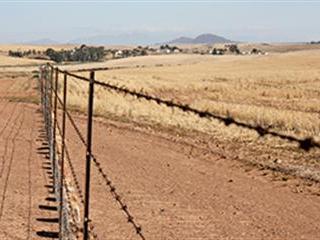 For six months of the year the N7 highway from Cape Town to Namibia is flanked by fields of lush green wheat and vivid yellow canola. But by early December most farmers have harvested their crops and the landscape turns pale and luminous against the blue sky.
"Everybody says the Swartland is at its most beautiful in winter when all you see is green and more green, but I like all the seasons. This is just another type of beauty," says Francois Eksteen as he looks over newly harvested wheat lands, dotted with Mutton Merino sheep as far as the eye can see.
Diversity
Francois and Pieter grew up here, on the family farm Witvlei, and started farming with their late father Bertie in 1984 and 1991 respectively. Since then they have bought four more farms in the Piketberg area and built on the example set by their father who pioneered the use of medics in this part of the country. "Most of our arable land is under a wheat-medics rotation, but we also plant a small amount of canola and oats as livestock feed," Francois explains.

Brothers, Pieter (left) and Francois Eksteen of the Piketberg district.
"We decided to include canola in our rotation to spread our risk through diversification. As well as crops we also farm cattle and sheep. Our Mutton Merino ewe flock produces wool and slaughter lambs and we run Nguni cattle. The livestock division of our farming business is a dependable source of income and reduces overall risk."
Medics pioneers
"In the late 1960s, our father was the first in the Swartland region to start planting medics. When we joined him on the farm we learnt about the benefits of rotating wheat with medics from Australian farmers who had implemented the system. "We pioneered conservation tillage in our medics crop. In the learning process, we had to pay our school fees, even building our own minimum-till planter in the early stages. But our efforts were rewarded and ultimately wheat cultivation in the Western Cape, especially in the Swartland, changed."
A strong camaraderie between the two brothers is clear as Pieter joins the conversation. He explains the establishment of medics on a rolling rotation on the arable land they farm. Medics is a self-regenerating, annual legume, used by the Eksteens as a cover and forage crop.

As well as grain and sheep, a fairly common combination in the Swartland, the Eksteens also run an Nguni herd.
"Medics is very important in our farming set-up as it increases soil nitrogen levels and maintains soil fertility. As a cover crop it helps with disease control in wheat, retains moisture and suppresses weed growth. We are assured of a good forage yield from medics every year," says Pieter.
Crop rotation
"In our wheat-medics rotation we follow an annual wheat-medics rotation, except when grass weeds such as ryegrass become a problem. We then plant canola instead of wheat on that land for a year," Pieter explains. Putting canola in the rotation also reduces plant diseases. Francois explains that canola, an oilseed crop and member of the Brassicaceae family, does not host wheat pathogens. Effectively, canola breaks the disease chain, reducing disease-outbreaks in wheat and other grass crops.
Canola enables more effective weed control as various herbicides can be used, which do not affect the broadleaf canola. Both triazine- and imazamox-tolerant canola cultivars are available. "We plant canola because it helps us to control ryegrass and other annual grasses more effectively and more cost efficiently," says Pieter. He adds that using a greater variety of herbicides prevents the development of herbicide-resistant weeds.
The Eksteens use about 2 500ha for annual dryland crops, planting 1 000ha of wheat in annual rotation with medics. In addition to this, they planted about 94ha to canola and 50ha to oats in 2012. Yields vary according to soil potential in different areas. The medics improves yields by improving soil quality.
Wheat production
Wheat is seeded at a rate of 75kg/ha. "We apply the minimum nitrogen (N), because the medics fixes nitrogen in the soil. The soil pH is maintained above 6. "When sulphur levels are too low, we broadcast gypsum and apply soft rock phosphate (P) if necessary," says Pieter. Average fertiliser application rates at planting are 25kg N/ha and 10kg  P/ ha. They do not normally apply potassium.

In 2007, Francois and Pieter were among the first wheat farmers in the Western Cape to store their wheat in on-farm silo bags. They say that this has been one of their best business decisions.
"The cultivar SST 88 works best in this area. It has a long growth period and develops a good root system," says Pieter.
Important insect pests in this part of the Swartland include the red-legged earth mite (Halotydeus destructor), clover springtail or lucerne flea (Sminthurus vididis), aphids, diamondback moth and bollworm. Preventative chemical spraying controls most of the pests, but diamondback moth and bollworm populations are monitored to determine the need for chemical control.
Seed is treated prior to planting for soil- borne diseases, loose smut and stinking smut. "If conditions promise an above- average harvest, we spray preventatively for fungal diseases at flag leaf emergence," says Francois. "GPS-controlled precision spraying ensures accurate application." A major headache for any Swartland wheat farmer is weed control, with ryegrass being the most problematic weed.
"Other weeds include wild oats, wild radish, Senecio, pigweed and stinkweed," continues Francois. "If weeds start growing before we plant, we alternately spray a broad-spectrum herbicide, such as a glyphosate, and a paraquat-based herbicide, pre-planting. This curbs glyphosate resistance in weeds," he explains. "Herbicides will affect crop yield to some extent so we only spray post-emergence herbicide when we have a severe problem with weeds such as Senecio or ryegrass." The no-till planter, applies seed and fertiliser directly into the residue of the previous crop.
Marketing
"We store our harvested wheat in silo bags on the farms to save on transport cost and give us more control over it," says Pieter. "In this way, we can make choices about when to market it during the year. "We try to sell roughly the same amount of wheat every month because we believe that to make money you need to be constantly in the market, and doing it this way ensures a more consistent cash flow." The Eksteen brothers use the Safex index when marketing wheat to ensure that they get a good average price.
Networking
Francois and Pieter stress the need to be part of organised agriculture and get first-hand information about decisions taken in the sector. They feel it is equally important to talk to and exchange knowledge with fellow farmers. The brothers are driven to build and improve on the successes of the past, to broaden their knowledge base, to exchange ideas with fellow farmers and to contribute to the progress of agriculture in their community and in South Africa. "Success comes with sound decisions and the backing of the right marketer," says Francois.

Contact Francois Eksteen on 082 445 3938 or at [email protected] or Pieter on 082 444 5002 or at [email protected]