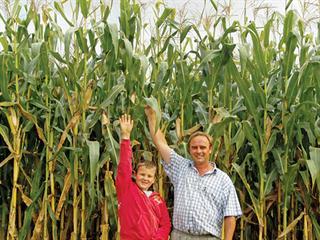 Sufficient irrigation water and spare capacity in irrigation infrastructure are key factors for any farmer keen to produce maize in the Western Cape. Without these, he could lose almost half his crop within two days, should a heat wave strike.
This is according to John Walker, who farms on Ouplaas (900ha) and Langekuil (400ha) near Greyton in the Western Cape's Overberg. He points out that the evaporation rate increases as maize plants grow taller and a producer cannot risk falling behind with irrigation, especially during hot, windy conditions.
John began growing irrigated maize as feed for his Jersey herd 15 years ago, planting 55ha to it under central pivot irrigation fed by the Sonderend River. Today, he irrigates 240ha on Ouplaas while producing rainfed winter grains on Langekuil. The long-term average annual rainfall is 400mm and 450mm on the farms, respectively. He explains that some Western Cape farmers with access to recycled and purified sewage water have also started planting maize.
Read: Overberg's Farm Worker of the Year
Apart from the irrigated crop, John has 40ha kikuyu pasture under permanent overhead irrigation and 45ha perennial grass-clover pasture under centre pivot irrigation. He follows a rotation system by growing perennial ryegrass-clover pasture for three years. He rotates with maize as a summer crop and annual ryegrass (Pannar Voyager 55) as a winter crop on this land.
Managing costs
John is quick to admit that irrigation goes hand in hand with a high electricity cost. "Thanks to proper soil preparation, measuring the soil moisture level with a neutron probe and scheduling irrigation accordingly, we've kept the year-on-year electricity cost increase on Ouplaas at 10% during the last two years. This is despite a sharp rise in Eskom's tariffs," he explains.
The National Energy Regulator of South Africa (Nersa) granted Eskom a 31,3% tariff increase for the 2009/2010 financial year. Thereafter, it approved price increases of 24,8% for the 2010/2011 financial year, 25,8% for 2011/2012, and 25,9% for 2012/2013. In summer, a consultant visits Ouplaas twice a week to make recommendations on irrigation scheduling for the maize, pastures and apple orchards, and carry out precision analysis of all centre pivots.
Silage-specific maize cultivar
John has planted Pannar 6966, a tasty, conventional medium-growing cultivar recommended for silage, for about five years.
"An inland farmer once told me he had to let his cattle graze his maize lands due to a severe drought and crop failure. He then made an interesting observation: the cattle preferred a land of conventional maize (to neighbouring) lands of GM maize – obviously because it tasted better," he says.
Production
The soils on Ouplaas are sandy to sandy loam. Thanks to proper preparation, weed control, fertilisation and irrigation, John obtains an average maize yield of 60t/ha green material for making silage. His highest yields to date have varied from 80t/ha to 90t/ha. John normally plants maize in mid-November, when the soil temperature rises above 18°C after the Cape winter. This requires a day temperature of approximately 25°C, while the night temperatures should not be too low.
When Farmer's Weekly visited him at the end of November, however, he had not yet planted due to a heavy rainfall of 110mm in 48 hours on 16 and 17 November. Soil preparation entails ripping as deep as possible (30cm to 40cm), followed by good mechanical seed bed preparation to ensure proper germination and effective weed control.
Read: Growing maize in the Swartland
For pre-emergence broad leaf and summer grass weed control, John sprays a combination herbicide. He uses another herbicide post emergence based on monitoring subsequent growth of weeds and grass. These grow in abundance because he plants maize on lands previously used for vegetables.In contrast to winter grain production, he has no problems with fungal diseases in his maize.
Maize planter
Although farming in an area renowned for winter grain crops and also growing oats on 500ha, John found that planting maize with a wheat planter was not ideal. He therefore bought a maize planter and planted in rows 900mm apart for a plant density of 60 000/ha. The planter places the fertiliser 5cm to the side and 5cm deeper than the seed to avoid burning it. As winter grain seed is less susceptible to fertiliser burn, winter grain planters place the fertiliser closer to the seed.
Fertiliser application consists of 320kg/ha N, 40kg/ha P and 60kg/ ha K for the entire crop-growing season. Although most fertiliser is applied at planting, the application programme starts beforehand to maintain the soil's nutritional level and ends when the maize plants form plumes. Two weeks after planting, John starts applying N and trace elements through the central pivot irrigation. When the maize plants are between 120 and 130 days old, the ears relatively ripe and the outer third of the kernels hard, he harvests the maize to make silage.
Income streams
John joined his father, Cyril, on Ouplaas in 1990 after completing his B.Agric at Stellenbosch University. At that stage, Cyril had a smaller dairy herd, and grew watermelons and pumpkins. He introduced centre pivots in the mid-1980s. When he bought Ouplaas in 1979, it comprised only 240ha. The farm was subsequently expanded to 900ha, and the Walkers also bought Langekuil. Father and son farmed together until Cyril's retirement in 2006. It was in the same year that the maize was introduced.
John has expanded the dairy herd to 2 300 cows, of which 1 100 are lactating at any given time. The pastures, maize and silage from about half of the oats crop were introduced to support the dairy production on Ouplaas. The balance of the oat crop is used as hay and a grain cash crop. John also established apple orchards on 37ha in 1991. He grows Golden Delicious and Granny Smith cultivars, and achieves an average yield of 75t/ha.
Phone John Walker on 028 254 9388, 082 821 4802 or email [email protected].