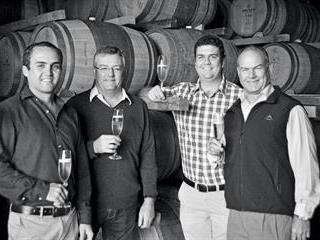 Wine estate Simonsig, well known for its award-winning wines, is named after the breathtaking view it commands of the Simonsberg in the Western Cape. This privately-owned family estate was founded by the late Frans Malan, a legendary winemaker who played a key role in putting the Stellenbosch wine route on the global map.
"My father was innovative on many levels, and always had a plan up his sleeve," says his son, Johan, who is Simonsig's winemaker. "A decade after he took over the farm, De Hoop, from my maternal grandfather in 1953, he bought Simonsig."
Development began immediately. "He modernised the cellar by installing a chilling system to cool down the tanks during the yeasting process." This progressive move set the cellar up as a leader in the private wine industry. Frans quickly realised he was making excellent wine in his modern cellar, but product quality was not increasing his profit margins.
Johan describes how the industry worked at the time: "There were four big wholesalers who bought wine from farmers, and bottled it under their trademark." Co-op KWV had a minimum pricing policy of 9c/l for good wines, says Johan, and no producer could sell wine for less. Outstanding wines were often, but not always, rewarded with a bonus.
In 1968, Frans had an exceptional wine harvest with the finest grape quality. He had every reason to expect a bonus, but it was not awarded. This was a defining moment; Frans realised that unless he added value to his product himself, he would always be a price-taker.
"My father bottled his first wines in 1968. There were three whites, Chenin Blanc, Riesling and a Clairette Blanche – 500 cases of each. My mother, Liza, labelled the bottles by hand in her sewing room with cold glue. It was a struggle to sell those bottles and they made up only 10% of his total wine production," Johan explains. Frans also started a quarterly newsletter which included an order catalogue for wine lovers.
Off the beaten track
Frans regularly travelled to Europe to learn more about the wine industry there. In 1969, he and his companion, fellow farmer and friend, Niel Joubert of Spier, spotted a road sign in Burgundy, France, which read: 'route des vins' – literally, wine road.
Back in South Africa the two men met Spatz Sperling of Delheim to discuss and plan setting up something similar in the Stellenbosch area. Once the three farmers had cleared the necessary bureaucratic and regulatory hurdles, they were positioned to start the Stellenbosch Wine Route.
This was to be the beginning of the South African wine tourism industry. Many thousands of wine lovers and tourists have since visited the cellars and farms on the wine route to enjoy the wines and beauty of the area. It was a simple yet bold move that has injected many millions of rands into the economy of the Western Cape over the years.
Home-grown bubbles
In the early days of the wine route, there were only a few cultivars, with Chenin Blanc the best known. In 1971, using this cultivar, Frans introduced the Méthode Cap Classique. This bottle-fermented, sparkling wine was made according to the French method of double fermentation.
"We're not allowed to call our sparkling wine champagne because it is not made in Champagne, an historic province in northeastern France and the birthplace of this drink," explains Johan. Frans Malan called his sparkling wine Kaapse Vonkel. Contemporary additions to the 'sparkling' stable are Brut Rosé and the premium Cuvée Royale.
To produce sparkling wine, Frans had to import bottles from Europe, and manufacture specialist equipment locally.
According to Johan, his father briefed local carpenters and engineers so that he could get the right plant made for the production of sparkling wine.
At R3 a bottle, Kaapse Vonkel was considered expensive when it was released onto the market in late 1972. Every bottle was boxed, with a brochure inserted. The brochure carried a description of the method of making bottle-fermented sparkling wine in the traditional method.
A legacy maturing
Frans's sons joined the business in the early 1980s after completing their studies. Pieter, Francois and Johan, and their sons, are the third and fourth generation of the family at Simonsig. The 300ha estate on the northern side of Stellenbosch is said to be the largest private producer of estate wines in the country.
"A family business can be a difficult thing, but we have been fortunate to have farmed together for 30 years without too many glitches," Johan says.
He adds that the family has used Frans's vision as their model. His father, he stresses, was never at a loss or without a plan, and always looked for a progressive way forward. "He taught us never to be scared of change or of trying out new techniques. We know that we can only stay ahead of the field by paying attention to improvement and innovation."
Email Johan Malan at [email protected].