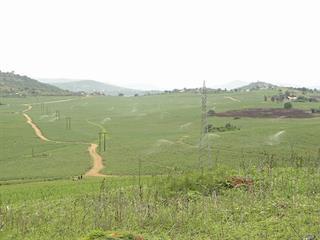 Dryland sugarcane growers in KwaZulu-Natal have suffered a double blow, with two droughts in the 2010/2011 and 2014/2015 seasons respectively. Other factors such as high labour and input costs are putting downward pressure on grower returns.
"It all makes for a tough business environment for dryland growers at present," says Richard Nicholson, economic research manager at the SA Canegrowers' Association. "KZN cane production is expected to decline to 13,77 million tons in 2014/2015, 13% lower than the 15,9 million ton crop in 2013/2014."
However, Nicholson says the expected lower cane supply will lead to an increase in the recoverable value price. There are currently an estimated 23 426 sugarcane growers in KZN – 1 305 large-scale and 22 121 small-scale. Nicholson estimates that large-scale growers in the province employ around 68 750 people.
Anwhar Madhanpall, SA Sugar Association general manager for land reform and rural development, says that the industry "makes an important contribution to sustainable socioeconomic development, particularly in rural areas of KZN and Mpumalanga."
The industry as a whole creates 79 000 direct jobs or 11% of agri-employment, with a total average industry income of R12 billion/year. "Sugarcane is the second- largest South African field crop by gross value, and represents 17,4% of total gross annual field crop production value," he says.
Recovering from drought
Some dryland farmers in KZN, including those in the North Coast, Amatikulu and Felixton areas, have been more affected by the drought than others. "Although the South Coast region received some rain this summer, it has been negatively affected as Illovo decided to close the smaller Umzimkulu mill. Farmers in that mill area will be diverted to the Sezela mill for this coming season," Nicholson says.
Some 78% of the industry's total production for the 2014/2015 season is in KZN, and of this, about 91% is dryland production. Although some areas are able to make use of supplementary irrigation, about 30% of total production takes place in the northern irrigated areas of Pongola, Malelane and Komatipoort.
"These areas have not been adversely affected by the drought. And remember – sugarcane is quite resilient," says Nicholson.
He says that although growers are expecting a significant decline in production for the 2015/2016 season, the crop will recover when conditions are favourable, as it has done in the past. "If growers can get through these tough times, they can bounce back to normal production levels in a few seasons."
Supporting new farmers
According to Nicholson, the sugar industry is one of the most progressive commodity sectors in terms of land transfers, and has transferred 74 624ha (22%) to black farmers. However, 125 000ha (38%) of commercial freehold land remains under land claim, and according to Madhanpall, the settlement of gazetted land claims remains a priority.
"The industry has developed a sugar- industry-specific business process together with the Regional Land Claims Commission (RLCC) to expedite the settlement of these claims. However, the re-opening of claims could result in overlapping of land claims and could stall redistribution programmes."
Developing farmers
The industry has embarked on a number of interventions to further the development of black growers:
Development support (governance, training and skills development);
Specialist extension support in partnership with the KZN Department of Agriculture and Rural Development (DARD);
Business management and economic support by SA Canegrowers;
Agricultural project management support by milling companies.
"More recently, the industry has been liaising with DARD to support land reform and small-scale growers, and is currently discussing a draft memorandum of understanding with senior officials of DARD," says Madhanpall. "There are about 24 000 small-scale growers on communal land. Production units range from 0,5ha to 3ha plots, although we are seeing the consolidation of plots into co-operatives in order to maximise scale of operations and reduce costs."
Addressing land reform failures
Falling productivety on land reform farms remains a concern, and there is a need for post-settlement support and governance.
"The RLCC buys land with no equipment or operating capital and as a result production falls. The communal restoration model has also resulted in serious social issues which places production at risk," says Madhanpall.
More challenges
Small-scale growers face other difficulties, including declining production due to climatic conditions and rising input costs; limited access to production support; contractor-dependent models that eat into profits; and a lack of infrastructure such as irrigation, dams and fencing.
The industry is finalising a rural development strategy that will use sugarcane as a catalyst for economic development, along with diversifying into cash crops and livestock.
"The focus is on improving livelihoods through food security, job creation, providing basic services, and infrastructure development," says Madhanpall.
Phone SA Canegrowers on 031 508 7200 or email [email protected].