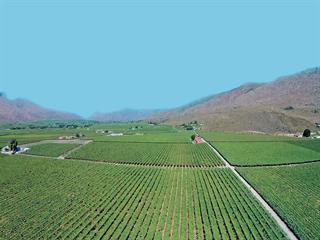 Jacques Beukes, the 2016 Western Cape Young Farmer of the Year, is the fourth generation to farm on Modderdrift, a 100ha table grape farm situated just outside De Doorns in the Hex River Valley.
Jacques, who farms with his youngest brother Eugene, is in charge of marketing, logistics and new developments, while Eugene focuses on production and labour.
"Eugene is the conservative one, while I'm the risk-taker," Jacques explains. "But I believe in taking calculated risks."
Since Jacques became involved in the family business in 2006, grape production has improved by more than 37,5% and total business turnover has increased by almost 900%.
"Our production has increased from 4 000 cartons [4,5kg each] per hectare to an average of 5 500 cartons/ha," Jacques says.
In the 2014/2015 season, they harvested over 6 000 cartons/ ha, and this past season, which was particularly difficult due to the drought, they harvested more than 5 427 cartons/ha.
Jacques attributes these achievements to the late Hugo Steyn, a famer and consultant in the Hex River Valley. After Jacques completed a BCom in Logistics at Stellenbosch University, Steyn taught him the fine art of producing table grapes.
"He showed me a lot of tricks that helped me to systematically improve production," says Jacques.
Get to know the consumer
Jacques stresses that knowing and understanding consumer preferences is crucial, and the latest consumer demand for seedless grapes has seen Modderdrift change from producing predominantly seeded grapes to producing only seedless varieties.
"It's important that you keep up with the latest trends and technology, because once you fall behind, it's difficult to keep up," he explains.
Currently, approximately 70% of all grapevines produce red seedless grapes, while black and white seedless grapes respectively constitute 20% and 10% of production. Crimson Seedless is the predominant variety planted, while IFG's Sweet Sapphire, Sweet Celebration, Sweet Globe, Cotton Candy, Sunworld's Midnight Beauty, Sable Seedless, Scarlotta, Adora, SNFL's Allison, and Melody are also planted.
Jacques and Eugene focus only on the latest cultivars and breeding programmes, and when deciding which new varieties to plant, consider those that produce the highest yield, are labour-friendly, and are of good eating quality. They also prefer varieties that naturally take on their final colours and are less sensitive to rain.
Perfecting production with technology
Jacques is determined to be at the forefront of technology. "Not only does it improve production, it contributes to better management of your product and labour," he explains.
Four years ago, a world-class packhouse, equipped with the latest technologies, was constructed on Modderdrift. Jacques says that the technology utilised has significantly improved overall efficiencies. Software developed by Soft Pro,
for example, allows Jacques and Eugene to determine the productivity of different operations.
"With this software, we could immediately begin measuring each worker's productivity from the vines to the packhouse. This urges them to achieve their targets, thus significantly improving productivity."
New technology also allows them to manage the traceability of their grapes from the grapevines to supermarket shelves.
"Traceability has become an important issue for supermarkets. They want to know who handled the product throughout the production process, up to the point that the product is stocked on their shelves."
The packhouse is accredited by GlobalGAP, Siza, BRC, Tesco Nature, ASDA security and Field to Fork. About 54% of the total crop is exported to the UK, with 31% exported to Asia and 15% to the EU.
New venture
Jacques says that he is always looking for new challenges and projects, and emphasises the importance of thorough research.
His latest project, with which he hopes to increase business turnover by an additional 300%, is a joint venture with Tebogo Mogashoa, a businessman from Johannesburg. They are currently developing two farms, Brandwacht and Ambiance, in the Brandwacht Valley just outside Worcester, into 140ha of prime table grape units for export.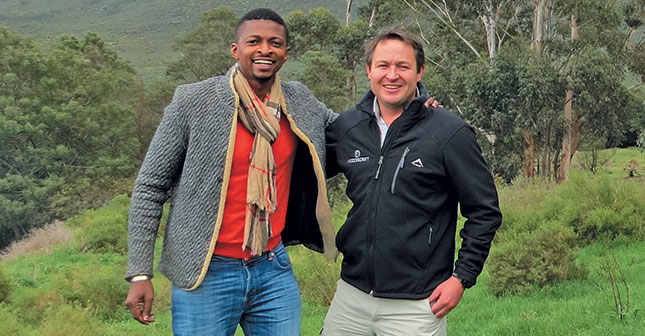 Jacques and Tebogo Mogashoa are developing two farms, Ambiance and Brandwacht, in the Brandwacht Valley. The project aims to create 600 jobs.
They also want to build a packhouse and cold room, and expect construction of these to commence by January next year. According to Jacques, the state-of-the-art packhouse will have the capacity to pack up to one million cartons (4,5kg) a year, and will be constructed next to the road to allow easy access for other producers.
"The entire project will create 600 new jobs," he adds.
The dams have also been stocked with 1 200 rainbow trout to increase tourism.
Cleaning and preparation of the two farms started earlier this year, and all old vines were removed. "You cannot farm on another farmer's mistakes. We want to do things right from the beginning," Jacques says.

Farmworker training
Jacques explains that the organisational structure of the farm is represented as a triangle, with the different sides representing production, marketing and packaging. He emphasises that farmworkers are the "heart of the farm", and that he has the utmost respect for them.
In collaboration with Elsenburg, the Hex River Table Grape Association and the Breede Valley Municipality, Modderdrift launched a farmworker training programme, which consists of eight courses, with a maximum of 20 workers per course.
"Over the past three years, about 40% of our permanent workers have gone for training every year," Jacques says.
Jacques and Eugene also offer internal training for all permanent and seasonal workers on an annual basis.
"Training is very important. Not only does it contribute immensely to the attitude and the productivity of the workers, but it lifts their self-esteem."
Email Jacques Beukes at [email protected].