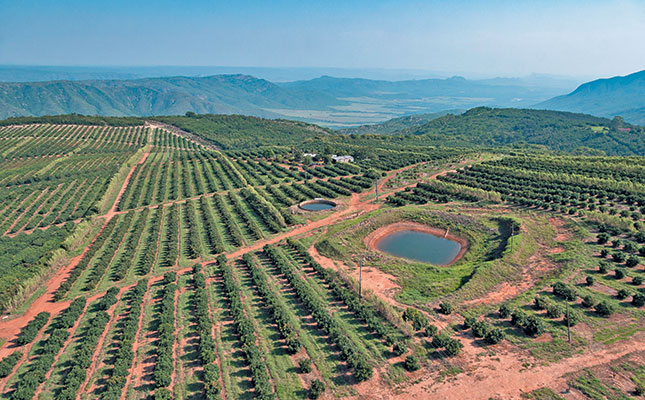 ZZ2, one of South Africa's largest and most well-known farming companies, has retained family ownership for three generations.
It was established by Burt van Zyl in 1903, and in 1948 his grandson, Bertie, took over the farming responsibilities from his grandfather. Today, his son, Tommie, is the CEO.
ZZ2 is the largest producer of tomatoes in the southern hemisphere and an important player in apple, date and onion production. It also has the largest privately owned Pinzgauer cattle stud in South Africa.
Nature farming
However, the Van Zyls also have another success story to tell: the business has gained an international reputation for its progressive approach to avocado production.
Clive Garrett, ZZ2's marketing manager, says that the group adopted the 'nature farming' philosophy (established in 1936 by Mokichi Okada in Japan) about 15 years ago because it was keen to move away from industrialised crop production.
ZZ2 management wanted to follow more sustainable organic and biological farming models that promote soil and crop health without excessive application of synthetic fertilisers, as well as efficient water use, sustainable irrigation practices and crop rotation.
Using nature farming principles, ZZ2 has achieved notable success with avocados. At present, 700ha of avocados are cultivated and plans are afoot to increase this to 2 000ha.
"We aim to expand our volumes from 10 000t/year to 40 000t/year in the next 10 to 15 years," says Clive.
When establishing new avocado trees, ZZ2 aims to bring them into production as quickly as possible.
"As a result of our production practices, young avocado trees start producing their first crop after two-and-a-half years," Clive says.
All orchards are designed according to strict protocols for contours and drainage systems in order to prevent soil erosion. Young trees are planted on ridges, which promote drainage and reduce the risk of root rot (phytophthora).
Avocado trees are highly susceptible to phytophthora due to their sensitive root systems. Infected trees have smaller leaves that are pale in colour. These turn yellow before wilting and dropping off.
Fruit remains small, showing symptoms of sunburn due to a lack of foliar shading. Farms with clay soil face a higher risk of root rot, as this type of soil is prone to waterlogging.
ZZ2 protects its trees by cultivating its own disease-free rootstock, and once the trees are established, phosphate is injected into tree trunks. Phosphonate in the root system protects against invasion by phytophthora.
Composting & irrigation
Water and fertiliser are administered to trees through drip irrigation, and organic fertilisers are used at all stages of production. When young trees are established, compost is applied to the base of each plant, followed by the first watering. Older trees also regularly receive measured applications of compost.
Wood chips produced from invader trees are used as mulch. Clive says that mulching plays an important role in ZZ2's operations.
It retains water in the ground and reduces water usage, a priority in drought conditions.
"Mulch protects the roots of small trees from temperature fluctuations and weeds, thereby minimising the use of herbicides," he adds.
The operation produces its own nutrient-rich compost tea, which is applied to trees through drip irrigation.
"It acts as a liquid fertiliser and prevents many diseases associated with avocados, thereby reducing the need for herbicides," he says.
The area's climate makes it possible to use minimal chemicals, and usually a liquid copper spray is all that is needed to prevent post-harvest diseases.
ZZ2 is currently working closely with researchers in Israel to develop salt-resistant avocado rootstocks, as much of the farm's borehole water has a high salt content. Water from mountain streams is collected in high-lying reservoirs, which makes it possible to use gravitational irrigation systems, reducing electricity usage.
Harvesting & packing
Picking starts when the fruit's moisture content is at the required level for every cultivar. Fruit is hand-picked and stalks are trimmed with sanitised clippers to protect the plants from disease. Harvesting bins are placed between the orchard rows to minimise the distance that pickers have to walk to empty their bags. This
Harvesting bins are placed between the orchard rows to minimise the distance that pickers have to walk to empty their bags. This signficantly increases the productivity of pickers.
At the packhouse, avocados pass through a sanitation bath. Fruit is mechanically sized, packed, and then rapidly cooled in high-humidity coolers to 5,5°C. Once cooled, the avocados are shipped to Europe, the Far East and the UK. The portion of the harvest reserved for the local market is sent to ZZ2's ripening facility in Lanseria near Johannesburg. Here, fruit is ripened according to client specifications.
The portion of the harvest reserved for the local market is sent to ZZ2's ripening facility in Lanseria near Johannesburg. Here, fruit is ripened according to client specifications.
Year-round production
SA avocado growers harvest on average 8t/ha to 10t/ ha, but Clive says this can be much higher. Through its progressive production practices, ZZ2 has achieved a yield of 20t/ha.
"We use a lot of technology and consult widely about best practice relating to pruning and tree size," he says.
As a result, ZZ2's avocado trees can easily be distinguished by their size – none is higher than 2m – and orchards are densely planted, increasing yield per tree and facilitating harvesting ease.
ZZ2 is also scaling up production by extending its growing season.
"We grow a variety of cultivars at different altitudes ranging from 666m to 1 400m, and are looking to plant as high as 1 800m above sea level," Clive says.
Lower-altitude orchards come into production in early March and trees at higher altitudes produce well into December, allowing ZZ2 to supply avocados for 12 months of the year.
According to Clive, increasing production is important for growers wanting to capitalise on rising global demand. In the UK, a bacon and avocado sandwich is the biggest-selling sandwich.
In the domestic market, there is also opportunity to increase avocado consumption. South Africa's per capita consumption is 0,8kg/person, one of the lowest in the world. This can partly be attributed to market forces.
"The majority of South Africa's crop is exported. This leads to supply and demand issues that push up prices, making the fruit unaffordable," he explains.
Phone Clive Garrett on 074 361 3801.