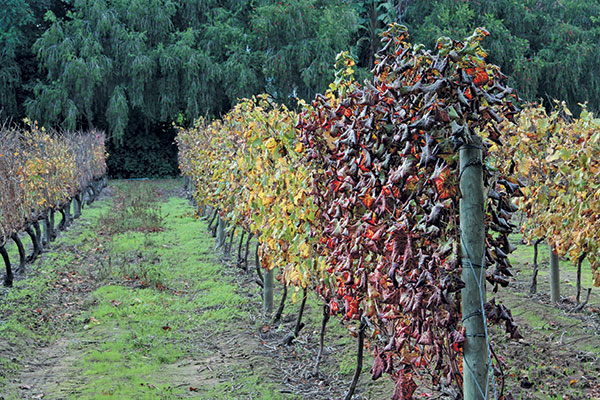 While there is a general perception that it is better to use certified, virus-tested, true-to-type plant material than uncertified material, very little research has been done to quantify the benefits.
Now a recent South African Plant Improvement Organisation (SAPO) Trust study has found that a fruit grower could lose up to R3 million/ha over 25 years by using uncertified material.
In contrast, over the same period, using certified virus-free plant material would save a farmer R2,8 million/ha to R3 million/ ha for apple trees, R1,6 million/ha to R2 million/ ha for pear trees, R1,5 million/ ha to R1,7 million/ha for plum trees, around R630 000/ ha for canning peach trees, about R2,4 million/ha for table grapes and R1,9 million/ha for raisins.
This is according to Dr Stephanie Midgley from Stellenbosch University, who conducted the study with Johann Boonzaaier from the Bureau for Food and Agricultural Policy and independent researcher, Meagan Vermeulen.
Speaking at a SAPO Trust Nursery Information day, Midgely said that in the study, apple mosaic virus (ApMV) and apple chlorotic leafspot virus (ACLSV) were the main focuses in pome fruit plant material, prune dwarf virus (PDV) and prunus necrotic ringspot virus (PNRSV) in the plum and canning peach plant material, and grapevine leaf-roll associated viruses (GLRaVs) in the table grape and raisin plant material.
All of the viruses have a negative affect on fruit sizes and yield, resulting in a 30% to 80% reduction in market prices depending on fruit type and target market. The lifespan of the trees is also affected, as they need to be replaced earlier.
"As things stand now, some nursery trees only need to appear virus-free visually to be certified. The problem with this is that most of these viruses are latent. Symptoms might only appear years after the trees are planted," says Midgely.
The physical testing of all plant material for Certification Scheme viruses to guarantee they are virus-free deserves consideration, she adds.
Little research is available on the incidence and tempo at which most viruses spread, but some growers think that ApMV could infect up to 30% of apple trees and up to 100% in certain Golden Delicious orchards, according to Midgely. The incidence for pear orchards is thought to be less than 1%.
The incidence of ACLSV is generally unknown, probably due to a lack of visible symptoms.
The incidence of PDV and PNRSV in plum and peach trees is estimated to be low – at less than 1% for PDV and less than 10% for PNRSV. However, both these viruses have the ability to spread quickly in orchards, as the virus is transmitted by pollen. The usual rate of spread within orchards is between 2% and 30% a year.
In table grape vineyards, the incidence of GLRaVs can be up to 30%. It is estimated that infection can spread through an entire vineyard in as little as 10 years. Most of the vineyards in the Western Cape are infected. The extent of infection in raisin vineyards is unknown, however.
Infected plant material cannot be treated or cured; it is therefore best to prevent infection by using only certified virus-free plant material, advises Midgely.
Spread of the viruses can be slowed by removing infected plant material and employing strict sanitary practices. This means that great care should be taken to prevent shears and other equipment from spreading disease from one orchard to another.
Financial benefits of using certified material
The study compared scenarios for various aspects of disease pressure for each of the viruses.
These included initial disease incidence linked to whether or not the orchard or vineyard was planted using certified virus-free tested plant material, rate of disease spread, yield loss in diseased trees or vines, and reduction in price obtained for fruit harvested from diseased trees or vines.
"The model showed an increase of 34% to 65% in the financial benefit of using certified virus-tested material, given the expectation that at least one stressful year would be experienced over the orchard's or vineyard's lifetime, which would double the impact of infection. This would be expected to multiply with every additional 'stress year'," said Midgley.
The results also showed financial benefits were maximised where the difference in initial virus incidence between certified and uncertified plants was the greatest and where the rate of spread was high.
Refining the results
It is estimated that about 90% of pome fruit producers and 80% of plum and peach producers use certified plant material.
"They perceive short- and long-term benefits from using certified material, in terms of production, cultivar stability, disease pressure and longevity," said Midgley.
However, only about half of table and raisin grape producers use certified material. These growers believe that the technology is cost-effective over the first 10 years after planting, but not over the lifetime of the vineyards due to high levels of disease pressure from infected neighbouring farms.
"This notion was partially supported by the modelling study where growers started with plant material with a low incidence of virus (below 0,5%) and a rapid spread rate of 20% per year – but not where higher rates of infection occurred," she added.
According to Midgely, the next step would be to test the results of the study's model against what is actually happening in the field.
"By doing this, we might be able to refine the model to improve its accuracy, so that it can be used to predict how viruses might affect production."
Email Stephanie Midgley at [email protected]