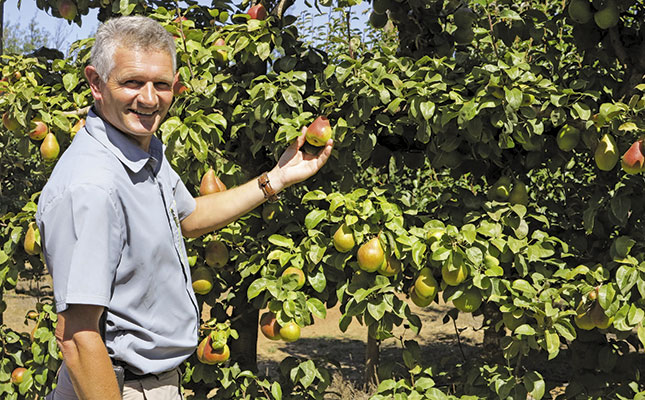 Ernst Heydenrych maintains that his position as general manager of the fruit division on Oak Valley Estate near Grabouw in the Western Cape is his dream job. He grew up on a fruit farm in the area and has been on Oak Valley Estate for nearly 20 years, where he is in charge of 350ha of apples and pears on the 1 768ha farm. We will look at his proactive fruit farming strategies.
READ:Sweeter dragon fruit varieties for SA growers
Proactive fruit farming techniques
"Every day there are still new challenges," he says. "I enjoy questioning and improving practices from one season to the next for better production. There is always a better way to do things, and I believe in solutions."
Rootstock Importance
Of the 350ha under apples and pears, 280ha (80%) is planted to apples and 70ha (20%) to pears. Harvesting starts in early January and ends in late May.
For good production, proactive fruit farming are essential, such as choosing rootstock appropriate to the soil, the site and the variety, Ernst stresses. Thirty years ago, he explains, everything was grown from seedlings and trees grew vigorously, but they did not produce as well as the trees of today, nor were they as resistant to pests and diseases.
"Now, there are many options for rootstock, and when good rootstock is combined with the right microclimate, soil quality, and variety production is optimal."
Poor soil requires more vigorous rootstock, planted closer together, while on good soil dwarfing rootstock can be used.
"The rootstock now available grows less [vigorously] and produces more fruit, but this also means trees have smaller root systems so there are more trees per hectare and trellises are necessary.
An example is a dwarfing M9 rootstock, which falls over under full load. Rootstock is one of the reasons we can produce more fruit per tree and per hectare than we could in the past," Ernst explains.
He tries his best to remain up to date with new varieties, rootstock and production practices. "We like to be first with new practices and processes. Our rootstock has been ordered ahead until 2022, because in the last few years there has been a shortage."
Oak Valley Estate replants 4% to 5% of its trees every year, and trees – both apples and pears – are normally retained for about 20 years. Replanting is not based on the age of the tree, however, but according to the need to make space for new varieties and "keep ahead of the game".
However, there are some orchards that are 40 years old, and Ernst is especially proud of the pear trees that are 111 years old and still producing fruit. He says this orchard is sprayed and irrigated because it is part of the estate's history.
Choosing rootstock
As part of proactive fruit farming, many factors are considered when deciding on what rootstock to plant on Oak Valley Estate; these include annual orchard reports, pest reports and export market needs analyses.
"We also look at which varieties are doing well and which we can manage," explains Ernst. "In addition, we have to look at the soil. Oak Valley has good soil such as Pinedene, Kroonstad and Tukulu, but the low-lying areas are wetter, so we plant pears there."
Taking the microclimate into account is also essential. If Royal Gala is planted on a warm site it will still develop colour, but Kanzi or Fuji has to be planted on a cold site, – cold at night and warm during the day – for colour development and to ripen in time for harvesting.
Manipulating production
Tree-pruning techniques, tree training or bending, chemical usage and other practices are constantly changing and greatly influence the production of an orchard.
Ernst explains that if a tree is pruned in early winter it will emerge from dormancy earlier and grow more vigorously. If it is pruned while in blossom, it will grow much less, but set more fruit. By girdling trees in November, the bud initiation is manipulated for the following season's crop.
The use of certain chemicals, regulating irrigation and crop load can also result in trees retaining their blossoms, thereby not discarding fruit. He says that much progress has been made during the past two decades on how to manipulate fruit trees.
In year two, Ernst allows the trees to grow so that the branches can expand and fill the space available to them.
"We want to stop the growth when the branches touch the adjacent tree, so we bend them and tie them down," he says. "This stops their growth and forces them into a reproductive phase, ideally in November.
Branches growing at 90° or horizontal are the strongest and can carry more fruit load than those growing at lesser angles, so we also bend small branches to 90° using toothpicks when they are about 20cm long. Training trees is very important and you only have one chance in the beginning to do this right."
Having to redo this later will entail a loss in production and revenue.

Fruit harvesting
Oak Valley harvests apples and pears in year three, and by year six or seven the trees are in full production, which is 75t/ha to 100t/ha for apples and about 50t/ha for some pear varieties. Other pear varieties such as Abate Fetel bear alternatively and it is important to plan plantings in such a way that production remains consistent from year to year.
Irrigation and fertilising
According to Ernst, irrigation and fertilising are two of the most important links in the fruit farming chain.
"You can do everything right, but if you're not on the ball with irrigation you can downgrade your crop to a lesser grade," he stresses.
Water scarcity is also a problem. About 30% of the 350ha under his management is under drip irrigation. The first drip irrigation was installed in 1997, and this year a new drip irrigation system will be introduced in new orchards as part of a trial.
"With drip irrigation, we've used liquid fertiliser daily. We irrigate up to 10 times a day, short and sharp, just as the tree needs it, for both apples and pears," says Ernst.
This has become too expensive, however, so the farm will change back to granular fertiliser this year. It will continue to drip irrigate, but on the full surface area around the trees rather than in pockets.
As part of the trial being carried out on three of the eight new blocks, irrigation will be undertaken once every three days, instead of 10 times a day.
Far more water will be delivered each time than before, and irrigation will be done in many more places at a much slower release rate.
The strategy is to have water-wise measures in place ahead of a water shortage, using two drip irrigation lines per row, with a third micro-irrigation system that will reach the cover crop between the rows.
Ernst is also exploring a dual-dripper system spaced closer together and at a very slow release rate, along with the micro-system to 'wash in' the granular fertiliser.
This will be used three times a year, as in a conventional orchard. In summer, the full surface, including the cover crop between the rows, will be irrigated with the micro-system for microclimate management.
"With micro-irrigation, you can also manipulate the microclimate and irrigate during heatwaves and at sensitive stages of tree and fruit development, so you can manage your crop better," he says.
The orchards are irrigated from late October until April or May when post-harvest fertiliser is applied. However, irrigation was intensified earlier this season than in the past two years because of low rainfall.
Pests and diseases
Scab, which thrives in humid conditions, is the greatest pest problem in apple orchards, according to Ernst. Coddling moth in both the apples and pears is also a concern. Bollworm, snout beetle, mealybug and woolly apple aphid need constant monitoring, and action is taken where necessary.
"Soil-borne pests are also a big problem," he says.
"With replant disease, for example, we have to fumigate before we replant. We aim to farm using no chemicals, but if we have to use chemicals we use as little as possible, as there is definitely the risk of resistance to chemical pesticides. Residue levels are monitored to ensure that safe produce is harvested."
This is also why rootstock is important, as pest- and disease-resistant rootstock is being developed in the US. Geneva rootstocks are one of these and will soon become more readily available in South Africa."
Biggest challenges
Oak Valley Estate exports to Africa, the EU, the UK and Asia. "Any fruit we can't export because of standards or restrictions is marketed to the local market or used for juicing," says Ernst.
Deciding on the rootstock and varieties to plant is increasingly difficult because of the lead times, he says.
"You have to order rootstock well in advance, and during that time, things change on the ground. Water availability is another challenge, but we're constantly modifying our irrigation systems to be water-wise. Pests, disease and residue levels for export are also challenges.
"Labour is a real difficulty in farming, and training for accountability is needed. We have a good working relationship with our
labourers but we need to keep training our staff so they understand why we do what we do."
Ernst strives to achieve uniform orchards for mechanisation, and to make harvesting, pruning and other production tasks easier. This forms part of proactive fruit farming.
"You just can't farm this year as you did last year – it's all changing very fast."
Email Ernst Heydenrych at [email protected].
This article was originally published in the 8 April 2016 issue of Farmer's Weekly.