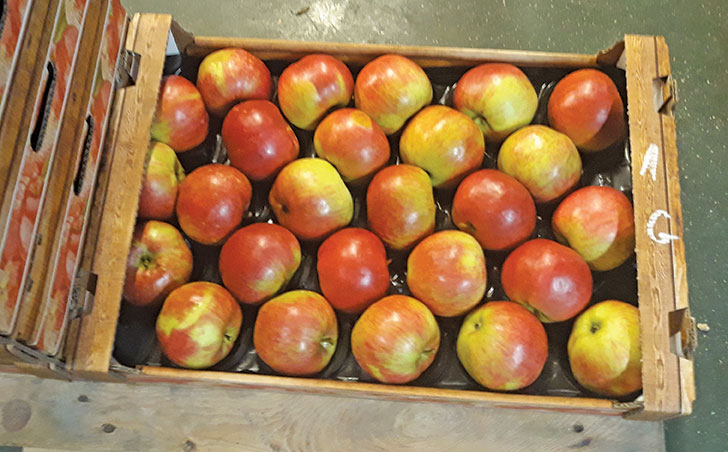 Apples have been grown in Poland since the 12th century, and today form an integral part of its economy. Indeed, apples account for more than 80% of the fruit production in that country.
Poland is the biggest apple-growing country in the EU, and is home to nearly a third of all apple orchards in the union.
According to the latest statistics from the Polish Orchard Society, apple production reached
4,15 million tons in the 2016/2017 season. Apples are produced mainly in the Grójec region in the Masovia province, which is about 40km south of Warsaw.
Apples are also grown, to a lesser degree, in the Sandomierz region, explains Bartłomiej Brodzik, CEO of apple-producing and exporting business, Apple Factory, based in Grójec.
Working together
The Apple Factory is certified by GLOBALGAP and HACCP, among others. It markets export-quality fruit all year round, and belongs to the Świeży Owoc group, a company formed by fruit producers.
The group's founders are highly skilled in apple production, with many years' experience in the Polish apple industry, which improves the business's competitive edge.
The main aim of the group is to cooperate in the planning, production and marketing of apples, in accordance with the highest global standards.
In order to increase its market share, Świeży Owoc continues to increase the number of producers in the group. Through amalgamated production, its warehouse facilities and sorting plant, the group is able to market top-quality apples for both the global and local markets.
The business's cold chambers have a total capacity of 8 000t, while the warehouses cover a total area of 3 500m². Moreover, a highly developed logistics system allows access to markets in virtually any destination.
Because of Poland's temperate climate, the country's apples are known for their clear cider and juices, which are highly valued in the world.
Myriad challenges
Production conditions in the country are challenging, with the long, bitterly cold winters, which sometimes see temperatures drop as low as -35°C, often causing apple trees to die off.
Frost in spring is also problematic, and temperatures of between -3°C and -5°C are not uncommon.
During the flowering stage, this can have a disastrous effect on production. Farmers also have to contend with drought, heat, hail and flooding during summer.
Harvesting takes place during the country's short autumn.
During this season, the weather is very unpredictable, which often makes it difficult to complete harvesting before the onset of winter.
The declining availability of workers, mainly from the Ukraine, is an additional problem.
The main diseases farmers have to manage include apple scab, apple mildew, bark gangrene and apple ring rot. Apple scab causes the leaves and fruit buds to dry up and drop.
Apple mildew also causes buds and leaves to wither and die. Bark gangrene attacks open spots on the trees, such as the wounds that remain after pruning.
Pests and weeds
Problematic pests include those of the Psylloidea family, apple blossom weevil, codling moth and Cottbus aphids.
Swallowtail butterflies and fruit beetles also pose a particular threat.
These insects thrive in the very high temperatures that can occur in autumn.
Under these conditions, the insects are provided with a long feeding period, and will therefore breed profusely in summer, from mid-June to the end of the season.
Huge insect populations cause serious damage to developing buds, as well as leaves and fruit in spring.
About 30 weed species occur in the Apple Factory orchards from spring to the end of autumn. These include thistle, purple dead-nettle, field pansy, small-nettle, annual meadow grass, common dandelion and fringed willowherb.
The pests and weeds are treated chemically, according to a carefully designed programme, with herbicides usually applied two to four times a season.
Packaging options
Apple Factory apples are packed in wooden cases with a capacity of 300kg (fruit in bulk), or 13kg.
The apples are also sometimes packed in plastic, with 14kg to 16kg packaging options available, as well as 1kg to 4kg plastic bags and 1kg trays.
Cardboard packaging includes closed telescopic cardboard boxes with an 11kg to 12kg capacity. Fruit ordered in bulk is protected with bubble wrap. Other packaging options include open cartons with a capacity of 6kg to 7kg, open and covered cartons of 13kg with double fruit trays, open cartons of 12kg to 13kg, and 18kg bushels.
Varieties grown
The Apple Factory grows 14 varieties, which include Apple Paula Red; Lobo; Szampion; Delicates; Piros; Cortland; Jonagored; Jonaprince; Gloster; Idared; Decosta; Gala Must; Gala Royal; and Golden Delicious.
"The most popular varieties are Royal Gala, because of its colour and taste; Golden Delicious, a firm and juicy green apple; the sweet, red Jonaprince; as well as Szampion, which is particularly popular on the local market because of its sweetness and is ideal for juice production," says Brodzik.
Dessert-quality apples contribute to more than 90% of production, while between 5% and 10% of production is earmarked for processing. The company is in the process of changing the varieties to cut processing apple production to around only 5%.
The long-term plan is to reduce the overproduction of apples for processing purposes and to ultimately focus only on high-quality, whole apples in order to ensure sustainability and profitability by meeting the demands of international clients, explains Brodzik.
Poland's apple farmers bore the brunt of an EU-Russia trade war four years ago, following the Russian Federation's invasion and annexation of Crimea.
Brussels imposed sanctions, and Moscow responded in kind with bans on food imports from the EU, cutting off a trade that accounted for more than half of Poland's apple exports.
"The Russian ban, however, forced us to develop new markets, something we have gained a lot from so far," says Brodzik.
Currently, about half of the annual Apple Factory harvest is exported to the EU. The rest goes to India (10%), Bangladesh (10%), China and Sri Lanka.
The US, China, Turkey, Italy, Latin America and New Zealand are Poland's main competitors on the global market. The Apple Factory is keen to find more new markets, with a focus on Asia.
Ultimate goal
According to Brodzik, the ultimate goal is to establish a global Apple Factory brand and to export to all continents. He expresses sentiments with which many South African farmers can identify: "Our producers aren't afraid of new challenges when it comes to issues such as certification and requirements for new markets, but we need support and cooperation from our government to promote our fruit.
"The Apple Factory will stay true to its mission to supply the best-quality apples to our clients, locally and internationally, 365 days a year."
Email Bartłomiej Brodzik at [email protected].
Annelie Coleman's trip was financed by Poland's National Support Centre for Agriculture.