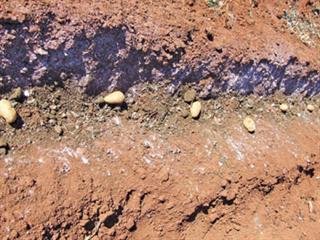 A researcher working on potatoes was so impressed by their nutritional value that she lived off nothing but potatoes for a full year to prove her point.
All or nothing
As with carrots, starting off with potatoes presents more than a few challenges. To go commercial on the main markets requires high capital inputs. It's virtually all or nothing. Crops such as cabbage, Swiss chard, lettuce allow you to start on a small scale and increase in size as you gain market penetration and experience. The relative cost per unit marketed will be slightly lower when expanding with these crops, but there's no dramatic difference.
However, this is not the case with potatoes. Small-scale potato growing is much more expensive per unit than large-scale mechanised potato growing. To make an impression on the market you need sophisticated planters, lifters and washing and grading machinery. These are too expensive for small operators, and the public insists on washed potatoes even though the shelf life is greatly reduced by washing.
For those who want to start commercial potato farming, the profitability will have to be determined over the long term as market prices can fluctuate so much one year you might make nothing on the crop, while the next you make a good profit.
Suitability of the soil and costing of the machinery, which includes the land and pack house, will also have to be taken into account. In other words, you must be prepared for the long haul. However, there are opportunities for those who farm in rural areas to produce on a small scale where you can do direct marketing locally and cut out transport costs and the middlemen.
Savings
These cost savings can compensate for extra costs of production by not having suitable machinery and a much higher labour cost. There's quite a lot of labour involved when one produces without machinery. After lifting, the potatoes have to be packed into suitable bags and taken to the site where they will be sorted for size and washed before the pockets are filled – and all of this is done by hand. In some cases your local market may be prepared to accept an unwashed product.
Expensive
Besides all of this, the crop has very high input costs, apart from the money spent on machinery. Seed potatoes are very expensive. Disease control and fertiliser could also be costly, especially during moist climatic periods. To neglect any aspect can mean heavy losses. Another consideration is the soil. This crop can thrive in a number of soil types, but despite this you need to look at the practical side and consider the lifting and cleaning processes.
Sandy loam soil is ideal, where there is sufficient clay for nutrient retention but not so much as to cling to the lifted potatoes and make washing a nightmare. Avoid clods when lifting as these, when mechanical lifters are used, can become a problem to remove and can also damage the crop. The bottom line is you need to do your homework before embarking on potato production. But by doing so you can save a lot of money and frustration.
Contact Bill Kerr on 016 366 0616, or at [email protected]. Please state 'Vegetable production' in the subject line of your email.