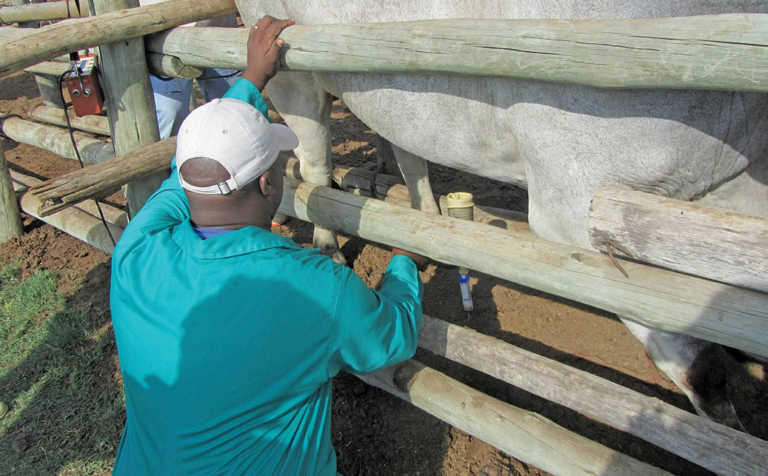 The veterinary profession is well recognised. Unfortunately, the same cannot be said for the career as an animal health technician (AHT).
Yet this para-veterinary career is more easily accessible than veterinary science and a good choice for someone interested in livestock.
An AHT is concerned not only with the health and well-being of animals, but with the impact of animal diseases and infected animal products on rural communities.
The curriculum is broad-based and builds skills in a diversity of areas such as anatomy, physiology, nutrition, animal diseases, management of wild and domestic animals, primary animal health care and auditing of abattoirs.
Study involves a practical component and in-service training where the student learns how to bleed animals, examine them for pregnancy, perform artificial insemination and even carry out post-mortem examinations and meat inspection.
In addition, he or she learns practical laboratory skills such as interpreting blood smears, bacterial cultures and routine biochemical tests.
Communication and extension services, and working with farmers to improve animal health, are also part of the curriculum.
The AHT is registered to practise under the Veterinary and Paraveterinary Act (Act 19 of 1982) by the South African Veterinary Council. Rules for the AHT profession can be found at savc.org.za.
Career choices
Although an AHT is trained to function as an integral part of the state veterinary services, or falls directly under a registered vet in private practice, the qualification allows a wider career choice.
Skills in disease prevention and control are useful for careers linked to intensive production of poultry, pigs or ruminants. They also open up opportunities in the wildlife sector and pharmaceutical industry.
The communication and extension skills gained can also prepare the student for a role in animal welfare with NGOs working in impoverished rural communities to improve food safety and security. Epidemiological research is a further possibility.
Where to study
The qualification is offered as a three-year advanced diploma or a four-year degree part-time at Unisa or full-time at North-West University (NWU), Mahikeng campus.
A full-time diploma is also offered at Tsolo Agricultural College in the Eastern Cape.
NWU offers a diploma in Animal Health as well as a four-year BSc Agriculture (Animal Health), which can lead to an MSc and PhD. This opens up the possibility of a career in research and academia.
Unisa, on the other hand, allows a student to complete the three-year diploma over a period not exceeding eight years and a four-year B.Tech in Animal Health over a period not exceeding 10 years.
This makes the degree more affordable and useful for someone already in the agricultural or animal health field and who wants to improve his or her skills and prospects.
Students can register online for Unisa at www.unisa.ac.za. The requirements are a National Senior Certificate with 50% in the language of teaching or learning, 50% in mathematics and 40% in either science or biology (life sciences).
Registration is open between 14 August and 19 September 2015.
Registration for NWU can be done online at nwu.ac.za. Admission requirements for the diploma are 30% in an official home language plus an achievement rating of 3 (40% to 49%) in four recognised NSC 20 credit subjects and an achievement rating of 3 in English, mathematics, physical science or life sciences.
For the BSc Agric (Animal Health) degree, the student will need a rating of 4 (50% to 59%) in four NSC 20 credit subjects, including English, mathematics, physical science and/or life sciences.
Closing date for applications is 30 September 2015.