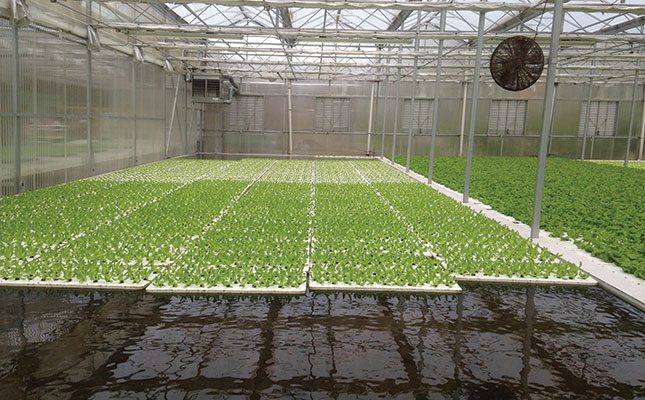 Hydroponics is an intensive method of farming in which large amounts of food can be grown in a small area. Hydroponics comes from the Greek 'hydro' and 'ponos', which mean 'water' and 'labour' respectively.
In 1929, Dr William Gericke, a professor at the University of California in the US, first used the word to describe the growing of food without soil, and often using artificial lights instead of direct sunlight. Gericke reportedly grew tomatoes in a chemical solution, with vines reaching around 7,1m in length.
Advantages of a hydroponic system
It allows for food to be grown in places where conventional agriculture cannot be used;
Hydroponics, for example, allow countries such as Israel to produce surplus fresh produce;
There is better control of nutrients, pH and the growing environment, providing conditions that are ideal for the optimisation of yields;
Less water is used in farming, reducing costs and promoting more environmentally friendly production;
More oxygen is let through to the crop's root zone, and plants therefore grow more vigorously and at a quicker rate;
It reduces the pathogen load via the elimination of the use of soil for production;
It needs less labour as there is no weeding required. As crops such as strawberries are lifted off the ground in hydroponics, labour with regard to harvesting is also reduced.
Disadvantages of a hydroponic system
The capital outlay is higher than that of a conventional system. The upkeep and maintenance of the system may also be high. Expertise is needed to run
a hydroponic system. While disease load may be lower than in a conventional system, diseases such as Fusarium and Vericillium can spread more quickly through a hydroponic system.
Different hydroponic systems
Hydroponic systems can either be liquid or aggregate. In the former system, there is no supporting medium for plant roots. Aggregate systems, on the other hand, have a solid medium of support. Hydroponic systems can also be considered open (the nutrient solution to the plant roots is not recycled or reused) or closed (the solution provided to the plant roots is recycled).
Liquid systems are closed systems. There are various types that can be used:
Nutrient film technique (NFT). This includes plants being placed in a tube with slits through which the roots are inserted. A nutrient solution is pumped through this tube.
Floating hydroponics. This system includes plants being grown on a floating raft. The plants' roots are suspended into the nutrient solution on which the rafts float.
Aeroponics. In this system, a growing chamber is used in which plant roots are suspended. The roots are sprayed with a mist of nutrient solution at short intervals (usually every few minutes).
Aggregate systems
Rockwool culture is an open system in which rockwool (ground-up basalt rock heated and spun into threads of wool) is used as a growth medium. Rockwool has great water-holding capacity, while retaining sufficient air space of at least 18%, which promotes optimal root growth.
Hydroponic systems can also be passive (closed). In active systems, a nutrient solution is passed over the roots of the plant. Passive systems use a wick and growing medium, which enables water to be drawn into the plant roots. The wick system is generally regarded as the simplest type of hydroponic system.
Passive systems include the water culture system, in which plants are placed on a platform that floats directly on the nutrient solution. A pump is used to pump air into the solution to supply the plant roots with oxygen.
Another example of a passive system is the ebb- and-flow system (closed), in which the growing tray is temporarily flooded with a nutrient solution. Surplus solution then drains back into the reservoir.
Typically, these systems use submerged pumps that are connected to a timer. The growing tray may be flooded and drained several times a day, depending on the type of plant being grown, the humidity, temperature, and the growth medium used (if any).
Drip systems are also passive, and involve a nutrient solution being dripped onto the base of each plant by a small drip line. This is controlled by a timer, which controls a submerged pump. Sand culture (closed) systems can use either gravel or NFT/rockwool.
Aquaponics
Aquaponics involves the growing of plants or crops in tandem with the raising of fish. The first benefit of this system is obvious: farmers can produce both crops and fish, offering two income-generating opportunities. Aquaponic systems are closed, which means that water is recirculated throughout the system. The waste produced by the fish (or other aquatic animals) is used to fertilise the plants grown in the system.
Aquaponic systems generally consist of:
A rearing tank, in which fish are raised;
A settling basin, a unit for catching uneaten food and detached biofilms, and for settling out fine particulates;
A biofilter, in which nitrification bacteria can grow and convert ammonia into nitrates, which are usable by the plants;
A hydroponic subsystem, the portion of the system where plants are grown by absorbing excess nutrients from the water;
A sump, the lowest point in the system where the water flows to and from which it is pumped back to the rearing tanks.
Advantages of aquaponics
This system uses a fraction of the water used in a conventional system to produce up to eight times more food per hectare;
All fertiliser used in this system is natural and organic, as it comes from fish waste. This means that farmers do not need to rely on chemical fertilisers, which are volatile in price and availability;
The system is efficient, sustainable and highly productive;Aquaponics is considered a sustainable form of production that requires very little space;
Food can be produced year-round;
Farmers can produce both a protein and vegetable crop;
The lack of the use of soil means that the pathogen load is lower.
Disadvantages of aquaponics
The capital outlay is high, and maintenance costs can also be high;
These systems are not suitable for all crops, such as root crops and grains;
Fish are sensitive to temperature changes, and therefore environmental control is essential; This may mean that electricity costs go up in summer or winter. With South Africa's current electricity crisis, farmers will have to ensure that they invest in alternative power sources to keep the growing environment suitable;
Technical expertise is essential;
Upscaling an aquaponic operation is very expensive.
Choosing one over the other
Hydroponic and aquaponic systems are similar in terms of the basic elements they use, but there are some noticeable differences. Therefore, when deciding which operation to invest in, the most important step is to first decide what your goal is for the operation.
For example, in terms of capital outlay, aquaponic systems are generally more expensive, due to the type of equipment needed, such as fish tanks and reservoirs. Not all hydroponic systems use reservoirs, for instance, and so, if you are a hobbyist or aim to produce fresh produce for household consumption, a more affordable option may be a hydroponic system.
However, as aquaponics uses fewer inputs (fertiliser, for example, is provided by fish waste), the overall running expense may be lower over the long term. As mentioned before, farmers can also produce a protein crop along with their fresh produce, which provides additional income. This means that if done on a larger scale, aquaponic production may ultimately generate higher income.
Source: maximumyield.com