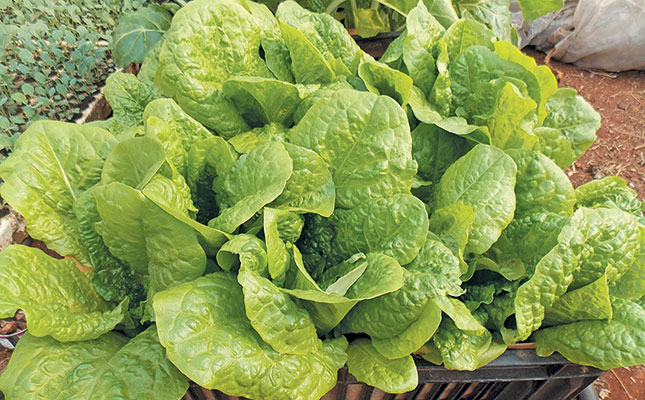 Because lettuce is used in salads, we tend to eat more of it in summer. So, with the hot months approaching, now is a good time to discuss growing this vegetable.
The problem with the popular iceberg (head) lettuce is that when the first head appears, the remainder is not far behind. Iceberg usually takes 55 to 60 days from transplant to maturity; a couple of weeks later, just about all the lettuces are over-mature.
Put simply, you will end up with too much, and then quickly run out. This is clearly impractical for a home garden.
The answer is to plant varieties where you can pick the leaves as you need them over an extended period. With leaf lettuce, you can usually start harvesting 40 to 45 days after transplanting, and some varieties will be productive for up to two months after planting.
Another reason for planting leaf type varieties is that they offer higher levels of nutrients such as Vitamin K, Vitamin A, folate and iron.
Decoration
Lettuce can be grown in pots around patio plants; if different colours are used, the lettuce adds to the attractiveness of the area, while still providing food.
You can also apply the same principle in the formal garden, using fancy lettuces as border plants and leaving more room for other items in the vegetable patch.
Lettuce can be planted directly from seed; alternatively, you can use transplants. With direct seeding, sow a little denser than is normally required. When the plants are about 5cm tall, start to thin them out and use the thinned plants for your salads.
Eventually, you'll have enough plants at the correct spacing, and can continue to remove the lower leaves as needed.
Unless the soil is rich in organic matter, add LAN (a handful for every 2m of row length) when the colour of the leaves starts to pale.
Before irrigating, place the LAN close to the plants, but not touching them. Apply to one side only.
Picking the right types
Unfortunately, there is a limited selection of leaf lettuce types available in packets. A common variety is Lolla Rossa, a red, frilly-leave variety with a compact growth form. But it doesn't taste very good and I would not choose it.
On the other hand, several good lettuce mixtures, with different colours and shapes, are available in packets. If you find a type to your liking, allow it to go to seed and collect the seed for the next few crops.