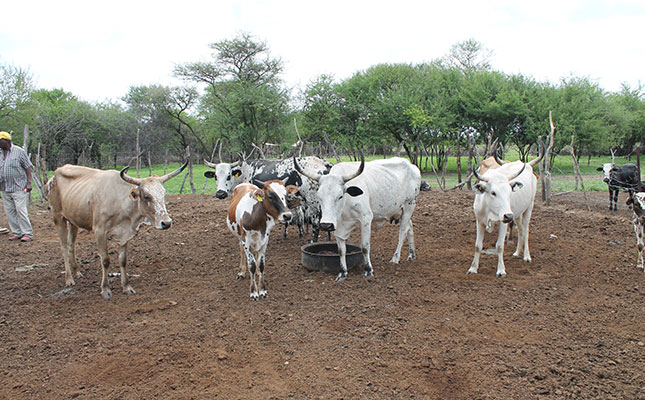 Due largely to a lack of effective boundary fences in many of South Africa's communal farming districts, sexually transmitted diseases (STDs), such as vibriosis and bovine trichomoniasis (trich), can become a major problem and result in substantial production losses.
In most cases, communal farmers own a handful of cattle and perhaps a few other animals. It is therefore important that each breeding cow produces a calf every year. If this doesn't happen, each unproductive cow has cost the farmer money in feed, medicines and dips.
Sometimes, the original cause of breeding problems may be visible, such as lack of grazing and water, or parasite infestation. STDs, however, are invisible to the naked eye, and animals that may seem healthy can be infected.
Bovine Trichomoniasis
This disease shows no visible symptoms but is widely spread through groups of cows by a
single infected bull. If you or your community buy already-working bulls, arrange for a veterinarian to test the animals before they are used on your cows.
Existing community bulls should be tested at least once a year for trich, because the disease causes early pregnancy loss and is known in some cases to cause abortion.
Most infected cows will rid themselves of the disease within 120 days (four months), but this can affect the period in which they should be conceiving.
There is no effective treatment for trich, and bulls that test positive should be culled without delay. Never sell an infected bull to other breeders; this is not only unethical, but can result in great financial loss for the buyer.
If there has been a recent case of trich in your herd, do not introduce a new healthy bull at this stage, as he may become infected. Consult your vet for the safest course of action to take.
Vibriosis
This disease is caused by the bacterium Campylobacter fetus. When the disease is introduced to a herd, it spreads rapidly and the conception rate can drop as low as 40%.
The cows may develop a form of immunity to the disease and the conception rate may rise to between 65% and 75% in chronically infected herds. However, immunity could decrease after about a year and lower conception rates could become a problem again.
Note that a conception rate of between 65% and 75% is certainly not high! A healthy herd can show a conception rate of at least 90%.
Vibriosis affects the embryo, which is often lost, and the mating cycles of the cows can become irregular. In some cases, cows may even become permanently infertile, and of no long-term financial benefit to you.
While typical signs of illness are difficult to see, symptoms may include abortion, poor conception rates, long gaps between calving, and uterine infections.
There is no known therapeutic medication for this illness, but there is a highly effective vaccine called Vibrin (made by Zoetis) that can be administered subcutaneously under the skin of the neck.
Cows and bulls should be inoculated once a year at a rate of 2mℓ per animal. Cows should be vaccinated 30 to 60 days before mating, and even in-calf cows can be vaccinated safely.
I strongly advise that you vaccinate any new breeding heifers that you buy before they come into contact with the existing communal herd.
Vaccinate new bulls with Vibrin about 30 days before they are introduced to cows. If existing bulls test positive for vibriosis, it is best to cull them. If they test negative, vaccinate them immediately.
Vaccinate!
To repeat, if cows are infected with vibriosis, they will eventually build immunity, but bulls should be vaccinated to prevent the spread of the disease.
Personally, I would consider vaccinating all breeding animals, including cows, without delay. Alternatively, discuss vaccination strategies with your vet.
Remember that vaccinating diseased animals is seldom effective. Vaccines are also less
effective if the animals are in poor condition, have other underlying illnesses, or are laden with internal and/or external parasites such as ticks and lice.
Shane Brody is involved in an outreach programme aimed at transferring skills to communal farmers.