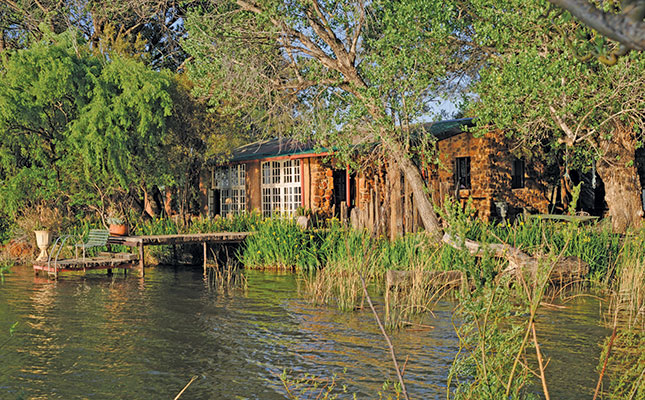 Only 115km from Johannesburg, and 20km from Potchefstroom, lies the beautiful Boskop Dam, a renowned fly-fishing venue nestling between low hills.
It adjoins the Boskop Dam Game Reserve. Directly across the dam from the reserve, also on the shoreline, is a secluded gem that provides the perfect getaway spot: The Boathouse, a cosy cottage tucked away under large trees. It is owned by Nicholas Petersen, whose association with this lovely spot goes back several generations.
"My late grandfather and father purchased and developed several farms in the area, built houses and shops, and sold them again," he explains. "They developed the Tanglewood Nature Estate down the road from us and operated it under a different name for some time. We now have the cottage and farm on this 7ha piece of land, right here on the shores of the dam.
"As kids, we used to fish from the spot where the cottage was built. To get to a toilet, we had to walk to our house on the adjacent property, so we built a toilet here for convenience. It soon turned into a cottage, all of it built from materials my father had left over from his building projects, and sourced through barters; almost no money was spent on it.
"For years, the cottage was a weekend gathering place for friends and family, and we opened it to the public in 2014."
The cottage, which can be booked online via Airbnb, makes provision for three guests (one double bed in the bedroom and a sleeper couch in the living area). The kitchen is equipped with a fridge/freezer and gas stove, and all utensils and cutlery are provided for a comfortable stay. A small fireplace in the centre of the living area is extremely welcome on cold winter nights.
Outside is a large braai and a deck with a bench facing the dam. "Spectacular sunsets are on the menu," says Roxy Brown, Petersen's partner.
Visitors can launch canoes from this deck or use it to take a cooling dip in the dam on hot days.
"Launching of motorised or sailing vessels must be done from the yacht club or Tanglewood Nature Estate," explains Petersen. "Fishing is allowed from the shore, but canoes and other boats need to move away from shore beyond the yellow buoys before casting. Bass and carp can be caught, but because they're invader species, anglers are asked to catch and destroy."
Boskop Dam was built in 1959 for irrigation purposes. Today, however, it is used primarily to supply water to Potchefstroom. It is approximately 14m deep at its deepest point and the water is clean and clear.
Apart from attracting anglers, the dam draws boating enthusiasts, and regular yachting competitions are held here.
Mixed farming
Renting out The Boathouse is by no means Petersen's only activity; he and Brown run a busy mixed farming operation that includes the production of organic fertiliser and vermicompost, high-quality grow bags and related products, and trading in exotic bird species, amongst other activities.
"Our grow bags and related products for growing crops are marketed under the name Llama Tribe," he says.
"Farmers, nurseries and households use our bags because they're strong, long-lasting and come in different sizes and shapes. Other products include knee guards and kidney belts for the serious gardener."
Their main activity, however, is the importing and exporting of exotic birds, of which they currently have 30 species on the farm, all swans, cranes, ducks and geese.
"In most cases, males and females are swapped to form breeding pairs, and any hatched chicks are shared. Our list of contacts throughout the country and the world is extensive.
"We also run a rehabilitation project where we breed finches and other local birds and then release them into the wild in areas where they've become scarce."
Chicken breeding is another activity. "We breed three types of chicken: Buff Orpington, Golden Laced Wyandotte and Lavender Araucana. The first two are common, dual-purpose breeds also used for showing, and the last is a fairly rare type that we breed for their green-blue eggs."
Bees are also an important enterprise. Petersen and Brown have about 10 hives and employ the by-products of this operation for medicinal use and sealing leather.
Yet another activity is llama breeding. "We've been farming llamas for at least 25 years. It's a small herd and we mainly supply zoos and other breeders," he says.
Other activities
Most guests at The Boathouse are keen anglers. Others prefer to simply relax by the waterside or enjoy a tour of the farm.
"Adults and children have lots of fun seeing the birds, chickens and llamas up close," says Petersen.
Brown adds that they also arrange pony rides for children. "And there are plenty of other activities for guests in the area. Happy Hooker, a restaurant close to us, is famous for its pizzas, while the Draaipunt coffee shop is 2km away and the Provence Padstal is on the road to Potchefstroom. And for a unique food experience, it's worth going to Loop Street in Potchefstroom."
Petersen adds: "There are also hiking and mountain bike trails at Hartspad Adventure Trails, which is on the same premises as Draaipunt."
Rates for The Boathouse are determined by an Airbnb algorithm and vary from R700 to R1 200 for the cottage per night.
Visit airbnb.com/h/theboathouse.