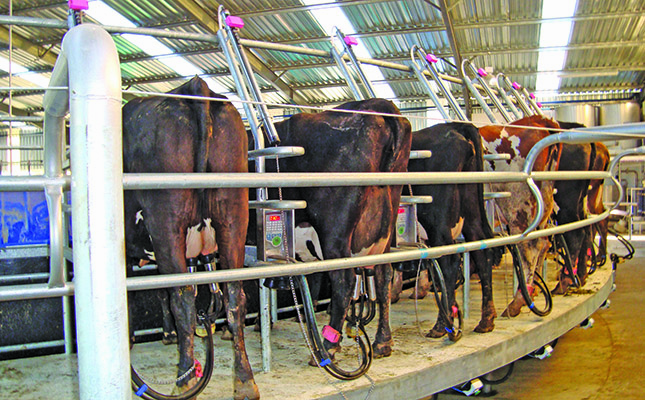 Commercial dairy farming is is a demanding and complex operation. To succeed at it, you will need to understand dairy cattle. Highly sophisticated equipment is used for milking, and it is essential to employ skilled, well-trained workers and adhere to strict quality control regulations. Finally, transport costs – in refrigerated trucks – are high because milk is perishable.
What you need to know about dairy farming
Large-scale commercial producers sell milk to dairy processors. Small and medium-sized producers sell milk directly to consumers as well as processors. Dairy processors manufacture dairy products for distribution to retailers, for exports and for further processing.
According to Milk SA, the dairy industry carries the following risks:
Uncertain weather conditions that have an influence on the herd and the production of sufficient feed;
Uncertain product pricing;
The possibility of a sudden lack of a market for products;
A sudden outbreak of a contagious disease.
However, farmers can reduce the risk by proper planning and good management.
Buying a dairy farm
"Buying a dairy farm is not a decision you should make without talking to experts and considering various factors, as it involves investing a huge amount of money," cautions Milk SA.
"Not only do you need enough money to buy the farm, you will need money to maintain farming activities and develop the farm in future."
The neighbours, the local vet, your extension officer, and the agricultural expert at your bank can all give valuable information and advice.
"Ask for written records to prove claims about the positive features of the farm," adds Milk SA.
In addition, check the reliability of electricity and existing milk facilities and equipment, the distance to the nearest town and the conditions of the road, and the quality of existing pastures and soil types.
Getting the basics right
Preparing adequate infrastructure and establishing a market for your product are crucial for success:
Make sure that there is a co-op, shop, school, processor, or even clinic that will buy your milk.
Find out the type of packaging your customer prefers. Some clients, for example, want plastic bottles, while others may bring their own containers or simply require delivery in a can.
Refrigeration is crucial. Your customer will not want warm milk that will sour quickly.
If a buyer or processor collects milk from your farm, ensure that the access roads are good and your reception area is up to standard.
A collection centre will only buy milk that has been tested.
"If you are selling to a shop or to the community, it is your duty to supply safe, clean, fresh and hygienic milk," notes Milk SA.
Source: The Milk SA Guide to Dairy Farming in South Africa, www.milksa.co.za.
This article was originally published in the 3 June 2016 issue of Farmers Weekly.