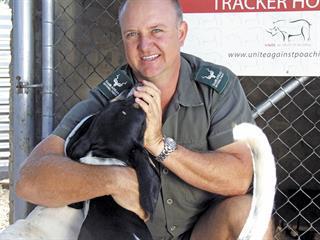 In 2015, a total of 1 175 rhino were killed for their horns across South Africa, with a staggering 826 poached in the Kruger National Park (KNP) alone. A multi-pronged approach is necessary to curb this slaughter.
The Unite Against Poaching campaign – the initiative of a group of Johannesburg businesspeople – uses highly trained dogs and specialised equipment to assist rangers in bringing poachers to book.
In addition, 10 Unitrans Volkswagen dealerships are donating equipment worth millions of rand to the project, and a percentage of the proceeds from every Volkswagen vehicle sold by the dealerships is donated to the Unite Against Poaching fund.
"The problem is massive," says Unitrans Group head Kevin Gillmer. "When you consider that the KNP is the size of Holland and there are estimated to be at least 12 groups of poachers operating in the park at any one time, the logistics are quite extreme."
There are only about 500 rangers currently employed across all 19 South African National Parks (SANParks) .
"This is where the hounds come in," says Richard Sowry, section ranger for Kingfisherspruit in the central KNP. "They can detect spoor that we can't, then track down the poachers. We also have other dogs trained to sniff out ammunition and weapons."
The dogs have been deployed in all parks with poaching problems. In Sowry's section, which has suffered some of the heaviest rhino losses, the hounds have had a considerable impact. "We've had a lot of success with them," he says. "In 2015 we arrested 23 poachers and confiscated 11 firearms just in my section of the park, so I'm very optimistic about the dogs."
Training
The dogs used are English foxhounds and American blue tick coonhounds or crossbreeds of the two, due to their remarkable tracking abilities. The dogs can even detect 'cold' or old scent. The hounds are bred to track and hunt in a pack, unlike some other breeds that are more suited to solitary tracking with a single handler.
Fitness and alertness are essential attributes for tracking poachers.
"In training, we alter the dog's instincts, teaching it to hunt people and weapons instead of animals," explains Sowry. "We do this by using training collars, which give a warning tone and a slight shock if the dog chases game. This discourages the hounds from hunting game. People then become their focus and target."
Training starts early, with three- to four-month-old puppies encouraged to work in a pack, thereby stimulating their natural instincts. This is done by spending time in the bush, letting the puppies follow spoor and run with adult dogs on tracking exercises.
Training takes six months and costs about R60 000 a hound, says Sowry. Yet, in a sense, training continues after this, as the dogs are constantly honing their skills.
Interestingly, the best reward for these hounds is a job well done."For them, the reward is the completion of the track because they are work-oriented," explains Sowry. "The adrenalin of the hunt drives them – this is their strongest instinct. The dogs love it, because they simply wouldn't track if they didn't enjoy it." He adds that both male and female hounds make excellent tracking dogs.
Today, the hounds are deployed throughout the KNP and their numbers are being increased due to their success rate. "These hounds may look ordinary, but they will run most other dogs into the ground," says Sowry. "They are robust, performance-bred dogs and will sometimes track 20km to 25km in a day. It's physically very challenging, and the hounds have extreme stamina. They really are incredible working animals."
Training the dogs is a long-term undertaking. At this stage, the animals track by running ahead of their handlers on leashes; ultimately, however, they will free-track in a pack.
Business against poaching
The Unite Against Poaching tracker hound project has been identified as one of the key projects in the war against poaching. The hounds are transported rapidly between poaching hotspots in an Amarok 4×4, also donated by Unitrans Volkswagen.
"We don't get involved on the ground and we don't fund arms or ammunition," says Gillmer. "The SANParks honorary rangers are our link to the parks. They assess requests from park rangers, and we provide the funding."
He recalls that when Unite Against Poaching was launched on World Rhino Day in 2011, SANParks rangers on anti-poaching patrols did not even possess basic camping equipment. Today, they have this and much more – even a special tread on their boots that looks more like an elephant's footprint than a human's. This helps to prevent poachers from back-tracking the rangers on their trail.
The aim of setting up Unite Against Poaching was to ensure that all funds collected by Unitrans Volkswagen went towards fighting poaching – none of it is spent on administration or other incidental costs.
"Again, this is achieved through the cooperative relationship we have with the SANParks honorary rangers, who are all volunteers," says Gillmer.
To date, Unite Against Poaching has raised and donated more than R9 million, and 90% of this has been spent on SANParks.
About R3,5 million has been spent on equipment and a further R2 million on providing specialist clandestine and human tracking training to 400 field rangers in the KNP. An additional 150 rangers have been recruited.
While most of the funds are channelled to the KNP, where the need is greatest, 88 rangers have also been trained in the Addo Elephant National Park. Tracking 'collars' have been fitted to five rhino in Addo and a number of rhino in Mapungubwe National Park.
Unite Against Poaching has donated R500 000 to ensure the continuation of the work of RhODIS, through Onderstepoort. This project uses DNA samples collected from rhinos throughout Southern Africa to build up a database, which is then used as a forensic tool when poachers are arrested in possession of rhino horn.
The seized horns can be scientifically linked to specific rhinos. Such evidence is legally required for a rhino poaching prosecution, and the data supplied by RhODIS has led to many successful convictions.
In another initiative, Unite Against Poaching has teamed up with Mount Vernon wine estate, which donates R15 from the sale of every bottle of its Rhino Tears label to the organisation. So far, this has amounted to more than R750 000.
Unite Against Poaching also conducts educational programmes aimed at schools, societies and companies to inform the public, especially youngsters, about poaching's threat to South Africa's national heritage.
Major-General Johan Jooste, a retired army officer recruited by the KNP to deal with the poaching scourge, is optimistic but has no illusion about the task ahead."The battle can be won, but it will take time," he says. He believes that the number of rhino poached would have been double what it is now were it not for the current interventions.
Gillmer, meanwhile, is determined that the effectiveness of these interventions is maintained."Our aim is to ensure that the field rangers are equipped and sufficiently skilled to give them the best opportunity to protect our national heritage for future generations," he says. "The message needs to get out to poachers that it's not worth their while to try to poach our rhino."
Visit www.uniteagainstpoaching.co.za; Twitter: @Antipoach; Facebook: Unite Against Poaching