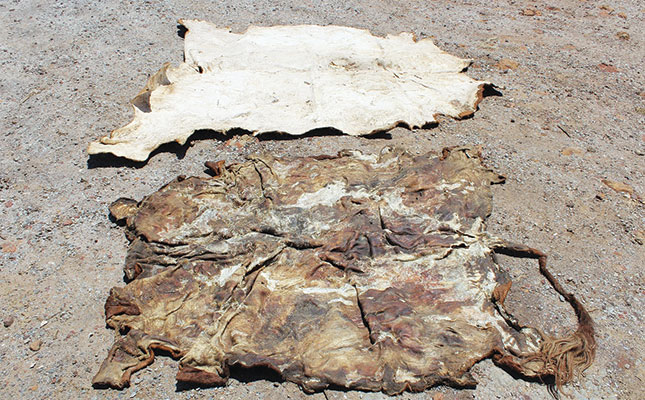 Ideally, salt of medium-sized grit should be used to salt a hide. You will need between 10kg and 15kg of salt for a cow hide, and 1kg to 2kg for the skin of a sheep or goat.
Place the skin flesh side up and apply the salt so that it reaches the edges of the skin or hide. When you are done, place the skins on a concrete floor to allow some of the moisture to drain off.
If you can get the wet skins to a hide and skin broker in a properly salted state, you will receive a much higher price than for a skin dried by simply placing it in the sun. These skins will usually be of poor quality.
Even salted skins that have dried out will receive a lower price than wet salted skins, as these tend to be damaged by rats or beetles while stored in a shed on the farm. So it pays to get your wet skins to a hides and skins broker as soon as possible after slaughtering.
If you cannot market them immediately, roll them up after salting and store them in a cool, dry place.
Preventing damage to the hide
Hides that have been removed from the carcass using machine flaying will fetch more than hand-skinned hides, as they tend to have fewer holes in them. Holes downgrade the price.
The skins from animals that have died will be classed as damaged and will receive a very low price, as there is the chance that the skins have already started to rot. Tanners know that this type of skin will be of no use when processed.
When prices are good, hide and skin merchants in the rural areas are keen to collect salted skins and deliver these to brokers in the bigger centres.
However, while feedlots and abattoirs with links to traders and tanneries can negotiate prices for hides and skins, smaller producers were forced out of the direct market by deregulation, which saw the demise of the Meat Board and the emergence of smaller abattoirs.
Instead of charging a slaughter fee and paying farmers for the hides, skins, and offal, these smaller abattoirs usually keep the income from the 'fifth quarter' to cover expenses and make more profit.
The result is that many farmers have been cut off from the trade and so have lost interest in the price of wet hides and skins. Nonetheless, skins with good wool cover usually sell well.
Approximate current prices for good-quality sheep skins:
Dorper: R50/skin
Merino medium-length wool: between R60/skin and R70/skin.
There is no demand for goat skins in South Africa.
Game skins
Most kudu skins are processed into upholstery leather, as the market for hair-on kudu skins is too small. Kudu leather tends to have thorn scratches, but customers often like this aspect of the leather, as it produces a natural look.
As with cow and sheep skins, salted game skins that are still wet will receive a better price than a dried skin. Handle the carcass and skin with care! Drag marks on kudu skins (where the carcass has been dragged and the hair rubbed off) will get the skin downgraded.
When in demand, springbok skins are processed with the hair on and used for cushions, bags and rugs. They are also dyed bright, stylish colours.
Because these items are tied to prevailing fashions, skin prices fluctuate, but are usually two to three times higher than the price you will get for an impala, blesbok or other similar-sized skin.