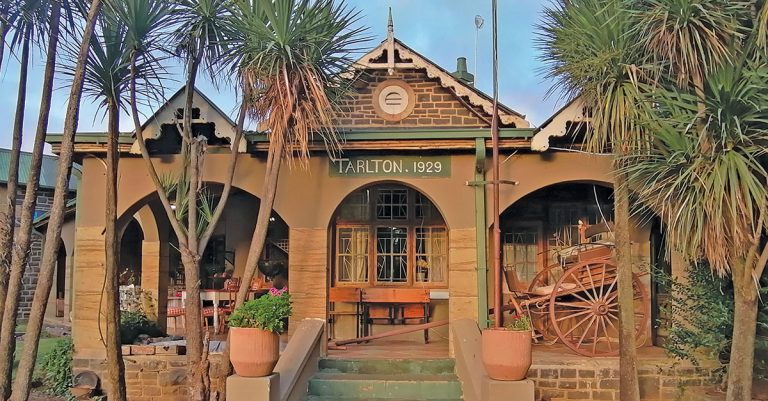 The Muller House Guest Farm is 190km from Johannesburg in the eastern Free State. Ronel Muller, daughter-in-law of the current owner, Danie, says: "My husband Boom's grandfather, Japie, was paid out for property he owned when the Vaal Dam was built. He travelled with his two-horse cart to this farm, which he bought on auction in 1937."
The initial purchase was only of a section of the current farm, and several others have since been added. The farm is named Tarlton and comprises 1 000ha.
Today, fourth-generation Mullers live there, and Japie's two-horse cart is proudly displayed on the stoep of the guest house, which was originally designed and built in 1929.
Self-catering accommodation
The house has four bedrooms, each with a double bed. A fully equipped kitchen and braai area are available, as is a large stoep with a dining table and plenty of seating so you can enjoy the warm, fresh air. However, guests can make use of the indoor lounge and dining room as they please.
The bathtub was imported from the UK in 1939, and the container it was shipped in was used to build the sideboard in the dining room.
The house's decor is a mix of classic, modern and flamboyant, with some antique furniture pieces reflecting the age of the house. The house can only be rented in its entirety, and rates are R800/night for one to two people, R1 600/night for three to four, R1 800/night for five to six, and R2 250/night for seven to eight.
Fishing and hunting
A large dam lies on the boundary of the farmyard, and Ronel says Israeli carp was recently added to it.
Farm assistant Mbuselo Motaung says: "You can also catch catfish and bass here. The best times to fish are early morning and late afternoon, and the best bait are earthworms and platannas."
The Mullers also own a property that borders the Wilge River. "On request, we can set up a day outing to this spot, which we cleared for visitors. We will pack you a picnic basket and you can go fishing there, trying your hand at catching yellowfish and carp," says Ronel.
Catch-and-release fishing is practised here.
A herd of blesbok, which includes the white blesbok, is available on the farm for hunting. They are kept in a camp of around 80ha, and the remainder of the farm is split between grazing pastures and land planted to crops.
Simpson Skhosana, who regularly forms part of the crew on hunting excursions, has been working on the farm for 20 years. He says the hunting parties travel in bakkies just far enough so that they don't scare the animals.
Boom says that as hunting takes place over long distances, heavier-calibre weapons are preferred.
"A minimum of .243 [is required] if there is no wind, and at least .30-06 when it's windy. Anything lighter tends to only wound the animals."
Ronel adds that self-catering sleep-over tariffs for hunting parties are R350pp/night. "An additional six hunters can be accommodated in the lapa, if need be. If hunters use our vehicles, we charge R4,50/km. The rate per blesbok killed is R1 850, and we slaughter at R50 per animal."
A typical day of hunting starts with breakfast, followed by adjusting the sights of the rifles as required. Hunters are encouraged to get into the field as early as possible before the wind starts up.
Other activities
Those who don't wish to hunt or fish can play paintball, says Ronel. "Four guns are available at R180 each, which includes 100 paintballs per person." And, if you have your own paintball guns and balls, feel free to bring them along.
The roads on the farm are perfect for a relaxed stroll or even a light jog. You can bring your own mountain bikes, scramblers, and quad bikes, too.
"You can also bring a canoe for paddling on the dam. Target shooting on the dam wall is safe, and if you have smaller-calibre weapons, you are welcome to hunt rabbit, porcupine and guinea fowl in the fields," adds Ronel.
"There are many other things to do in and around the area, too, so guests will be kept occupied."
If you don't feel like cooking, visit the restaurant at the Thanda Tau tourist complex, only 8km from the guest farm. The town of Reitz, 45km away, has a wolf sanctuary you can explore, and the town's Chocolat Coffee & Decor Shop provides coffee, cakes, and light meals.
In addition, although 135km away, Clarens offers numerous restaurants, arts and crafts stores, breweries and wineries, and beautiful views. You can even go rock climbing and river rafting there.
Visit ronelmuler.wixsite.com/mullerhouse.