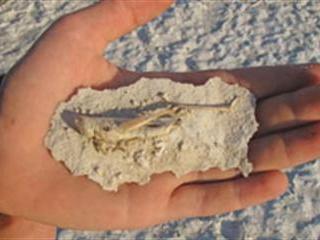 Many farmers and farm workers were killed or hurt during the Zimbabwe farm abductions, including my father-in-law, Mike Campbell. So to raise funds for the Mike Campbell Foundation, my young sons, Joshua (12) and Stephen (10) decided to build a go-kart that would sail and could be used on a fund-raising expedition. So, with some cheap Zimbabwe pine, a few tools and some bicycle wheels, we made the vessel.
On a windy Sunday we found an empty car park in Harare and sailed it up and down the tar using a pre-1980 Rhodesian-made Optimist dinghy sail that had proved its worth in innumerable regattas. We discussed locations for our adventure and the Makgadikgadi salt pans located in north-eastern Botswana, south-east of the world-renowned Okavango Delta, tickled our fancy. Surrounded by the Kalahari Desert, the Makgadikgadi is technically not a single pan, but many pans with sandy desert in-between.
It was then that we hit on the idea of powering the go-kart with a kite. We made a few successful wheel modifications using extra bicycle wheels and inner car tubes so that our weight could be evenly displaced over the thin salt crust of the pans. Then, after some rather hairy self-taught kite flying trials at home and on the beaches of Mozambique, we were ready for the 61km journey across the salt pans.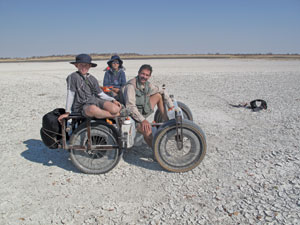 All set! The expedition team (from left): Joshua (12), Stephen (10) and Ben Freeth at Sowa Pan on 'dune dancer'.
Planning
The Meteorological Department in Gaborone, Botswana, was very efficient and gave us all the historical wind records – showing the direction and wind speed in August. We set off, confident that we would storm across the pans with the galloping fury of being harnessed to a span of the area's famed wildebeest or zebra that range across the area in Africa's second largest wildlife migration.
Due to a last minute problem with documentation, our back-up team was reduced to my intrepid mother, Granny Claire, who was out on holiday from England. Armed with a map and GPS, as well as a spade and planks in case she got bogged down on the rudimentary vehicle track, she was excited to do the honours of sending us off and – hopefully – receiving us at our intended destination.
Day 1
We arrived at Sowa pan and were amazed at its immensity. It stretched out like a great vast ocean before us – flat, featureless and, like the sea, clearly unforgiving. We assembled the go-kart, tied down our 50l of water and some other scant essentials, and made sure our map, GPS and compass were safely on board. Now the go-kart, which we'd named the Mike Campbell 'dune dancer' was ready. There was only a slight wind, but we got the 5m arching span of the kite pumped up and launched, and were on our away.
It was high drama sailing out to Kukonje Island in the sun, dust and wind. At times we were going faster than the boys could run after they had launched the kite. With the wind behind us we had to use our rudimentary brake system copied from a traditional ox wagon, to stop the go-kart from catching up with the kite which was twirling ahead in fierce figure eight loops.
The setting sun cast dappled light across the pan and the dusty salt billowed behind us as we careered along in a westerly direction. The African stars are famed throughout the world – but out there on our first moonless, dry Kalahari winter's night, the stars were at their most magnificent. I counted about 150 just within the four imaginary lines that enclose the constellation of the Southern Cross. It made you feel very insignificant.
Day 2
The wind took a while to lift the next morning – so we did not get going until late. Eventually we were off on a reach, battling to get the dune dancer really singing because the wind was not strong enough and the direction was not ideal. Soon the wind dropped completely. Our exhilaration ebbed considerably as we discussed the possibility of pushing our craft westwards so as not to waste time. The lifeless pans are no place to linger.
I attached a bridle rope to the steering axle and strode out in front while the boys pushed on from behind. We crunched over the surface of the pan for the rest of the day, panting and sweating profusely with the exertion of heaving our craft along. On and on we trudged, becoming one with the empty reaches of salt and sky. We passed the bleached remains of a zebra skull and a little further on, a hornbill's skull and leg bones. Stephen found a fossilised grasshopper and then an entire bird – desiccated and white. "This place is scary," he said.
As the sun dropped towards the rim of the horizon, we walked on into its receding rays. Light shone through multiple holes in the pan's crust where it had lifted from the mud. It was as if the whole surface had come alive with tiny illuminated subterranean passageways of golden light and shadow beneath our feet. Checking our bearings, we headed for a rock and reached it just before dusk. It was about 20ft (6m)across and a foot-and-a-half (0,5m) high. It was somehow comforting to camp beside such a solid, ancient feature.
Day 3
Somewhere close to the rock a cricket started to sing. It was amazing to hear the sound of a living creature in this place of emptiness and death. After a cup of sweet black tea we headed off. With each step forward, 'cricket rock' gradually disappeared behind us and once more we were all alone – a tiny little speck in the great white sea, the only object breaking the surface. In the still, early morning our long shadows stretched far ahead, like a path. We felt like three sundials telling the time to the surrounding empty white infinity.
After a slow pushing plod of nearly five hours, Stephen sighted an island swimming on the horizon. There was great excitement and we steered for it, thankful to have something tangible to aim towards. At noon we finally came upon the low, barren island which was about 40m in diameter. Strewn about were thousands of bleaching carcasses of dead flamingoes.
We pushed on towards the unbroken horizon. Eventually, with 16km still before us, a small, dark island appeared. We stood up on the wheel arches like meerkats in the early morning sun, craning our necks and peering through the binoculars. Finally the landscape took on the appearance of a vast expanse of sea at low tide. We noticed a dry stone wall and clambered up to it. Stretching for several hundred metres, it is thought to be an outpost of the Zimbabwe complex of enclosures and it was eerie to think that people had once lived here.
"Look, two people," Josh said. We stared at the strangers through the binoculars and, as they drew closer, I walked out to meet them. We realised then that we had completed our journey and that in this weird place with its ancient ruins and gnarled, other worldly baobab trees, we were back in civilisation. Claire had made it safely and was waiting for us. We had made it!
The Mike Campbell Foundation is a charity working towards the restoration of the rule of law and property rights in Zimbabwe and the reinstatement of the regional court of the SADC Tribunal. The foundation assists farmers and workers made destitute by the politically motivated land invasions.
Their fund-raising target was R130 000 and the amount raised so far is R81 000. If anyone would like to contribute, please go to www.justgiving.com/mikecampbellfoundation.
Contact Ben Freeth at [email protected] or phone +263 773 929 138 (Zimbabwe).