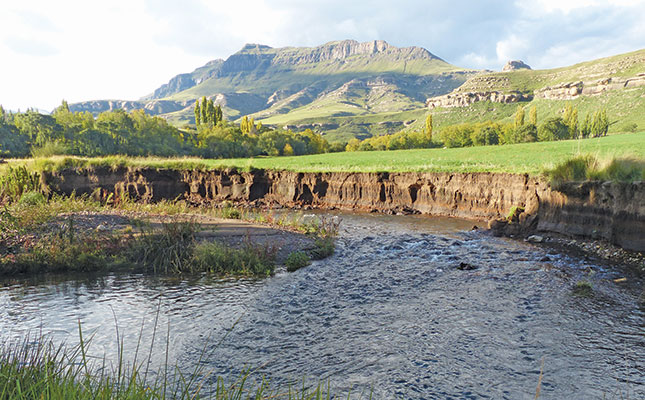 "You can catch everything from the same rivers: smallmouth and largemouth yellowfish, rainbow and brown trout, and muddies [mudfish]," enthuses Andrew Clark, chairperson of the Barkly East Angling Society (BEAS).
It is this remarkable variety, he adds, that makes the myriad streams and rivers in the Barkly East district so tantalising to fly anglers.
Despite the presence of the indigenous yellowfish, a particularly fine fighter, fly fishing in Barkly East was actually kickstarted by the introduction of alien trout into the region's rivers more than a century ago.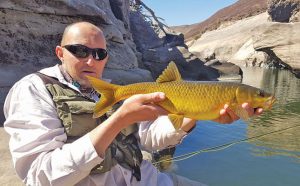 And as pioneering fly fishing techniques for trout became entrenched, so new ones evolved to target indigenous species more effectively.
Barkly East trout and wet flies
Fly fishing enthusiasts introduced trout to the Barkly East streams during the First World War, and by the 1930s, farmers and local anglers had established an association to fund and regulate the stocking of the region's waters.
According to the late Bob Mollentze, who for many years managed the Barkly East Reporter launched by his family in 1896, the Barkly East waters were being stocked with record numbers of trout fry by the second half of the 20th century.
"We bought more fry than the rest of the Cape province put together,'' he told Farmer's Weekly before his death in 2018.
He added that there had not been a river in Barkly East they had not stocked. Mollentze went on to become one of Barkly East's most iconic fly fishermen and an ambassador for the sport. Beginning to fish in the mid-1940s, he landed many trophy river trout (anything over 5lbs [2,27kg] is considered a trophy).
His favourite fishing spots were along his beloved Langkloofspruit flowing past Barkly East, and he became renowned for his use of one fly in particular, the Mrs Simpson, which is often fished as a crab imitation in deep pools.
He would often speak of fishing trips he took up the Langkloofspruit valley where he would fish specific pools, almost always with a Mrs Simpson. He remarked that if he landed a big fish in one of these spots, he would usually find another one there just a few months later.
Today, Mollentze's former office at the Barkly East Reporter is decorated with mounted trophy trout and photographs of memorable fish taken by family and friends. These include his son Billy, himself an accomplished fly angler, who says that while he likes to use the Mrs Simpson, he is also partial to Woolly Buggers.
"I'm just a guy who got lucky once in a while; my old man was the real fisherman," he says modestly.
Mollentze went on to influence not only his son, but many others, including exceptional fly angler and local stock theft policeman, Christo du Plessis, a self-confessed protégé of Mollentze.
"I grew up in Barkly East and fished with the Mollentzes. I couldn't have had better teachers,'' he recalls. "All my big fish are caught on big flies, mainly No. 6 to No. 8 Mrs Simpson and Walkers Killer patterns fished in deep, clean water near structure on the Langkloofspruit."
Quantity over quality in fast-flowing water
According to Barkly East farmer Trevor Phillips, most local boys followed Mollentze's approach to fly fishing. Phillips, inspired by the photographs of trout in the Barkly East Reporter, was amongst these, and started his fishing hobby "casting a sinking line into deep pools with Mrs Simpsons and Walkers Killers".
But Phillips, like many anglers in the BEAS today, is an enthusiastic competitive fly fisherman who demands an upstream fly-fishing technique known as nymphing. Here, the goal is to hook, land, measure and release as many fish as possible in a designated period.
"Nymphing is a highly successful form of fly fishing that demands flowing water and not deep pools," he explains.
"You need to be able to take a 50m run [flowing water] and ideally get all the fish, even if there are, say, 30 of them."
To nymph effectively demands lighter rods with nymphing/floating lines and extremely light tippets to allow for the effective mimicking of aquatic nymphs being swept downstream. There are normally two nymph patterns on a tippet, making double hook-ups fairly common.
Although the focus is on hooking more, rather than larger, fish, the technique has proved to be an intriguingly fresh approach to fishing the Barkly East rivers, says Phillips.
"I've learnt a lot and I'm catching more fish. It takes a lot of practice to be precise when nymphing; you don't just walk into a river and fish successfully."
Practice seems to have paid off for BEAS members, as the Eastern Cape team, which is dominated by Barkly East anglers, won the South African Fly Fishing B Nationals Competition hosted in Barkly East in February. Locals will again be able to compete with the best fly anglers in the country when the BEAS hosts the A Nationals in 2021.
Combining techniques
According to many fly fishing purists, nymphing and dry fly fishing more realistically mimic the movement of insects in, and on the surface of, the river, making it a more ethical form of fly fishing than using large, wet flies, sometimes against the current, to tempt fish into attacking.
However as far as 'old school' Barkly East fly anglers are concerned, this is a pointless argument, as fishing is all about landing the largest specimen possible.
For those who prefer to nymph, the focus is clearly more on the process leading up to the hooking of the fish (on barbless hooks) than the size of the catch.
Nevertheless, most fly fishing enthusiasts in Barkly East would agree that quality and quantity are both acceptable propositions!
And big wet flies do appear to lure trophy trout from their lairs more regularly, while nymphing tactics are extremely effective for smallmouth yellowfish (and trout) in faster-flowing water. So, employing a combination of techniques seems to make the most sense.
There are always exceptions to the rule, however. In 2017, East Londoner Brenton Freeman landed an 8lb (3,6kg) rainbow trout on the Langkloofspruit with a size 14 nymph, and under certain conditions, wet and dry flies can be effective on smallmouth yellowfish.
Mudfish, in contrast, are rarely caught on anything except nymph patterns, and trophy largemouth yellowfish are best targeted with bulky wet flies on heavier rigs.
It does seem, then, that the best advice to give any fly angler visiting this fishing mecca is to carry both lighter nymphing rigs, which can easily be converted to a dry fly outfit, and heavier wet fly rigs, depending on the exact fishing spot and the conditions there.