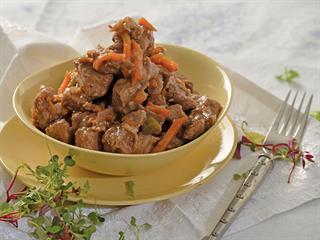 To make a French-designed lamb and haricot bean casserole for six, you will need:
6 lamb shanks
45g plain flour
250ml white wine
500ml beef, mutton or chicken stock
200g chopped, blanched tomatoes
2 cans haricot beans
40ml extra virgin olive oil
1 onion
6 cloves garlic
2 carrots
3 stalks celery
½ teaspoon each of oregano, majoram, thyme and rosemary (all dried)
Salt and coarsely ground black pepper on demand
First, a word from your coach: team, this meal is a big deal. Give the casserole the time it demands and all the passion and focus you can muster.
Begin by prepping the vegetables and concurrently preheating the oven to 180°C. Coarsely chop the celery, peel and slice the carrots, peel and thinly slice the onion, and crush, peel and chop the garlic. Bring a large pot of water to a rolling boil and blanch the tomatoes. Do this by lowering the tomatoes into the boiling water for 60 to 90 seconds. Retrieve them with a slotted spoon, dunk them in cold tap water and then, assisted by a knife if necessary, slide off the skins. Chop the peeled tomatoes.
Prep the meat by cutting the lamb off the shank bones, and cutting it into bite-sized chunks. Mix the flour with a teaspoon or so of salt and black pepper in a large Ziploc bag. Add the lamb chunks, zip the bag and shake it. Remove the floured lamb and reserve under cover.
Select a large (5l) ovenproof casserole dish with fitted lid from your collection. Pour 20ml extra virgin olive oil into it and brown the prepped onion, carrots, celery and garlic on the hob. When done, remove and reserve the vegetables under cover for later in the proceedings.
Pour in the remainder of the olive oil, bring the pot up to high and brown the floured lamb. Flip the chunks from time to time to ensure all-over browning. Keep them moving to avoid burning. Lower the heat, remove the browned lamb with a slotted spoon and reserve it. Pour in the wine and let it reduce by boiling to half its original volume. Add the stock, tomatoes and dried herbs. Season with salt and pepper to taste.
Take courage: the end is in sight.
Pour in the cooked vegetables, the lamb, and the drained contents of the cans of haricot beans. Fit the lid, stick the thing into the oven (preheated, remember?) and let it bubble gently for 60 to 80 minutes, tasting from time to time after the first hour to determine the preferred degree of doneness. Serve with a sweet potato mash with masses of butter and a teaspoon or two of coarse Dijon mustard.