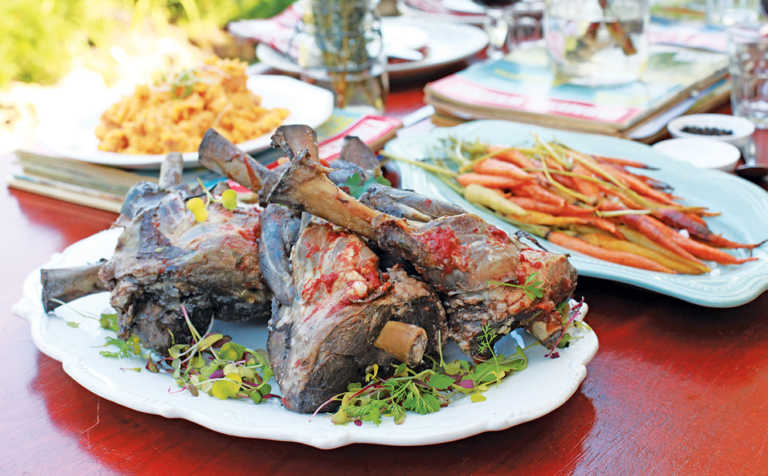 To make slow-cooked shanks for six blessed diners, you will need:
6 springbok shanks (or impala or lamb shanks)
6 carrots
6 sticks of celery
3 onions
12 cloves of garlic
1 or 2 cans of tomatoes
1 sachet tomato concentrate
1l dry red wine
Zest of one orange
3 tablespoons ground paprika
3 teaspoons salt
300g plain white flour
1,5 tablespoons freshly ground black pepper
1 tablespoon brown sugar
4 sprigs fresh rosemary or thyme
Extra virgin olive oil on demand
Research for this celebratory meal established one incontrovertible fact: nearly all the slow-cooked shank recipes call for a cast-iron pot with a lid. So why not heed that call? This is a superb addition to any kitchen toolkit and is a useful slow cooker. Alternatively, use a standard stainless steel pot.
This recipe works best with springbok shanks, but these can be substituted with impala or lamb shanks. A second invariable instruction is to add cloves. If you enjoy their flavour, include them, of course. But they can be omitted without any problem.
Begin by preheating the oven to 180°C. Select the largest Ziploc bag you can find and in it combine the flour, paprika, pepper and salt. Add a shank and shake it all about, taking care to coat the meat on all sides. Remove and repeat with the remaining shanks.
Peel and thinly slice the onions; crush, peel and chop all the garlic; wash and roughly chop the carrots and celery.
Thinly cover the interior bottom of the pot with olive oil, bring this up to near-smoking high heat on the hob, and brown the coated shanks one at a time on all sides. Remove and reserve under cover.
Lower the heat to medium, then sweat the onions and chopped garlic in the pan juices until the onions are transparent. Add the carrots, brown sugar and celery to the mix and fry until soft. Keep an eye on it to avoid adhesion and burning. Lower the heat and add the tomato concentrate and the tomatoes.
Crush the tomatoes with a fork or potato masher. Stir well, pour in half the wine, and add the orange zest, thyme and rosemary. Add the shanks. Bring to a gentle simmer, fit the lid and complete the cooking in the oven for 3+ hours. The meat should fall off the bone when done.
Thicken the remaining liquid with cornflour as a simple gravy. Serve with mashed sweet potatoes mixed with butter and a couple of teaspoons of coarse Dijon mustard. Select a bottle of smooth, full-bodied red wine to accompany this repast.