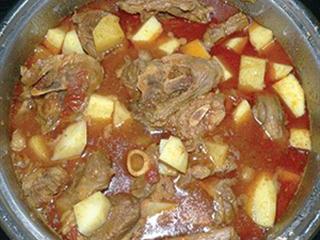 To make lamb and potato curry for four, you will need:
500g lamb knuckle
500g stewing lamb
8 medium potatoes
3 onions
3 tomatoes
5 cloves of garlic
1 bunch fresh coriander
100mm fresh root ginger
sunflower or canola oil
2 to 4 big red chillies
1 teaspoon coriander seeds
1 teaspoon cumin seeds
½ teaspoon white cardomom
75mm cinnamon stick
¼ teaspoon tumeric powder
We begin with the spices. Throw the whole dry spices into a frying pan and bring the temperature to medium. Pay close attention since the purpose here is to lightly toast the spices, not to burn them. As they start to darken toss them around to ensure that all surfaces of the spices get exposed to the heat. When the spices start to release an aroma, remove from the hot pan and allow to cool. Then grind them to dust in an electric spice grinder, or alternatively use a mortar and pestle.
Blanch the tomatoes for 90 seconds in boiled water then slide off and reject the skins. Chop the tomatoes to pulp. Peel and very finely slice the onions. Peel and finely chop the ginger and garlic. Cut the fresh chillies into thin slices, discarding the seeds if you prefer to reduce the burn. Peel and dice the potatoes. Pour sufficient oil into a large heavy-bottomed frying pan to just cover the bottom.
Bring this up to medium heat and sweat the onions, garlic, ginger and chillies until the onions are soft and transparent. Remove and reserve under cover. Top up the oil if necessary then at high heat brown all sides of the meat. Lower the temperature, put the onion, garlic, ginger and chilli back in the pan and stir well. Add the pulped tomatoes and enough water to cover the meat.
Add the diced potatoes, sprinkle the freshly toasted, ground spices, stir to evenly distribute all ingredients and rev the hob to the max. As soon as the pot begins to boil, turn it down to a simmer, fit the lid and cook until the meat and potatoes are done to your liking. Add freshly ground black pepper and minimal salt to taste.
Serve with a couple of roti, which can be bought from supermarkets in large towns. Alternatively, serve freshly boiled plain white rice. Place a few well-washed, hand-torn, fresh coriander leaves on each serving as garnish. The aroma and flavour make a considerable contribution to the overall effect. While some city folk drink wine with a curry, people who really know what they like choose very cold lager.