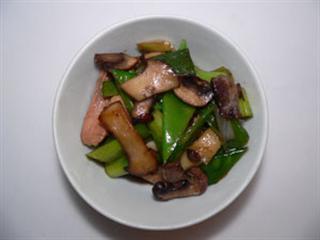 To make stir-fried chicken with mushrooms and hoisin sauce for four you will need:
5 chicken breasts
100mm fresh root ginger
1 punnet of snap peas or mange tout
60ml hoisin sauce
60ml light soya sauce
60ml Old Brown Sherry
6 spring onions
1 punnet mixed Asian mushrooms
Peanut oil or canola oil on demand
First, the equipment. Stir-frying has been described by food writers as "drama at high heat." This piece of poetry says it all.
To get the high heat you need a truly powerful gas flame which is why I use a low-pressure system with a large diameter double concentric burner. On top you can use a skottel but a dedicated cast iron or stainless wok is the way to go. Finally, a slotted spoon is essential.
Next, preparation. Most stir-fries involve the cook cutting up everything into little pieces. The big idea here is not so much the size but the fact that all pieces of the same ingredient should be similar in size and shape to ensure even cooking. Fillet the breasts, discarding skin and bone. Cut the meat into strips 30mm to 50mm in length and uniform in thickness. Combine the hoisin, soya sauce and sherry and stir well. Place the chicken strips in a marinade dish and pour over the sauce you have just mixed. Cover and refrigerate for an hour or so.
Peel and slice the ginger, chop the spring onions diagonally to the stem to produce 'horse's ears'. Halve the mange tout. If these are hard to find, substitute green beans chopped into 15mm sections. Pour 75ml of peanut oil (cooks without burning at the highest heat) or canola into the wok. Produce the biggest flame and let the wok and oil heat until it begins to smoke. Drop in the sliced ginger and let it stir-fry for 60 seconds. Lower the heat and add the Asian mushrooms. Cook these rapidly, stirring at all times to avoid burning; 45 to 60 seconds should do it. With the slotted spoon, remove the mushrooms and reserve them under cover.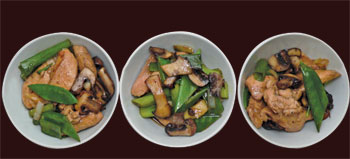 Rev up the heat. Add half the marinated chicken and stir-fry until cooked. Remove and reserve under cover. If necessary, add more oil and cook the second half. Doing it all at once will lower the cooking temperature. Lower the flame. Add the mange tout or green beans plus the white ends of the spring onions. Stir-fry these for 30 seconds then return the chicken to the wok. Stir well. Add the cooked mushrooms, stir well yet again then kill the flame. Sprinkle chopped spring onion greens over the meal and stir well then serve immediately with freshly boiled white rice or Asian noodles.
Contact David Basckin at [email protected]. Please state 'Real cooking' in the subject line.