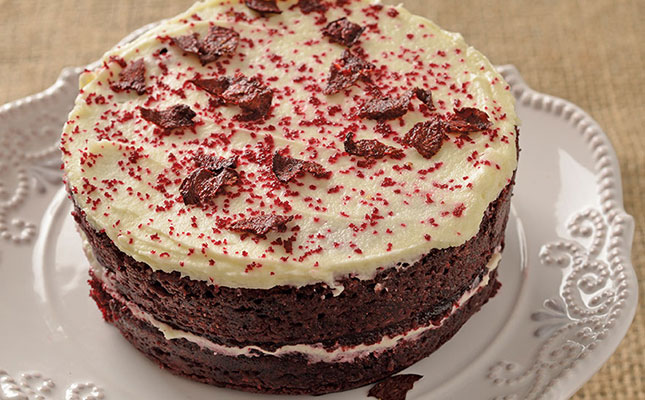 To bake an Enaleni Farm beetroot cake, you will need:
1 cup of castor sugar
4 eggs
2 cups flour
225ml sunflower oil
2 large beetroots
3 teaspoons baking powder 
1 cup coconut
½ teaspoon mixed spice
½ teaspoon ground nutmeg

½ cup assorted seeds

Formula #1
250g mascarpone cream
350g icing sugar
½ demitasse espresso coffee
Zest of a single lemon
Formula #2
150g icing sugar

125g unsalted butter

200g Philadelphia cream cheese
We begin with the beetroot. These must be cooked, skinned and grated.
The assorted seeds Richard showed me were in a prepack and seemed to contain the usual suspects: sunflower seeds, flax, sesame, poppy seeds. In short, just the kind of crunch you would add to a good homemade seed loaf.
A short burst of theory: fans of carrot cake will note a similar structural component in which the traditional presence of butter is replaced by sunflower oil. Combine all the ingredients in the bowl of a powerful electric mixer.
My personal preference is a venerable Kenwood Chef with its admirable planetary action. Mix until all the ingredients are evenly dispersed.
Line a cake baking tin with baking paper and pour the mixture into it. Place the baking tin in the middle of an oven preheated to 180°C and let it bake for plus or minus 50 minutes.
The plus or minus bit of the formula recognises the infernal capacity of thermostats to vary from oven to oven. The cake is done when a thin stainless steel skewer comes out of the freshly baked cake without any attendant dough.
Remove the cake from the oven, release it from the baking tin and let it stand for 30 minutes or so to calm down and achieve room temperature. But what about icing, I hear you ask? Well, believe me, Richard's beetroot cake works extremely well without any additions.
For traditional cake bakers who cannot contemplate a naked cake, here are two standard icing formulae that are easy to make and even easier to apply.
(A production note: the zest is the outer layer of the peel and not the peel itself. Use a dedicated zesting tool or the little blade on a Swiss army knife to remove it.)
For both types of icing, mix the ingredients with an electric mixer until well combined. With the blade of a knife or a dedicated icing tool, plaster a layer of uniform thickness of the icing of your choice over the top and sides of the beetroot cake.
It's magic, it's flop-proof and it tastes like nectar and ambrosia.