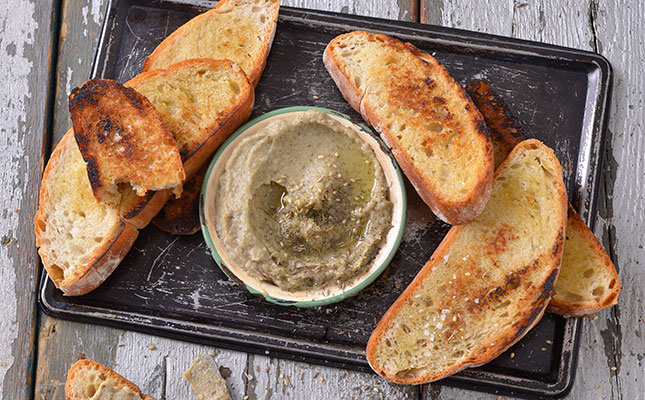 To make baba ghanoush, you will need:
3 large brinjals
3 lemons
9 cloves of garlic
1 generous tablespoon of tahini
1 tablespoon of extra-virgin olive oil
2 tablespoons cumin seeds
1 tablespoon of za'atar
Salt to taste
First, a comment on the unfamiliar ingredients: tahini is a dense paste made by macerating toasted sesame seeds. You can make your own, but this is labour- and time-intensive.
If you want to save yourself the effort, buy it from your local supermarket. Za'atar is a collection of mixed dried herbs dominated by hyssop. If you can't locate this item, you can mix dried basil, sage and thyme to make a partial, but splendid, local imitation.
1 Preheat the oven to 250°C. Cut off the stems of the brinjals and then place them on a fire-resistant surface. Fire up your butane kitchen blowtorch and set the gas to maximum. Move the flame lightly over the surface of the brinjals. The idea here is to scorch and blister the skin, thereby creating a smoky flavour.
2 Toast the cumin seeds in a dry frying pan on the hob on high for a few minutes. Let the colour darken and the toasted spice become fragrant. Remove, allow to cool, and grind in a dedicated spice grinder.
3 Place the lightly scorched, whole brinjals in a roasting pan and let them roast for 20 minutes. Check from time to time to ensure they are not burning. Remove from the oven and carefully spoon out the hot pulp. Discard the skins.
4 Let the brinjal pulp cool, then place in a food processor. Crush and peel the garlic and add the toasted, freshly ground cumin. Add the strained, pip-free juice of the three lemons and the zest of one of them.
5 In a small bowl, combine the tahini and the olive oil, taking care to first stir the contents of the tahini bottle, as it tends to separate. Next, add the za'atar to the tahini mixture.
Place in the food processor, hit the power button and reduce the contents to a thick paste.
Taste and add salt as needed.
Serve the baba ghanoush on bread or as an item on a meze platter.
David Basckin is a freelance journalist and videographer.