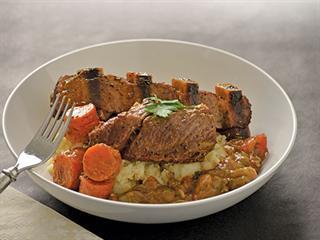 To make a beef short rib casserole for four, you will need:
4 beef short ribs, each weighing approximately 400g

Chicken or beef stock on demand

1 bottle red wine

1 big onion

3 cloves garlic

2 whole tomatoes

1 can of tomatoes

5 stalks of celery

2 carrots

Fresh sage and thyme

Black pepper and salt on demand

150g white flour

Extra virgin olive oil

1 can of white beans
Preheat the oven to 150°C. Prepare a light flour coating for the beef ribs by pouring the following into a large, unused plastic bag: a tablespoon of coarsely ground black pepper, a teaspoon of salt and the 150g of flour. Shake to mix these ingredients. Add the beef ribs, one at a time. Hold the bag shut and shake it well to coat the raw beef ribs evenly in seasoned flour.
Peel and thinly slice the big onion. Crush, peel and finely chop the cloves of garlic. Wash the celery stalks and carrots, and cut into 25mm sections. Select three or four each of fresh sage and thyme, tying these together with cotton to facilitate their removal after cooking. Blanch, peel and quarter the whole tomatoes.
Select a heavy-based frying pan, pour in some extra virgin olive oil and bring this up to medium heat. Add the prepared onion and garlic and fry these until soft, stirring from time to time. Add the chopped tomatoes and the canned tomatoes, allowing these to simmer until most of the liquid has boiled away. Remove the contents of the frying pan and reserve them under cover.
Return the pan to the hob, top up the extra virgin olive oil, rev up the heat to medium and brown the floured beef ribs on all sides. You may have to do this in batches. The caramelisation of blood sugars contributes to the complex taste the Japanese call umami. Remove and reserve under cover.
Choose a large ovenproof dish with a fitted lid and tip in the carrots, celery, white beans (including the liquid), sprigs of fresh herbs, browned beef short ribs and cooked onions, garlic and tomato. Pour in equal volumes of red wine and chicken (or beef) stock, sufficient to cover the solids. Fit the lid and place the dish in the preheated oven. Allow it to cook for two-and-a-half hours or so, until the meat is tender.
While the cooking is going on, prepare buttery mashed potatoes, with a teaspoon or two of coarse Dijon mustard mixed in. Serve this delicious meal with red wine, or if underwhelmed by the glorious synthesis of grapes and fermentation, drink a very cold premium lager.