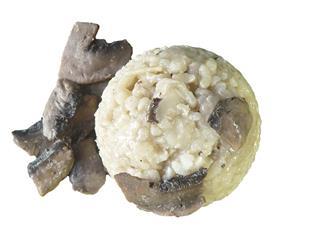 The brandy – well, what can I say, except that this lager drinker has had a conversion experience following a marvellous brandy tasting hosted by the talented and enthusiastic Jordan Maartens of Distell in Durban.

To make a brandy and mushroom risotto for four, you will need:
2 cups of arboria rice
1 onion
1l chicken stock
200g fresh mushrooms
Freshly grated parmesan cheese
1 cup brandy
Extra virgin olive oil
Salt and pepper on demand
We begin
Wash and drain the arboria rice. Peel, then very finely chop the onion. Sweat this in a little extra-virgin olive oil in a heavy-based frying pan over medium heat. Keep the onion fragments moving to avoid burning and stop when the onion is soft and translucent.
Pour in an additional tablespoon of extra-virgin olive oil to the pan containing the sweated onions, then add the rice. Stirring continuously, let the rice, oil and onion cook together for two minutes over medium heat.
Add the cup of brandy. I used top-of-the-line Nederberg Solera brandy for this recipe. I suspect that lesser brandies (nog 'n eenetjie?) may do almost as well but this may be heresy. Continue to stir the contents of the pan until all the brandy has been absorbed.
Warm the chicken stock especially if it is out of the freezer. Slowly – risotto is not something you rush – add the stock little by little to the pan, stirring all the while. As it is absorbed by the thirsty and slightly drunken arboria rice, add more warmed stock until the litre is consumed.
Remove from the heat and reserve briefly under cover.
Cut the mushrooms into thin sections then fry them briefly in extra-virgin olive oil. When done to your liking, remove from the heat, cover and reserve.
Return the rice to the heat then add the fried mushrooms. Stir them into the mixture to achieve an even distribution. Add a handful of freshly grated parmesan cheese to the rice and stir this very well into the hot mixture. Season to taste with a little salt and plenty of freshly ground black pepper.
The result is a fragrant rice side dish, completely different from the usual rice experience. Most of the difference is due to the arboria rice, which produces a sticky product at the end of the process. For those diners who prefer a flavour slightly less dominant than brandy, white wine is a common substitute.