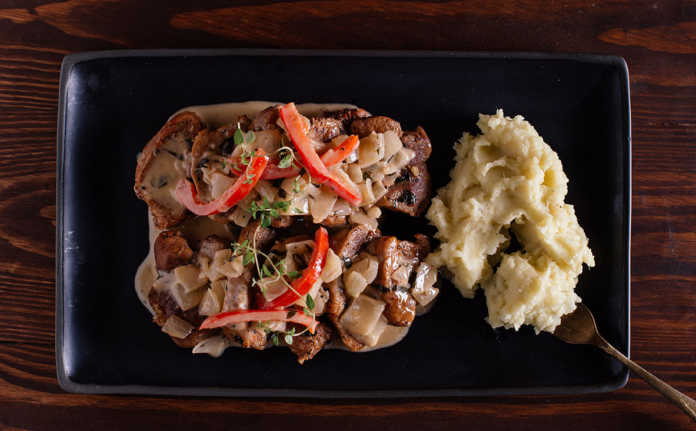 To make pork fillets with a sweet pepper sauce for four, you will need:
1kg pork fillets
2 or 3 red sweet peppers
1 complete garlic bulb
2 medium onions
125ml chicken or beef stock
Generous handful of parsley
Generous pinch of thyme
Level teaspoon of ground paprika
30ml canola or sunflower oil
60ml white wine
40ml crème fraîche
40ml whipping cream
Salt and black pepper on demand
Prep the garlic by cutting off the dry roots and coarsely chopping the rest of the bulb. Peel and chop the onions.
Top, tail and deseed the sweet peppers, then cut them into strips 5mm thick. Cut the fillets into thick slices and season them lightly with the paprika, black pepper and salt.
Select a large, heavy-based frying pan or cast-iron skillet. Sear the pork slices in the hot oil for five minutes, turning them from time to time until browned all over.
Pour off the oil and add the chopped onion and garlic. Let these sweat briefly with the meat in the residual oil for a couple of minutes, then add the thyme, white wine, and beef or chicken stock.
As with all stock, fresh and homemade is best, but a high-quality, factory-made stock is fine if time is short.
Rev up to a boil, stir the contents, drop the meat to medium-high, and fit a lid for the next 15 minutes.
Then remove the lid, add the sweet pepper strips and let the meal cook for a few more minutes until the peppers are flexible, yet retain their fresh colour.
Remove the fillet pieces to a warmed serving plate. Pour the measured crème fraîche and whipping cream into the hot pan juices and stir well.
Pour this over the cooked fillet sections on the serving plate, garnish with fresh parsley and serve with buttery, mashed sweet potatoes and a glass or two of bracingly chilled Chenin Blanc.
David Basckin is a freelance journalist and videographer.