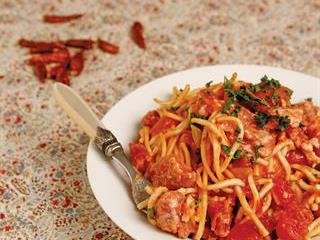 To make Bucatini Amatriciana for four, you will need:
500g bucatini pasta
2 cans tomatoes
1 onion
½ level teaspoon crushed dried chillies
200g pancetta
100ml white wine
Extra virgin olive oil on demand
Salt to taste
What – I hear you ask – is bucatini? Bucatini is one of the lesser known pastas. It is slightly thicker than spaghetti, and each piece is hollow. As a result, it is a great soaker-upper of sauce, which adds to the enjoyment of the meal. Cook it in a couple of litres of lightly salted boiling water for as long as the packet suggests.
Ensure it does not overboil, as overboiled pasta, regardless of its shape or relative hollowness, is a soggy and undesirable experience. If there's no bucatini to be had in your neck of the woods, substitute with spaghetti or penne.
Now the tomatoes. Many Amatriciana experts insist on Italian canned tomatoes. This is an excessive bit of gourmet finesse, since South African canned tomatoes add their singular brilliance to the recipe. Italian canned tomatoes are slightly different from South African tomatoes, but then so is their rugby. Draw your own conclusions and buy South African.
Pancetta, a cured pork product, also comes in local and imported versions. If neither is available, bacon is an acceptable stand-in. The nationality of the rest of the ingredients is no big deal. Dried chillies, crushed or uncrushed, are easily located. If capsicum heat is an issue, carefully remove the pips before cooking.
Prep time. Decant the entire contents of the tomato cans into a mixing bowl. With a potato masher or your bare hands, crush the tomatoes so that they mix with their juices. Peel and thinly slice the onion. Cut the pancetta into dice. In a large, heavy-based frying pan on low to medium heat, fry the pancetta in its own fat until the meat is crisp but not excessively browned. Remove and cover the meat, leaving the fat in the pan.
Add 15ml to 30ml of extra virgin olive oil to the fat, and sweat the onion slices until they are soft and translucent. Pour in the wine and continue cooking for 90 seconds, then pour in the macerated tomatoes and their juice, plus the cooked pancetta you reserved under cover earlier in the proceedings.
Reduce the heat to low, and let most of the liquid cook off over the next 15 minutes or so. Check from time to time to avoid adhesions or burning. Stir enthusiastically. You want a thick, thick sauce. When this state is achieved, add the cooked pasta directly to the frying pan (That's why I said a large pan). Stir well. Remove from the heat, add freshly grated hard cheese of your choice, stir again and serve in bowls. Delizioso, believe me.