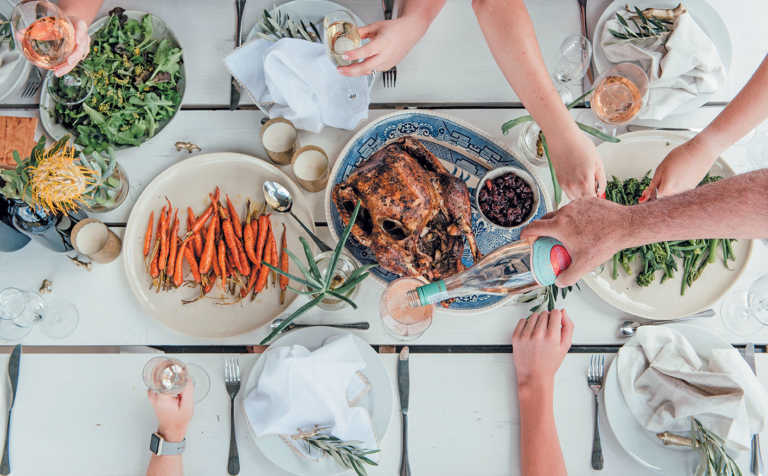 To make buttered turkey and roast vegetables for 12 diners in paper hats, you will need:
1 turkey of about 8kg
Butter Baste
300g butter
5 large spring onions
10g dried thyme
Dry seasoning
30mm cinnamon stick
5g dried thyme
10g black peppercorns
2 tablespoons whole allspice berries
1g or ½ teaspoon of whole fennel seeds
15mm dried whole chilli
Vegetables roasted under the bird
10 spring onions
12 cloves of garlic
4 celery sticks plus leaves
5 large carrots
4 onions
750ml chicken stock
Freshly ground black pepper and salt to season
Take the turkey out of the refrigerator and allow to it reach room temperature. While this is going on, prepare the dry seasoning. Select a cast-iron skillet or a heavy-based frying pan.
Bring the pan up to medium heat, and pour in all the dry seasoning ingredients. The dried chilli is untraditional, I know, but it makes its contribution to the high-frequency end of taste and aroma.
Let the spices turn light brown. Shake the skillet while this is happening for a maximum of four minutes. Be alert to avoid burning.
Pour the toasted spices into a dry bowl to cool, then reduce them to dust by hand with a mortar and pestle, or use an electric spice grinder.
Preheat the oven to 240°C.
While the oven is heating, make the butter baste. Brown the butter in a saucepan over medium heat. When molten, slightly reduce the temperature and simmer for 10 minutes while stirring continuously. The butter will change colour to brown.
Take it off the hob and add the coarsely chopped spring onions and the thyme. Let the pan stand for 15 minutes then sieve its contents into a bowl.
Allow the butter to firm slightly as it cools. Select a suitable roasting pan, and arrange the carrots, quartered onions, coarsely chopped spring onions, peeled and crushed garlic cloves and celery sticks in a layer on the bottom of the roasting pan.
Pour in the chicken stock.
Time to butter up and season the turkey! Spread the brown butter under the skin of the breast using your hands. Rub the dry seasoning over the outside of the turkey with the remainder of the brown butter.
Place the prepared raw turkey on the bed of vegetables. Tie the legs together with string, and stick it in the very hot oven for 30 minutes. Drop the temperature to 160°C and cover the bird with a loose layer of foil.
Every 30 minutes, baste the turkey with pan juices. A meal this expensive and this complex demands a meat thermometer to achieve the proper degree of doneness.
Start checking the thigh temperature after two hours, then every so often until the dial reads 74°C.
Remove the turkey from the oven and let it rest on the counter for 30 minutes before carving.
Whew! Big deal, big effort, but huge dining pleasure, believe me.