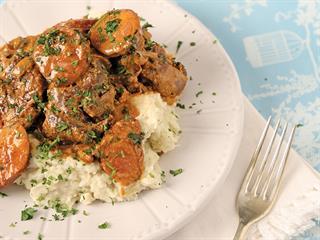 To make cauliflower mash with chicken livers and chorizo sausage for four, you will need:
For the mashed cauliflower:
1 head of cauliflower
2 cloves garlic
50g grated hard cheese
30g mascapone (wonderful but truly optional)
20ml extra virgin olive
2g coarse salt
Generous dash of freshly ground black pepper
For the chorizo sausage and chicken livers:
250g chorizo sausage
500g chicken livers
120ml dry red wine
1 can tomatoes
1 large onion
4 cloves garlic
Fresh basil
Fresh parsley
3 spring onions
A mate of mine in the professional cooking business tells me that the best recipes in the world contain no more than three ingredients. This list would make him shake his wise old head in sorrow and amazement. We, however, shall ignore him.
We begin with the cauliflower mash. No big deals here, just a close encounter with the unfamiliar. Break up the cauliflower head into individual florets. Boil or steam these for 10 or 12 minutes in a saucepan with a fitted lid.
Remove the cauliflower and save a cup of the cooking liquid; this may be required later if the mash is too thick. Sweat the crushed and peeled garlic in a little olive oil until softish, then transfer the oil and garlic to a food processor. Add the cooked cauliflower and rev to the red line, reducing the contents to pulp.
If it's too thick, thin it carefully with the saved cooking water and some of the olive oil. Add the optional mascapone and grated hard cheese for the final session in the processor. Season to taste with salt and pepper. Decant and reserve under cover to confuse the flies.
Meanwhile, back at the hob, pour a little olive oil into a heavy-based frying pan. Sweat the thinly sliced onion plus the sliced bulbs of the spring onions in combination with the crushed peeled and minced garlic. Let these sweat until the onions are soft, stirring from time to time.
Chop half a cup each of fresh basil and parsley plus the greens from the spring onions and stir these into the mix. Cut the chorizo into slices 6mm thick, add these to the mix and drop the heat to a gentle simmer for five minutes. Add the chopped canned tomatoes, as much of the juice you have been able to save, and the wine.
If you are planning to make this a second time, experiment by replacing the wine with Old Brown sherry. It adds to the complexity, believe me.
Simmer for five minutes, then fit the lid, drop the heat and let it all bubble away gently for half an hour.
Season to taste with coarsely ground black pepper and – a non-standard suggestion – a couple of generous pinches of coarse salt.
Take the 'to taste' injunction seriously – chorizo is powerfully salted in its own right.