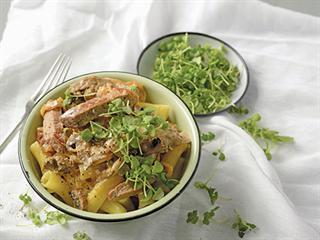 To make Not Just Another Stroganoff for four, you will need:
800g – 1 000g best rump steak

1 onion

400g mushrooms (but see the note below…)

125ml dry white wine

Freshly ground nutmeg

Salt and freshly ground black pepper

Rice or noodles

Olive oil on demand
So just who was Mr Stroganoff? No doubt the Internet has answers to this question. But for you and me, the issue is cooking rather than naming. This recipe appears in many forms, with echoes in Italian-, Swiss- and, if Stroganoff was from Russia, Russian- influenced cuisine.
Regardless of origin, the combination of flavours and aromas is classic and will not only rev up the quality of your dinner parties but give you a basis on which to experiment.You can use virtually any form of mushroom for this splendid meal. To keep it simple, try button or large brown mushrooms. The large browns have the virtue of giving the sauce colour. If you want to be a bit more experimental, try some of the unusual mushroom types offered by Woolworths.
Oyster mushrooms have their place in this line-up of potential stars, as do dried mushrooms from Asian supermarkets. Let's assume that you've chosen large brown mushrooms. Rinse off any non-mushroom substances, then chop them coarsely into pieces. Peel and finely slice the onion. Pour a little olive oil into a large frying pan and bring this up to medium heat.
Add the thinly sliced onions and let them fry until they are soft and translucent. Tip in the mushrooms and with a wooden spoon, keep them moving as they fry with the onions. Cook them until the edges begin to crisp and caramelise lightly. Pour in the wine and let it bubble away for five to seven minutes, then add the cream. Stir this well into the mixture until it thickens. If it gets too thick, thin it down with a little ordinary cream or plain milk.
Remove from the heat, cover and reserve.
Lightly season the steak with black pepper. Bring a frying pan up to heat then balance the steak on the fat side using a couple of forks to hold it up. Let the fat render for a few minutes, then lower the heat a little and grill the steak in its own fat. Turn frequently to caramelise the blood sugars.
After a few minutes, remove it from the heat and carve it into long fingers, not the more usual matchsticks. Turn this and the pan juices into the mushroom sauce and salt very lightly to taste. Add a generous sprinkle of freshly ground nutmeg. Serve over a bed of noodles or the pasta of your choice. Plain rice or buttery mashed potato make magnificent alternatives. This meal is enhanced by a bottle of chilled chenin blanc or champagne.