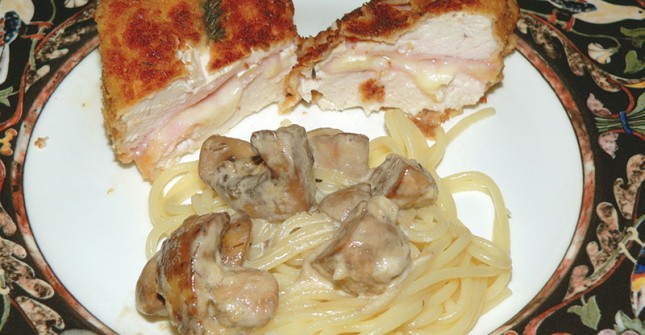 To make this delicious meal for four hungry diners, you'll need:
4 chicken breasts
4 ham slices
4 well-ripened brie cheese slices
Extra-virgin olive oil on demand
2 eggs
1 cup standard flour
1 cup dried breadcrumbs
250g pasta
100g button mushrooms
100ml cream
Freshly-ground nutmeg
Freshly-ground black pepper
Sharp-eyed readers will note the absence of salt in the ingredient list. Careful cooks always attempt to reduce sodium intake for the health of the diners. But there's more than enough salt in the ham and brie to keep the tastebuds aroused.
Getting started on the chicken fillets
Skin and debone the fillets, then cut them into butterflies by cutting each fillet in half horizontally, leaving a small hinge at the back.
Prepare three medium-sized bowls – one for the two whipped eggs, another for the flour and the last for the breadcrumbs. You can make your own breadcrumbs from day-old bread macerated in the food processor, but bought breadcrumbs have the advantage of finer particles.
Arrange the butterflied fillets on a work surface then lay a slice of ham and a slice of brie on each one. Fold shut the two halves of  each fillet. Using your hands, dip each stuffed fillet one at a time in the raw egg, then in the flour, then in the breadcrumbs.
Select a large, heavy-bottomed frying pan, pour in sufficient extra-virgin olive to cover the bottom. Bring this up to medium heat then add the prepared stuffed fillets to the pan. Let them cook for 20 minutes or until done right through, turning them over at two-minute intervals.
Side serving of pasta
In the two-minute intervals, there's more work to do. Prepare the pasta in a couple of litres of boiling water for the time suggested. Quarter the fresh button mushrooms and fry them in extra-virgin olive oil for a few minutes. Slowly add the fresh cream, stirring all the while. Let this thicken a little then remove the pan from the heat.
Sprinkle over a little freshly-ground nutmeg (optional, but nice) and some black pepper. Drain the cooked pasta and add it to the mushroom and cream mixture. Leave it in the warm frying pan under cover.
When cooked right through, remove the stuffed fillets from the pan and let them drain briefly on fresh kitchen towel.
Serve at once with a generous side order of pasta and mushrooms, and if you like, a crisp green salad made from spring onions, butter lettuce and berry tomatoes. A good and quick dressing is 25% balsamic vinegar, 75% extra-virgin olive oil to which a teaspoon of honey is added, two bruised basil leaves and a crushed garlic clove. Shake like hell to form an emulsion and pour over the salad.
What a blast!