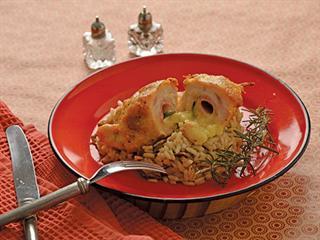 To make Chicken Kiev for four, you will need:
8 chicken breast fillets

8 slices smoked ham

250g smoked mozzarella cheese

2 cups arboria rice

250ml white wine

3 chicken backs

2 onions

2 carrots

Fresh rosemary on demand

12 dark mushrooms

1 egg

Flour, salt, black pepper,

extra virgin olive oil, and butter
Since we are connoisseurs with a deep respect for food, let's make proper chicken stock. It's actually quick and simple. Add the three chicken backs to 1,2l water, along with two quartered onions and two roughly chopped, cleaned carrots. Simmer for 40 minutes, strain and reserve the liquid only. This is the stock you'll need for later.
Yes, yes, I know about stock cubes and democracy, so feel free to make your own decision on this topic…
Meanwhile, select a saucepan, pour in the arboria rice, 250ml white wine and a litre of the chicken stock. Bring to the boil, then reduce immediately to a simmer. Keep a sharp eye on this, and remove it from the heat as soon as most of the liquid has been absorbed. Strain and reserve the rice under cover. Lay the breast fillets (no skin, no bone) on a clean chopping board, cover with cling film and flatten them with a rolling pin to half their original thickness.
Now for the magic. Cut the smoked mozzarella cheese into 10mm slices. Place these in the ham, adding fresh rosemary leaves, and wrap this combination in one of the flattened chicken breast fillets. Keep it closed with a toothpick or wooden skewer. Coat each one lightly with a mixture of flour and beaten raw egg.
Select a large, heavy- bottomed frying pan and heat up a couple of tablespoons of butter and an equivalent volume of extra virgin olive oil. The olive oil allows you to fry in butter at a much higher heat than butter alone could tolerate before burning. Fry each chicken parcel on both sides, then allow it to drain on a fresh kitchen towel.
Chop and fry the mushrooms, and combine with the arboria rice to make a risotto. Lay a bed of this on each warmed plate and top it with one or two Chicken Kievs. Partially cut through the kievs with a sharp knife so that the hot, molten mozzarella cheese flows onto the rice. Garnish with pepper, a sprinkle of salt and a sprig of rosemary. A very cold Chenin Blanc will lift this meal into the culinary stratosphere. And hungry diners will find that there's enough for seconds.